CLIMATE CHANGE | Future scenarioes
Canada ranked: See how vulnerable we are to climate change
Dr. Mario Picazo
Meteorologist, PhD
Friday, February 1, 2019, 4:21 PM - Several countries are working to become more resistant to climate change, and a nation's sensitivity and adaptability can be found in the ND-GAIN (Notre Dame Global Adaptation Initiative) Country Index.
The assessment based on six categories: food, water, health, ecosystem service, human habitat, and infrastructure.
The goal is to help governments, businesses and communities increase their awareness and better prepare for the future.
Not being prepared could result in over-poulation, inadequate infrastructures, civil conflicts, wildfires, extreme weather events, migration and droughts, among other things.
The index was created using 20 years of data. The goal was to construct a ranking of 181 countries around the world, based on vulnerability and readiness to adapt to future climate scenarios.
SOURCE: ND-GAIN.
Adaptation implies risk mitigation and the search for new strategies to lessen environmental risks. Study results show that people living in underdeveloped countries are ten times more likely to experience a climate disaster in a given year when compared to those living in developed countries.
Data also reveals that poorer countries will need 100 years to achieve the resistance capacity shown by the wealthier nations.
THE BIGGEST WINNERS ARE ALSO THE BIGGEST OFFENDERS
Some of the countries that ranked the highest also happen to be the ones that have contributed the most to global warming and climate change because of industrial activitiy.
Te Paris 2016 Climate Agreement stipulates that established countries should compensate for countries that have a lesser climate change contribution.
HIGH-RANKED COUNTRIES CAN STILL BE VULNERABLE
The ND-GAIN team points out that even a country prepared to resist and adapt can have vulnerable regions.
A good example would be Florida's Miami-Dade area. The most populated county in Florida is facing a serious challenge when it comes to climate change, with sea levels continuing to rise and inundate sectors of Miami and nearby communities.
HOW DOES CANADA FARE?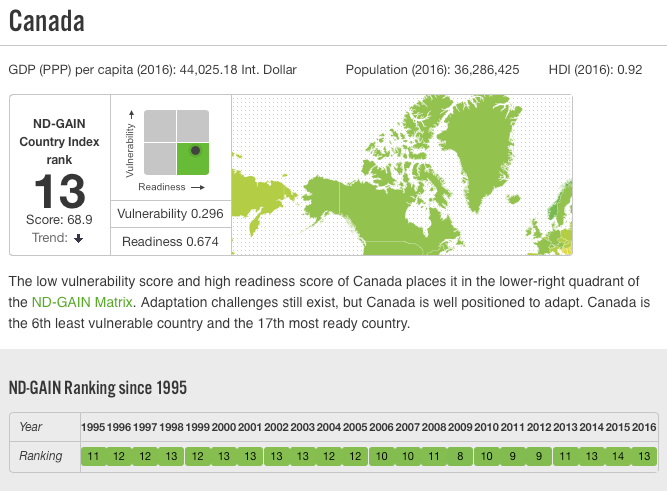 SOURCE: ND-GAIN.
Canada occupies the 13th position out of 181, with an overall score of 68.9.
For vulnerability Canada ranks a solid 6th position, but when it comes to readiness the score drops to the 17th overall position. Adaptation challenges still exist but overall, the country is well-positioned to adapt to future climate.
Three Scandinavian countries, Norway, Finland and Sweden are among the top 5, together with New Zealand and Switzerland.
The 5 least prepared world countries are all Africa based which, as of today, is the most vulnerable climate change continent in the world.
VIDEO: THE DIFFERENCE BETWEEN CLIMATE AND WEATHER