ATLANTIC CANADA | One more blast
Atlantic: After rain, near-record warmth, what's ahead?
Digital writers
theweathernetwork.com
Monday, October 29, 2018, 9:03 PM - It was a soggy -- and in some spots, snowy -- weekend across Atlantic Canada, and the tropical-infused stream of storms isn't quite done with the region. One more blast starts off the new work week, and while we do expect some upcoming break, the active storm track seems set to remain focused on the east into early November. We take a look at the what's ahead for the region (and who might need to work an umbrella into their Halloween costume), below.
(See also: Why people are being warned to skip the Halloween costume for these pets)
---
WEATHER HIGHLIGHTS:
Showers linger into Monday overnight for parts of Newfoundland
Cooler temperatures return for midweek; Halloween shower risk for some
Stay on top of active weather | Alerts and warnings in your area
---
AFTER RAIN, COOLER TEMPERATURES HAUNT HALLOWEEN NIGHT
Heavy and prolonged rains closed out the weekend and lingered into Monday for parts of the East Coast, but the silver lining was a brief spike in temperatures, particularly in Nova Scotia and Newfoundland. In St. John's, Monday's high of 19.1oC narrowly edged out the 18.9oC record set by the city in 1953.
Cooler air will again push down from the northwest behind Monday's system, and that means temperatures will dip -- at least slightly -- for Halloween on Wednesday. Fortunately for trick-or-treaters, Wednesday's highs will only be slightly below average across the region, and evening temperatures should hover in the mid-single digits; think jackets with that costume, rather than parkas.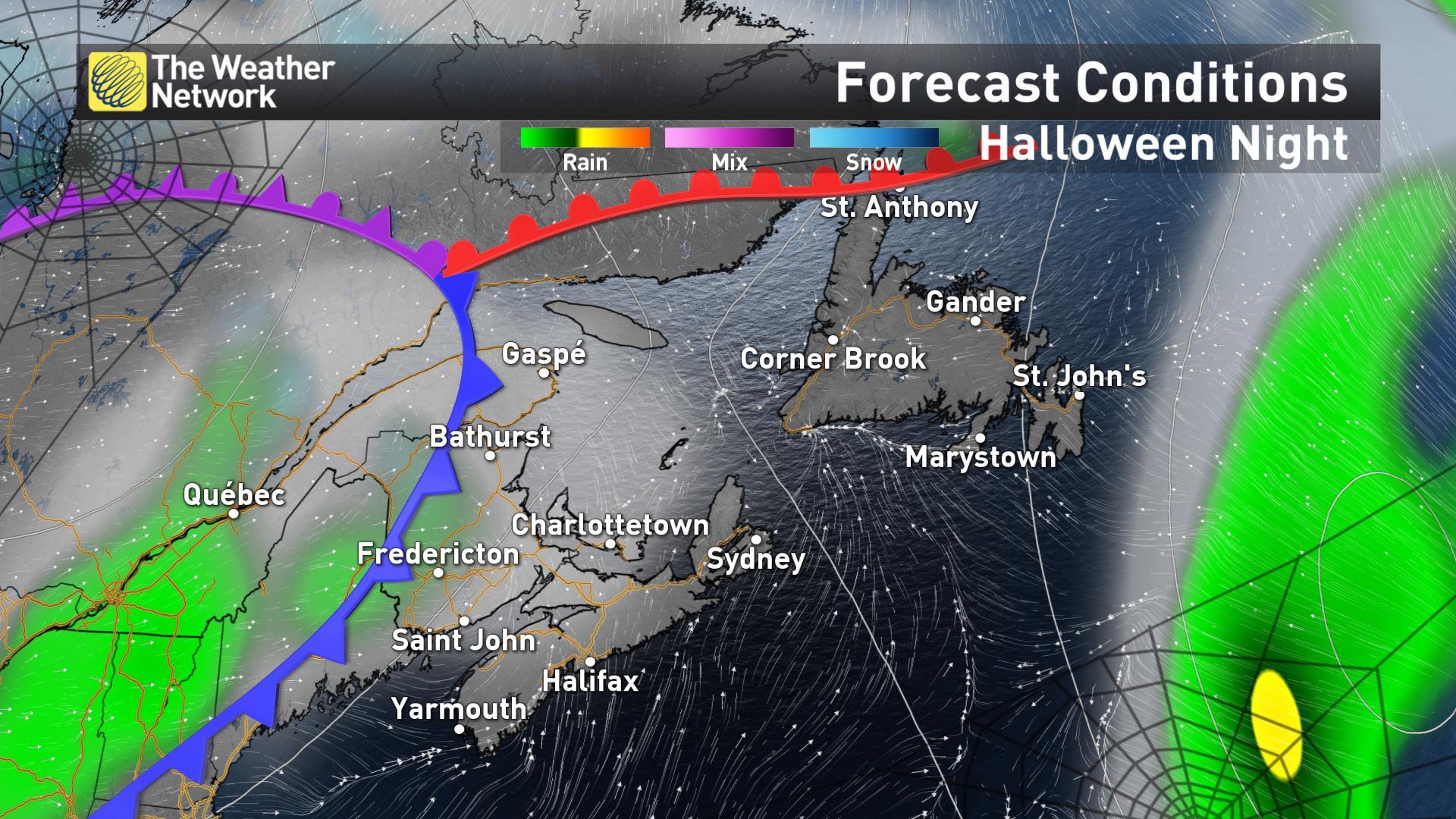 There is one spot where we're watching for potential showers Wednesday evening, and that's over western and northern New Brunswick, where a cold front is expected to be creeping into the region. The timing for this system will make all the difference -- there's a good chance showers won't encroach until after prime trick-or-treating time. Still, if your outdoor plans take you into this part of the Maritimes on Wednesday, you'll want to keep an eye on the weather, and keep your umbrella handy.
Then we are watching another system track across the region in two parts on Thursday and Friday with yet another potential weekend storm reaching the Maritimes by Saturday. At this point, it looks like mostly rain with the weekend system, but wet snow is possible for parts of northern New Brunswick and Newfoundland.
Take a closer look at your national halloween forecast here, and stay with us at the Weather Network for the latest on these last few days of October and first weekend of November. 
WATCH BELOW: VIDEO OF WATER RELEASED FROM LABRADOR RESERVOIR GOES VIRAL