Tuesday, January 14th 2020, 7:25 pm - More nuisance snow could interrupt travel at times in southern Ontario this week, but forecasters are closely watching another impactful weekend storm shaping up.
Despite some scattered light rain showers or drizzle, temperatures will remain several degrees above seasonal through Wednesday before the next system spreads widespread snow later Wednesday night. It's the weekend system, however, that bears watching once again as conditions turn colder and set the scene for potentially significant snowfall. More on the timing of this weekend storm and the colder pattern that locks in behind it, below.
---
WEATHER HIGHLIGHTS:
Temperatures remain mild into Wednesday across southern Ontario
Rain and wet snow Wednesday/early Thursday, heavier snow accumulations expected across the north
Colorado low tracks in for Saturday, more significant threat for heavy snow, rain and ice
Stay up-to-date on the ALERTS in your area
---
WEDNESDAY/THURSDAY: WIDESPREAD WET SNOW, TEMPERATURES START TO FALL
The sunshine that starts the day on Wednesday will give way to increasing clouds, with wet snow expected to develop through the evening hours, especially for areas near and north of the 401.
Snow totals will remain light around Lake Ontario, with between 1-3 cm expected from Toronto to Hamilton and just a trace to 2 cm likely for the Niagara region. The heaviest amounts up to 5 cm are possible along and north of the 401/407.
DON'T MISS: Why road salt can be ineffective against removing snow and ice
Though Wednesday's system isn't a significant weather-maker, it will bring a change in the winds that lets cold air back into southern Ontario. Temperatures fall to seasonal values for Thursday, but that's only the start of the cold snap.
FRIDAY/SATURDAY: TEMPERATURES PLUNGE, SIGNIFICANT WEEKEND SNOW
By Friday, southern Ontario will be home to the coldest air we've seen so far in 2020, with daytime highs running close to 10 degrees below average, and it's partly that pool of cold air that has forecasters' attention focused on the weekend ahead.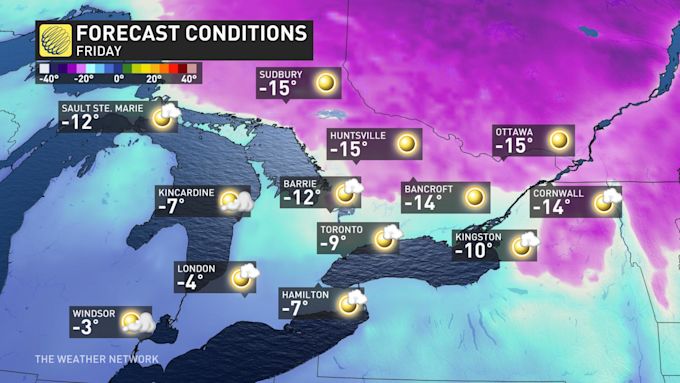 Another Colorado low is the system of interest for Saturday. While it's still too early to have high confidence in snow totals for specific locations, forecasters are closely watching as another Colorado low moves through or just south of the region through Saturday.
"This will bring widespread snow across southern, central and eastern Ontario, including the Highway 401 corridor," says Weather Network meteorologist Dr. Doug Gillham. "This system will have widespread impacts on travel with 10 to 15 cm of snow for much of the region."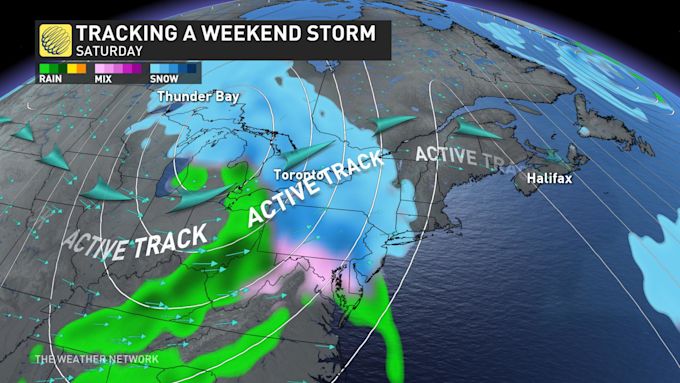 MORE SNOW THAN RAIN WITH THIS SYSTEM
Unlike last weekend's storm, temperatures do not look to be as warm with this next system, and that means it will be cold enough for everyone to see an extended period of snow as opposed to mixing for most of the event.
As models have taken a slightly northward trend over the past few days, chances are we will see a surge of milder air into at least the southern tier of the region, however, through Saturday afternoon. That could change precipitation from snow to rain for a few hours through Saturday evening.
For anyone with travel plans for Friday night and through Saturday, this will be something to keep a close eye on.
LOOK AHEAD: THE COLDEST WEATHER OF THE WINTER?
Arctic air will also surge into the region behind this system on Sunday, with some of the coldest weather that we've seen so far this winter expected for the early parts of next week. In fact, this could be the start of the more "typical" winter weather as colder conditions lock-in for the second half of January.
DRONE SHOTS OF TREES COMPLETELY ICED OVER IN ONTARIO