Tuesday, August 23rd 2022, 8:19 am - While the Atlantic hurricane season has had a sluggish start, things are still on track to be active as we near the peak on September 10.
As we check in on the Atlantic hurricane season, since the start on June 1, we have only seen three tropical storms develop so far. While Alex, Bonnie and Colin, all did leave their marks with significant impacts, none of them actually developed into a hurricane. Additionally, typically by this time of the year, we expect to have seen at least five named storms, which leaves this season slightly behind.
---
RELATED: Above-average Atlantic hurricane season predicted for seventh year in a row
---
By comparison, this time last year we had already seen eight named storms develop, including Grace, which became a strong Category 3 hurricane. Ida then followed, developing towards the end of August 2021, and strengthened into a deadly and destructive Category 4 hurricane. Hurricane Ida sits as the fifth costliest tropical cyclone on record.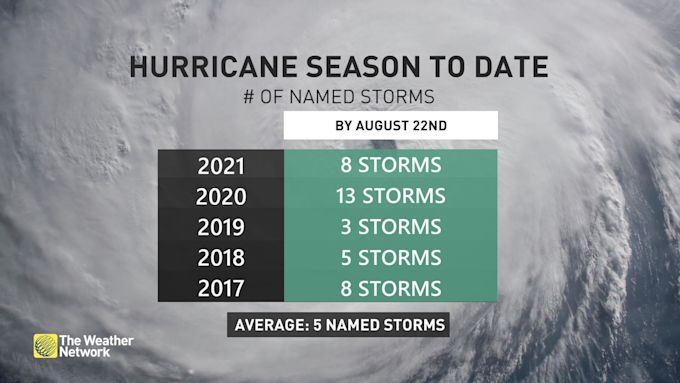 Even though 2022 has seen a sluggish start, forecasters are still urging people to be prepared for the season to be on track for an average number of named storms and hurricanes, as predicted.
The updated outlook from the National Oceanic and Atmospheric Administration (NOAA) calls for 14-20 named storms, six of which could become hurricanes and three to five could become major hurricanes of Category 3 strength or higher.
Most importantly we are heading into the peak of the season, which is September 10, with the most active time frame being mid-August to mid-October. Conditions are prime for an uptick in tropical activity during that time. This includes above average sea surface temperatures, a continuing La Niña pattern, weaker tropical trade winds and an enhanced west African monsoon.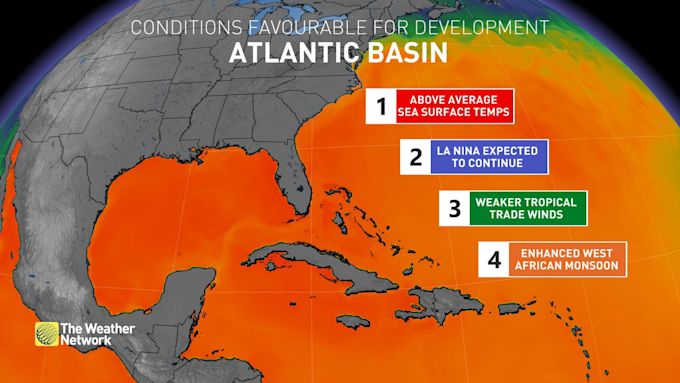 So we will continue to keep a watchful eye on any tropical development, especially as we near the peak and until the season comes to a close on November 30.
---
SEE ALSO: What the rare 'triple-dip' La Niña could mean for winter
---
Even in a relatively quiet season, it only takes one storm to make the most mundane year memorable. 1992's unusually slow hurricane season didn't begin until the end of August when the first named storm formed in the southwestern Atlantic. That storm grew into Hurricane Andrew, one of the costliest and most destructive hurricanes ever recorded.
Andrew became a tragic poster child for the mantra "it only takes one." It doesn't matter how many storms form in a season if one of them hits your town.
Make sure you're prepared for hurricane season long before the next threatening storm bubbles up. Take stock of your emergency supplies, keep an evacuation plan in mind, and always keep tabs on the latest forecasts so you're ready for whatever comes your way.
WATCH: Prepare now for the peak of hurricane season
With files from Dennis Mersereau.