Friday, July 29th 2022, 8:53 pm - We've only seen three named storms in the Atlantic basin so far this year. Don't let the lull in tropical activity fool you. The bulk of the season is yet to come.
The tropics may seem awfully quiet this summer, but we're still far from the peak of hurricane season in the Atlantic basin. All seasonal forecasts call for an above-average hurricane season across the Atlantic this year. The eastern Pacific has seen all the action so far, though, with two storms even orbiting around one another like galaxies. More on the slow Atlantic, hopping Pacific, and what you can expect later this summer, below.
---
STAY PREPARED: Everyone needs a home emergency kit. Here's what to stock yours with
---
Frank and Georgette tango in the eastern Pacific
We're tracking two interesting storms in the eastern Pacific this weekend. Soon-to-be Hurricane Frank and Tropical Storm Georgette are both tracking into the open ocean far off Mexico's west coast.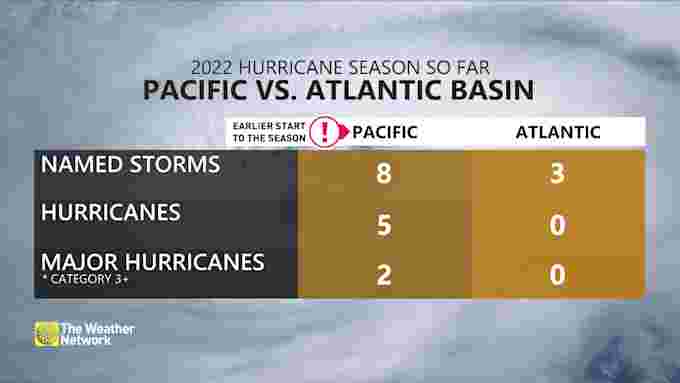 The two storms are playing follow the leader, and that's where things get a bit weird. Two low-pressure systems that track too close to one another can begin to orbit around each other like galaxies. This tendency is called the Fujiwhara Effect, and it's a fascinating sight to watch unfold on satellite imagery.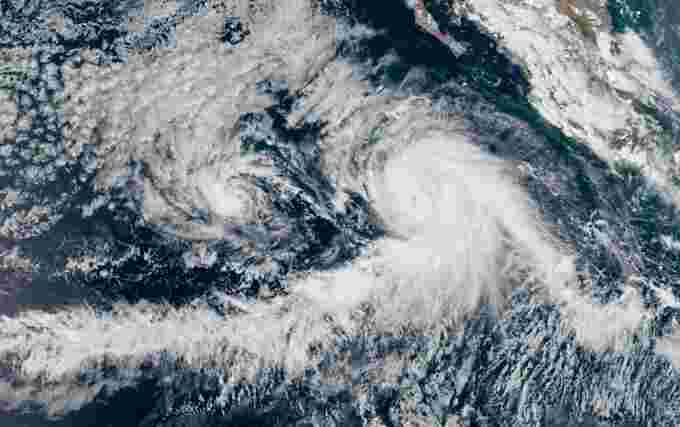 Frank (right) and Georgette (left) spiral near one another in the eastern Pacific Ocean on July 29, 2022. (NOAA)
In this case, Hurricane Frank will grow stronger and larger than Tropical Storm Georgette, forcing the latter into Frank's influence. Georgette will abruptly curve to the northeast as it feels Frank's pull, appearing to slingshot around the southeastern side of the larger hurricane as we head into early next week.
Thankfully, neither storm is on track to affect land, allowing us some guilt-free gawking as these two storms swirl over the open ocean.
Saharan dust cuts off the Atlantic season—for now
Things are getting along on a much sleepier note over in the Atlantic basin.
We've only seen three named storms so far this year, with Tropical Storm Colin's adventure off the North Carolina coast at the beginning of July the most recent activity we've seen over the Atlantic.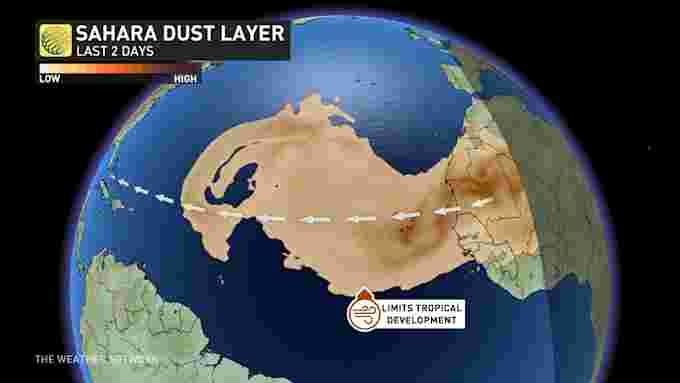 Why is the basin so quiet despite the fact that forecasters expect an above-average season? Blame the Sahara Desert.
Summertime often sees puffs of dust blow off the western coast of Africa. These dry, dust-filled winds, called a Saharan Air Layer (SAL), are a death knell for any tropical wave that tries to get its act together.
MUST READ: Tropical cyclones decreased last century as global warming sped up
We've seen several prominent SALs blow over the Atlantic over the past couple of weeks, nixing any meaningful opportunity for tropical waves to organize into a cohesive system.
WATCH: Prepare now for the peak of hurricane season
Don't sleep on a slow season. It's just beginning.
Don't take solace in the serenity, though. A slow start to the season is common even for the most active seasons on record.
The 2021 Atlantic hurricane season was the third-most active on record, with 21 named storms forming between May and October. The basin achieved that hyperactive feat even though the month of July came and went without producing a single system.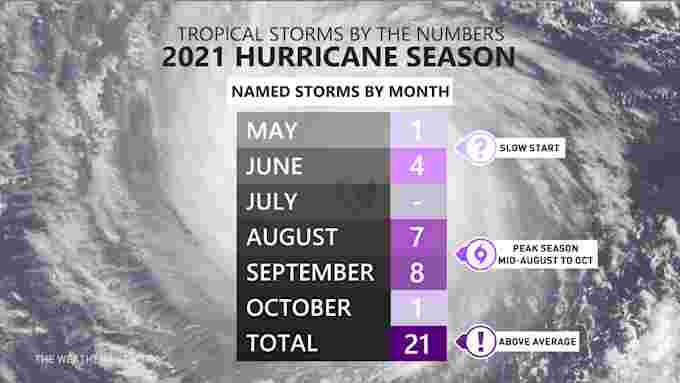 Even in a relatively quiet season, it only takes one storm to make the most mundane year memorable. 1992's unusually slow hurricane season didn't begin until the end of August when the first named storm formed in the southwestern Atlantic. That storm grew into Hurricane Andrew, one of the costliest and most destructive hurricanes ever recorded.
Andrew became a tragic poster child for the mantra "it only takes one." It doesn't matter how many storms form in a season if one of them hits your town.
Make sure you're prepared for hurricane season long before the next threatening storm bubbles up. Take stock of your emergency supplies, keep an evacuation plan in mind, and always keep tabs on the latest forecasts so you're ready for whatever comes your way.
Thumbnail courtesy of NOAA.