SEVERE WEATHER PREPARATIONS
TORNADOES IN CANADA: Expert debunks common myths
Michael Carter
Meteorologist
Wednesday, September 26, 2018, 4:58 PM - In light of last week's destructive tornadoes in the Ottawa region, it is more important than ever to be aware of the dangers posed by one of nature's most powerful forces. When natural disasters strike, the best defense is to be both well informed and well prepared.
(MUST SEE: THREE tornadoes, two downbursts hit Ottawa region)
With that in mind, here are a few common myths and misconceptions about tornadoes in Canada, as well as the correct information and the preparedness steps that may help save your life.
---
MYTH: TORNADOES DON'T HAPPEN OFTEN IN CANADA
While it is true that Canada sees far fewer tornadoes than the United States, Canada is still one of the most tornado-prone countries in the world, with over 60 tornadoes confirmed each year on average. Note: a study involving Environment Canada and Western University called the Northern Tornadoes Project suggests this number to be underestimated, as many northern regions do see tornadoes but they go unnoticed in unpopulated regions.
The Prairies and southern Ontario and Quebec see the highest tornado risk every year, but almost all populated places in Canada can potentially be affected by tornadoes. As the map below shows, tornadoes have occurred in every province, from B.C. to Newfoundland.
MYTH: TORNADOES ONLY HAPPEN IN THE SUMMER
Tornadoes are fueled by atmospheric instability, which means they are most common when temperatures are warmer. That being the case, it's not surprising that we see the most tornadoes during the warm season. July is Canada's most active tornado month. But just because tornadoes are more common in summer, does not mean that they aren't possible at other times of year. Tornadoes can occur any time when there is enough instability in the atmosphere to fuel supercell storms, regardless of the calendar.
MYTH: TORNADOES ONLY HAPPEN DURING THE DAY
This point is very similar to the one above. Because tornadoes are fueled by atmospheric instability, they occur most often at the warmest times of the day. Most tornadoes happen between 4:00pm and 8:00pm. But it's important to know that the atmospheric conditions that produce tornadoes can occur at any time of day, and even through the overnight hours. Nighttime, or "nocturnal" tornadoes are often more deadly than daytime tornadoes, in part because they are more difficult to see in the dark, and also because they often strike while people are sleeping.
MYTH: TORNADOES DON'T HIT LARGE CITIES
Despite this common misconception, urban areas are just as likely to be hit by tornadoes as anywhere else. The reason that more tornadoes affect rural areas is simply that rural areas make up such a large percentage of the overall land area. By size, urban areas are simply a relatively smaller target, and so less likely to be hit. However as urban areas continue to expand over time, they become more and more likely to be affected by tornadoes. As just a few examples, Windsor, ON, Vaughn, ON, and most recently the Ottawa area have all been struck by destructive tornadoes.
MYTH: TORNADOES CAN'T CROSS MOUNTAINS, RIVERS, LAKES, HIGHWAYS
This is one of the most common tornado misunderstandings, but it has no basis in fact. There is no natural or manmade barrier that will disrupt the path of a tornado. This includes mountain ridges, rivers, valleys, lakes, and highways. There is abundant evidence of tornadoes crossing any and all of these features without any interruption at all to the damage path. Once again as a recent example, last week's EF-3 tornado crossed the Ottawa river from Dunrobin to Gatineau.
---
Now that you're informed about these common tornado myths and misconceptions, here's some information that can help you be prepared next time tornadoes threaten your area.
THINGS YOU CAN DO NOW
Identify and practice going to a safe shelter
The safest place to be during a tornado is below ground, in the basement of your home or office. If you do not have a basement, choose a small interior room such as a bathroom on the lowest floor. Practice with your family or coworkers how you will get to your shelter. Plan the safest route to your shelter, keeping in mind that you should not use an elevator.
Don't forget about other places you frequently spend time
Be sure to identify safe shelters in other places you frequently spend time, not just your home or office. Know where the safest shelter is in your school, place of worship, campground, shopping center, family and friends' homes, etc.
Prepare an Emergency Supply / First Aid Kit and place it in your chosen shelter
Some guidelines on how to stock your kit can be found here.
Pay attention to weather reports and alerts
If your area is under a tornado threat, pay close attention to information and alerts from a trusted source such as the Weather Network or the Alert Ready Emergency Alert System.
(SEE ALSO: Ottawa resident credits Alert Ready for saving his family's life)
KNOW THE DIFFERENCE: TORNADO WATCH VS. WARNING
Confusion typically arises when a tornado WATCH is issued versus a WARNING. The difference is highlighted in the image below, but a watch is simply a heads up that tornadoes are possible and you should pay close to attention to any weather alerts as a tornado warning may soon follow. You can do this by downloading The Weather Network's app and selecting "follow me", which will ensure if Environment Canada issues a warning in your area, you will be notified regardless.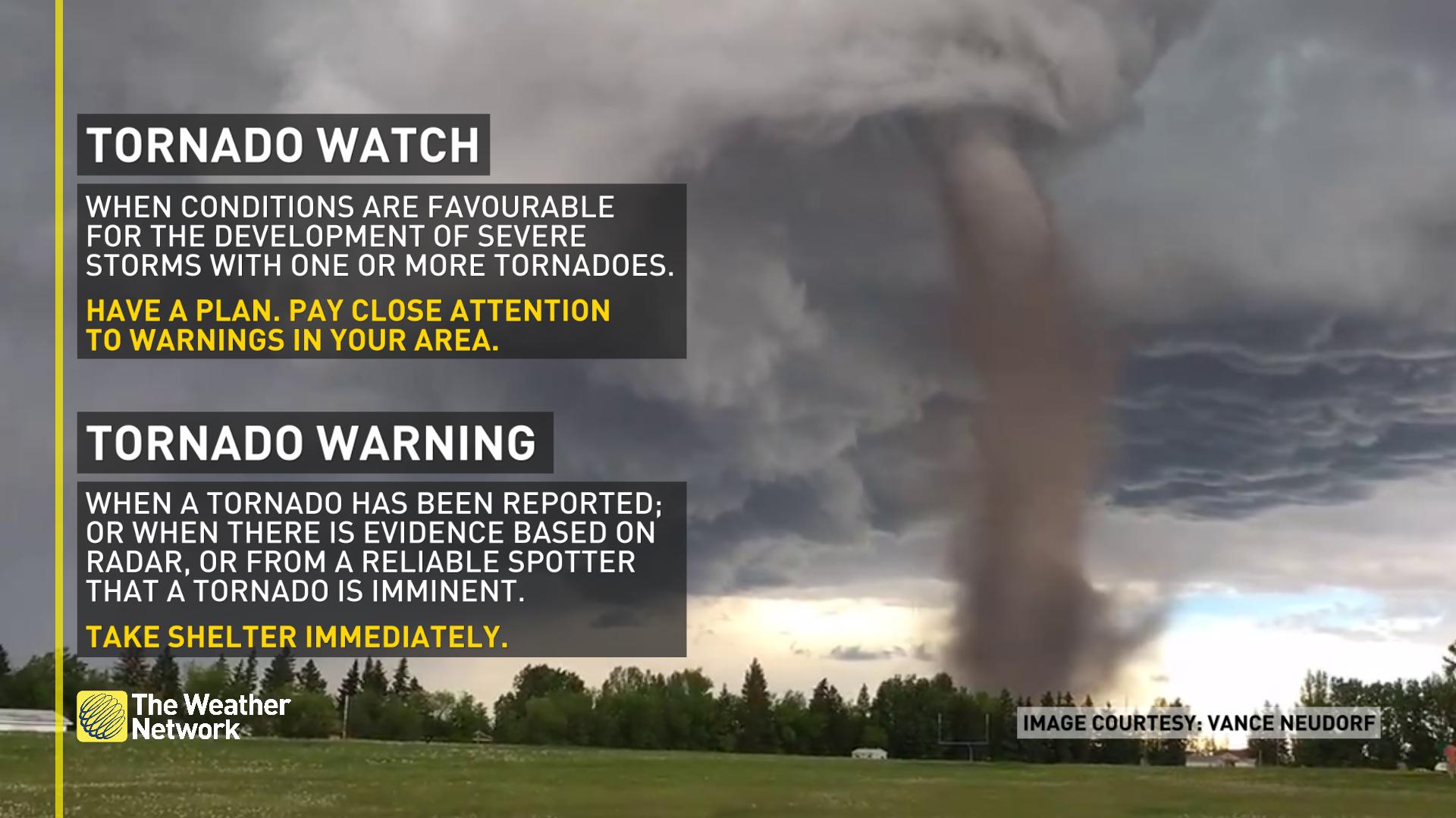 THINGS YOU SHOULD DO DURING A TORNADO THREAT:
If a tornado warning is issued for your area, go immediately to your safe shelter.
Protect your head and neck as much as possible, using blankets, pillows, bike helmets, or whatever you have available.
If you are driving:
Cars are very dangerous places to be during a tornado. Flying debris can easily break through your windows and windshield, and cars can easily be thrown and rolled by the winds inside a tornado.
If you have time, get out of your car and get to the nearest solid building.
Never take shelter under an overpass. Confined spaces like overpasses amplify wind speeds and can funnel in deadly flying debris.
If there is no sturdy building nearby, get to the lowest lying area possible (such as a ditch) and lie down on the ground, covering your head and neck.
Do not try to outrun the tornado.
The same rules apply to campers, RVs, and mobile homes as cars
More than half of all tornado deaths occur in mobile homes. If you cannot reach shelter in a nearby permanent structure, go outside and lie face down in a ditch or other sheltered, low lying area. Protect your head and neck. Be aware of the risk of flooding from heavy downpours, and be prepared to move quickly.
THINGS YOU SHOULD DO AFTER A TORNADO HAS HIT:
Keep listening to emergency alerts and the authorities until you are given the all clear.
Pay attention to other hazards such as lightning and flash flooding.
Keep in mind that multiple storms can track over the same area, and remain alert until the threat has completely passed.
Cover your mouth with a mask or a cloth to avoid breathing dust.
Stay clear of fallen power lines or broken utility lines.
Do not enter damaged buildings until you are told that they are safe.
Save your phone for emergencies: Phone systems are often down or overloaded after an emergency. Try to use text messaging or social media to communicate with family and friends. Conserve your phone's battery as much as possible, since you may not be able to recharge it until power is restored.
Be careful during clean-up: Wear thick-soled shoes, long pants, and work gloves.
For more information on emergency preparedness, check out http://getprepared.gc.ca and http://ready.gov.
(With information from the government of Canada and the US Federal Emergency Management Agency)
WATCH BELOW: MUST SEE MOMENTS OF OTTAWA-GATINEAU TORNADO TOUCHING DOWN