Powerful quake strikes central Chile
Daniel Martins
Digital Reporter
Saturday, November 7, 2015, 9:00 AM - A powerful Magnitude 6.8 earthquake has struck Chile, about 300 km north of the capital Santiago.
The quake struck in the early morning hours Saturday, at a relatively shallow depth of 37.6 km, according to the U.S. Geological Survey (USGS).
The Chilean emergency measures organization, ONEMI, said on its website that no significant damage or injuries were reported, although around 14,000 people were without power. No tsunami warning was issued.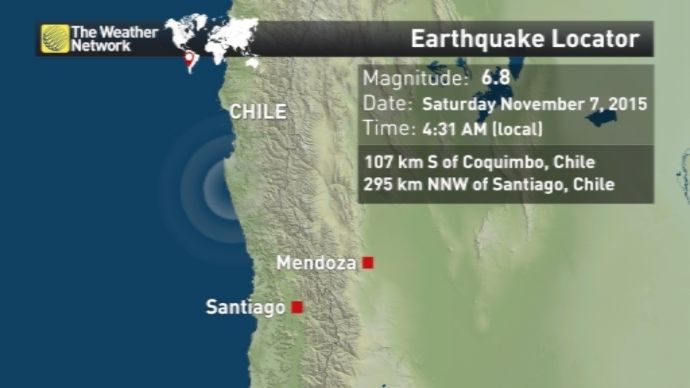 ONEMI has reported some aftershocks since the quake, which experts say was itself a powerful aftershock, related to the earthquake that struck the country two months ago.
That temblor, a powerful Magnitude 8.3, rocked the country and led to 11 deaths, with one million people being temporarily evacuated.
Chile is one of the most seismically active countries in the world. One quake in 2010 killed more than 500 people and caused $30 billion in damage, according to the International Business Times.
In 1960, the most powerful earthquake in recorded history struck the southern Chilean town of Valdivia. Rated at Magnitude 9.5, it killed hundreds of people and left at least two million people homeless.
SOURCES: USGS | ONEMI | International Business Times | Geology.com
WATCH: Afghan news broadcast shaken during major earthquake