ONTARIO | Winter's early arrival
Bigger widespread snow targets Ontario late week
Digital writers
theweathernetwork.com
Wednesday, November 14, 2018, 8:35 PM - Lake-effect snow streamers made a mess of roadways late Tuesday and into Wednesday across parts of southern Ontario and now as we see those bands of snow squalls gradually wind down, eyes are on the next messy late week system. And this one won't just impact those areas near the lakes. That's all amid some of the coldest weather so far this season, making things feel more like mid to late December. We take a look at more potential travel troubles, below.
BE PREPARED: Stay up-to-date on all the weather warnings in your area
---
WEATHER HIGHLIGHTS:
First widespread accumulating snowfall on the way Thursday
Regions of southern and eastern Ontario as well as southern Quebec could see between 5 and 15 cm of snow
Brief break on Thursday before next system late week with messy rain/snow mix for many
---
ACCUMULATING SNOW ON THE WAY THURSDAY
By Thursday, there will be a break in the active storm pattern with temperatures even a few degrees milder than Wednesday, although still colder than seasonal. Keep the snow brush at the ready however, as we are closely watching the track of another system, which will bring more messy weather into Friday.
"During the evening Thursday, snow will spread across our region from south to north. The snow could mix with rain near Lake Erie and Lake Ontario," says Weather Network meteorologist Dr. Doug Gillham. 
The system is expected to bring a significant range in accumulation across the region. Much of southern and eastern Ontario as well as southern Quebec can expect to see some snow. Areas north and east of the GTA could see between 5 and 15 cm accumulation.
SLUSHY FRIDAY COMMUTE
That wet snow will continue through Thursday night, making for a slushy morning commute on Friday. 
"And temperatures will be a degree or two colder during the overnight than initially expected, so snow accumulations will be more widespread than what we have seen with the past two systems," Gillham says.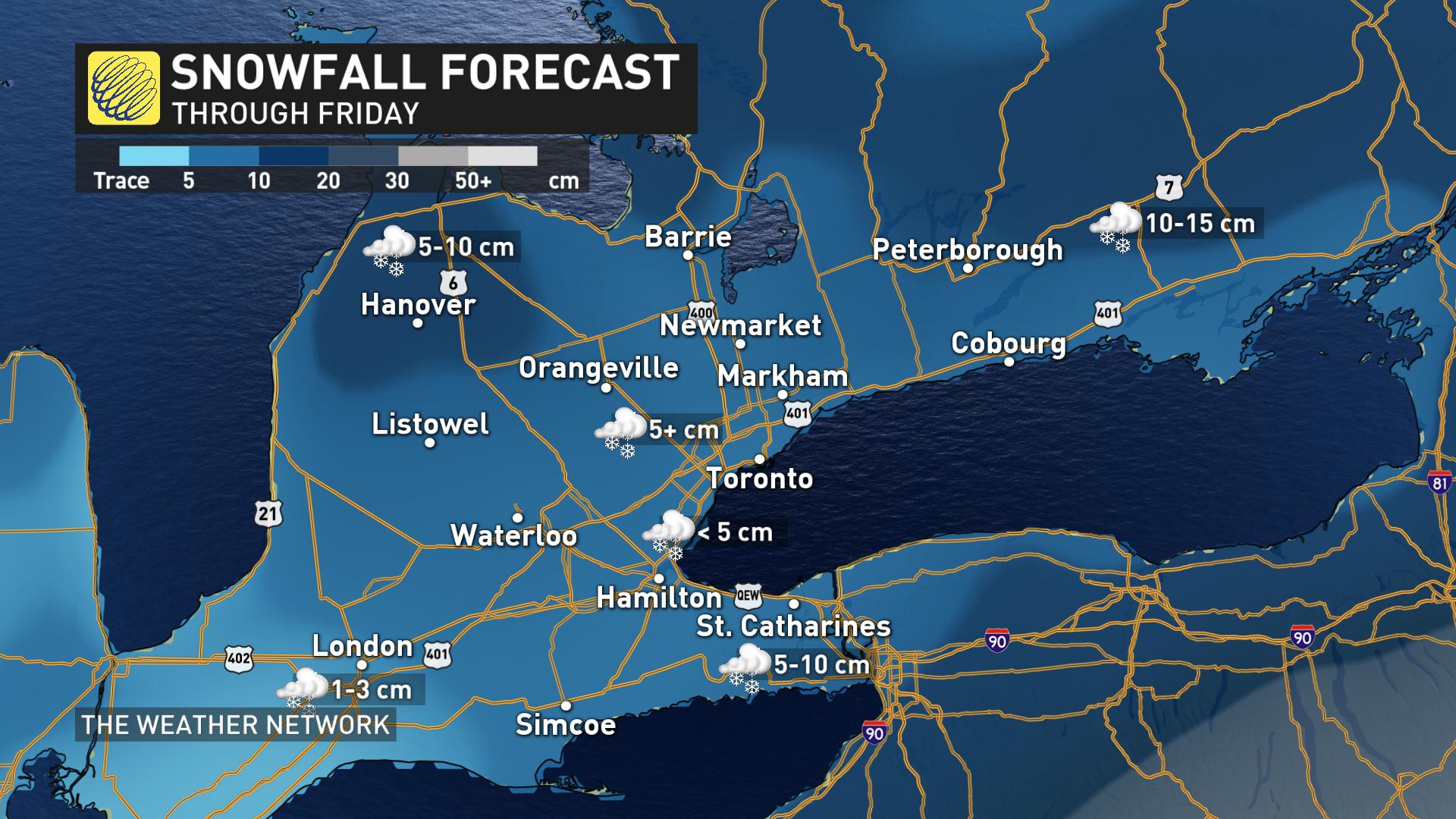 The chilly pattern will last through the weekend as temperatures struggle to climb above freezing on Sunday. 
THE WEEK SO FAR: A RECAP
While the monster storm steaming toward Atlantic Canada stayed mainly south of the border as it passed Ontario, it was enough to shift the winds and generate some snow squalls through the day on Tuesday with conditions deteriorating through the evening and overnight hours and hampering the Wednesday morning commute.
"Under the snow squall bands, visibilities will be significantly reduced due to the heavy snow combined with blowing snow, and snow will quickly accumulate," said Environment Canada in a snow squall warning issued early Wednesday morning.
A "winter weather travel advisory" was also issued for the Kitchener, Waterloo and Dufferin regions early Wednesday.
WATCH BELOW: SNOW SQUALLS MAKE FOR DANGEROUS DRIVING IN ONTARIO