Men five times more likely to be struck by lightning
Cheryl Santa Maria
Digital Reporter
Monday, July 25, 2016, 6:46 PM - It looks like drowning isn't the only thing men are more susceptible to than women. According to the Center for Disease Control (CDC) in the U.S., men are five times more likely to be killed by lightning than women, based on national statistics.
The data isn't new -- experts have been publishing similar findings for nearly 20 years. Still, the message is worth repeating now that thunderstorm season is here in Canada.
According to the CDC, 3,389 U.S. citizens were killed by lightning between 1968 and 2010, and 85 per cent of them were male. A study published in 1998 had similar findings, arguing that 85 per cent of lightning victims between 1980 and 1995.
In a similar vein, a Canadian study recently found that young men are 80 per cent more likely to drown than the rest of the population. But, unlike the swimming study -- which says men are more vulnerable because they're more likely to jump in the water after dark or mix alcohol with swimming -- experts aren't sure why men are more likely to die from lightning strikes.
Still, lightning deaths appear to be decreasing overall, falling 78.6 per cent between 1968 to 2010, among males and 70.6% among females in the U.S. 
Photo credit: Rishan Persaud
Here are some tips to help keep you safe, courtesy of the Red Cross.
INDOOR LIGHTNING SAFETY TIPS
Stay away from windows.
Unplug appliances.
Do not use the telephone.
Avoid running tap water.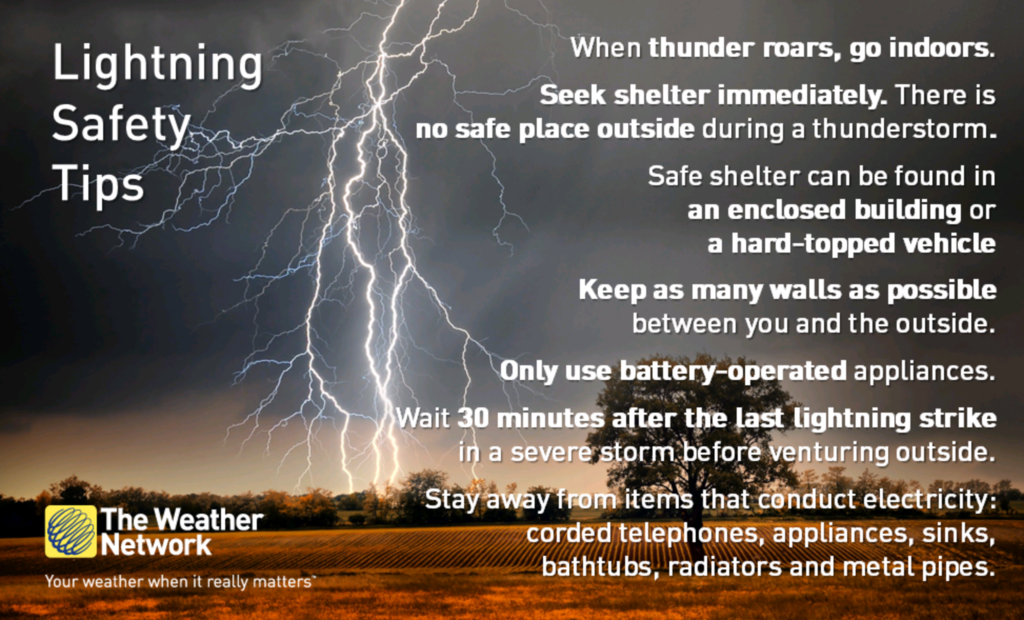 Photo credit: Jeff Wizniak
OUTDOOR LIGHTNING SAFETY TIPS
Try to reach a safe building or vehicle (Picnic shelters, dugouts and sheds are NOT safe).
Avoid high ground, water, tall, isolated trees and metal objects such as fences or bleachers.
If you are out on the water, get to land and find shelter immediately.
IF SOMEONE IS STRUCK BY LIGHTNING
Call for help / dial 911.
The injured person has received an electrical shock and may be burned or have other injuries.
People who have been struck by lightning do not retain an electrical charge and can be handled safely.
Give first aid. If the heart has stopped beating, a trained person should give CPR.
It's also important to keep the 30-30 rule in mind. If you can count 30 seconds or less between seeing a lightning flash and hearing the thunder, take shelter and stay there until 30 minutes after you last hear thunder. 
VIDEO: OVER 10,000 LIGHTNING STRIKES IN A 12 HOUR PERIOD: