March Miracle: El Niño refills California's dry reservoirs
Dalia Ibrahim
Digital Reporter
Wednesday, March 16, 2016, 3:39 PM - Four consecutive days of stormy weather have replenished several key reservoirs in Northern California to historical averages.
This past weekend's abundance of rain and snow – which is typical of an El Nino year -- pushed the state's two biggest reservoirs past their historical averages for this time of year, while officials are optimistic that the third-largest will get a boost of water runoff as snow melts from the Sierra Nevada mountain range over the next few months.
---
RELATED: Will El Nino hurt or help drought-stricken California this winter? We examine.
---
On Wednesday, Lake Shasta – the state's largest reservoir – was at 83 percent of capacity and 108% of its historical average, levels not seen since 2013. Meanwhile, Butte County's Lake Oroville was at 75 percent of capacity and 103 percent of its historical average, according to the California Data Exchange Center.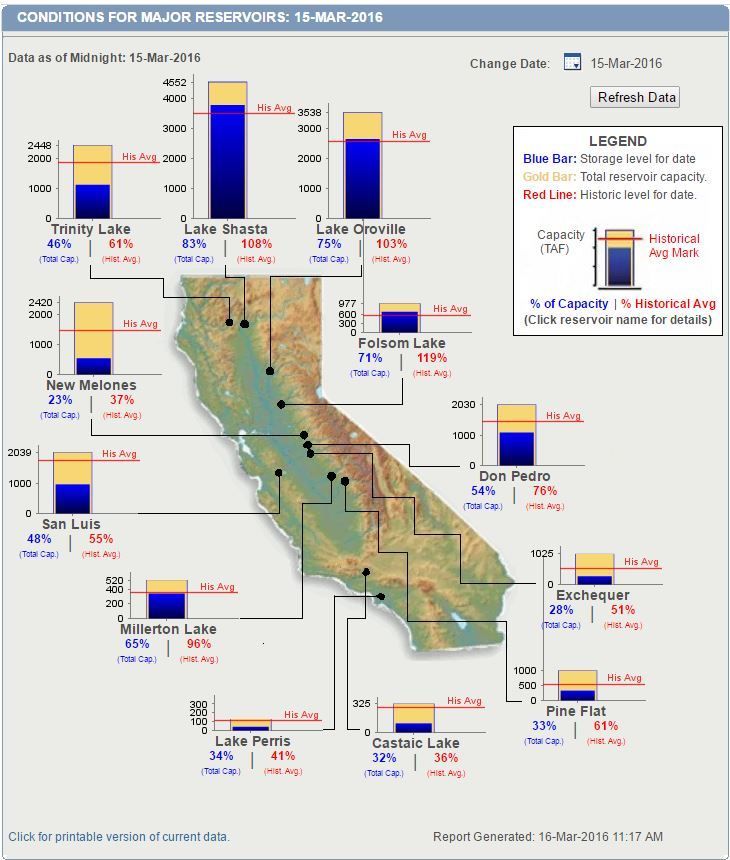 California Department of Water Resources
The reservoirs and Seirra Nevada Region play a critical role in water and hydrogical supply in California -- a state which has been in an unprecedented drought for over four years.
"It's happened a little quicker than I personally thought," [DWR spokesman Doug] Carlson told the LA Times. "It would appear the [seasonal storms] have really achieved what they historically do, which is deliver a lot of rainfall to the mountains."
Below is a before and after look at Lake Oroville, comparing 2015 levels to March 2016 (via California Department of Water Resources)

JULY 2015:
MARCH 2016:
More than 60 percent of California's developed water supply originates in the Sierra Nevada, serving end users throughout the state. Combined, Lake Shasta and Lake Oroville reservoirs have a capacity of more than 8 million acre-feet of water.
While it will take several years of average or above-average rainfall to remedy the deficit, officials say the so-called "March Miracle" is a step in the right direction.
Source: California Department of Water Resources | LA Times | California Data Exchange Center