Saturday, September 7th 2019, 8:18 pm - Nova Scotia couple forced to reschedule wedding due to Dorian, but takes the storm in stride.
When Ben Snair and Taylor Buttler started planning their wedding more than a year ago, they certainly didn't expect a hurricane to show up on their special day.
They were hoping to have a beautiful outdoor ceremony at the Lunenburg Yacht Club in Nova Scotia, but what was once Hurricane Dorian had different plans in store as it made its way into Atlantic Canada Saturday and forced the pair to reschedule their wedding.
SEE ALSO: PHOTOS: Widespread damage as Dorian churns toward Atlantic Canada
The ceremony was to be followed by a dinner, dancing and fireworks, but are moving the wedding to Sunday morning at the yacht club since Dorian has put a "damper on things," Buttler told The Weather Network over the phone from Snair's father's place, which is close to the yacht club.
"Obviously, it was disappointing but no one is ever going to forget our wedding. Whether it happens or not, we will still be talking about it. It's going to make one hell of a story to tell the kids and grandkids one day," said Buttler, noting she was expecting 90 people to attend the wedding, and still is for tomorrow.
"We said we would go with the flow and make the best of it. I'm trying to stay in good spirits, everyone is safe and we made the right call to cancel it."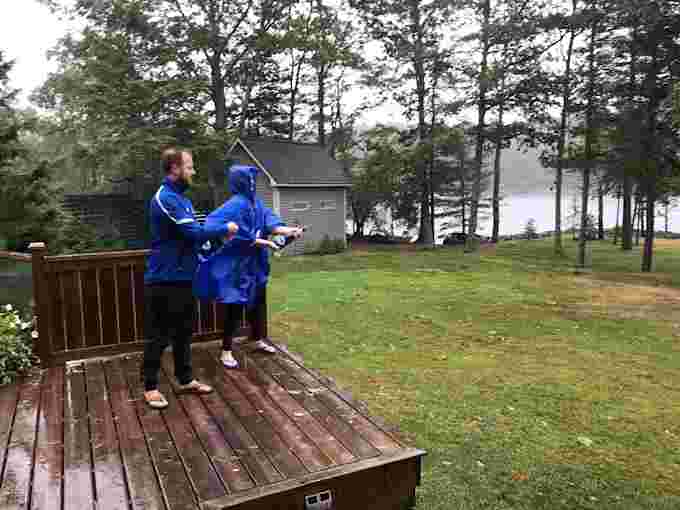 Ben Snair and Taylor Buttler open a bottle of champagne to celebrate what was supposed to be their wedding day, Sept. 7, until Dorian showed up to change their plans. Photo: Taylor Buttler
Depending on the conditions at the club by tomorrow, there is a contingency plan in place to hold the wedding in her fiance's father's backyard. However, by Saturday afternoon, the storm surge had covered half of Snair's father's backyard, as the house is on a ocean-front property.
"It is pretty windy, there is lots of rain, which is flooding the basement. The storm surge is pretty high [in the] top of the backyard. We're all staying in the house. We're still having a party," said Buttler.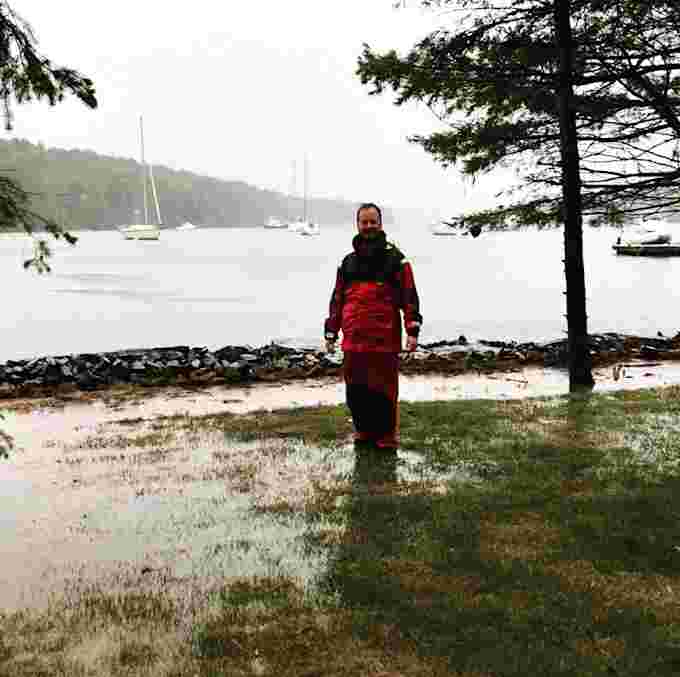 Ben Snair standing in his father's backyard, covered by water resulting from Dorian's storm surge. Photo: Taylor Buttler
If the backup plan doesn't work out, Buttler joked they will bring their wedding attire to Scotland, where they're going for their honeymoon.
"So, more rain," she laughed. "We would have all been stuck there [at the yacht club] if we went, so it's probably for the best we called it off."
Although Dorian has transitioned to a post-tropical cyclone, meteorologists are warning that the storm is still maintaining strength that is equvalent to a Category 2 hurricane.
WATCH BELOW: HURRICANE DORIAN 'TURNING THE STREETS OF HALIFAX INTO AN OBSTACLE COURSE