Saturday, September 7th 2019, 7:01 pm - Hundreds-of-thousands of customers were without power Saturday as Dorian hammered the Maritimes.
EDITOR'S NOTE: This story is no longer being updated. Please click here for latest updates on Dorian as it moves through Atlantic Canada.
--
Dorian has transitioned to a post-tropical cyclone, however meteorologists are warning that the storm is still maintaining strength that is equvalent to a Category 2 hurricane. The storm is expected to make landfall Saturday evening near Halifax, Nova Scotia. The latest update from the U.S. National Hurricane Center has Dorian with maximum sustained winds of 155 km/h and is moving northeast at 48 km/h. A general northeast movement is expected to continue through Sunday night.
---
KEY POINTS:
Centre of Dorian looks to make landfall just east of Halifax, Nova Scotia, although outer bands are already being felt across the Maritimes
The Maritimes are facing hundreds-of-thousands of power outages. Keep up-to-date here
Heaviest swath of rain expected from southwestern Nova Scotia through PEI, and southern New Brunswick
Tropical-force winds are already moving over Nova Scotia, some damage reported
Macdonald Bridge from Dartmouth to Halifax is closed
Stay up-to-date on the ALERTS in your area
---
MONITORING DORIAN'S TRACK TOWARDS ATLANTIC CANADA
Dorian's centre is expected to move across central or eastern Nova Scotia on Saturday and pass near or over Prince Edward Island later tonight with tropical storm-force winds. The powerful winds will weaken as the system then moves near or over portions of Newfoundland and Labrador on Sunday.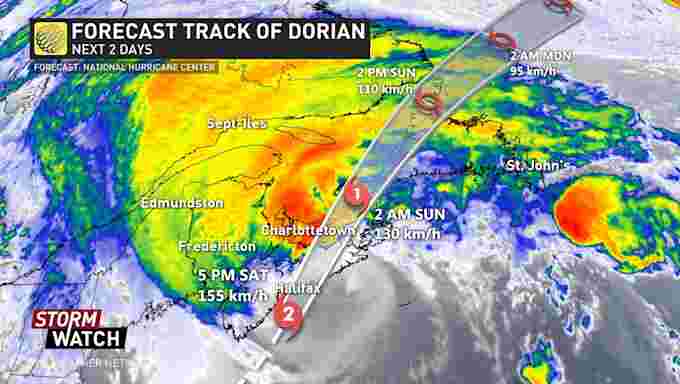 The Maritimes are facing thousands of power outages with the majority being in Nova Scotia, where upwards of 390,000 customers affected as of 6:30 p.m. EST, according to Nova Scotia power. As well, the Macdonald Bridge connecting Dartmouth to Halifax in Nova Scotia is now impassable and has been closed.
Hurricane warnings are in effect for the south shore, central and eastern Nova Scotia, and western Newfoundland. Hurricane watches are in effect for eastern Prince Edward Island and the Magdalen Islands. Tropical storm-force winds, torrential rains and storm surge will accompany this powerful cyclone.
PHOTOS: Widespread damage ahead of Hurricane Dorian landfall in Atlantic Canada
Tropical storm warnings cover southeastern New Brunswick, Prince Edward Island, western and northern Nova Scotia, parts of northern and southwestern Newfoundland, and the Magdalen Islands.
Storm surge warnings are in effect for Halifax and the Eastern shore. Kent County, Kouchibouguac National Park, Miramichi and area, and Moncton and Southeast New Brunswick have also been issued storm surge warnings. The Canadian Hurricane Centre says high storm surge levels and large waves are expected to impact the coast.
WATCH BELOW: WEATHER NETWORK REPORTERS BATTLE POWERFUL WINDS
STORM PREPARATIONS UNDERWAY
The Minister of Public Safety and Emergency Preparedness, Ralph Goodale, stated on Twitter that the Government of Canada has approved Nova Scotia's request for assistance with Dorian and military personnel will help with the widespread impacts.
The Canadian Hurricane Centre warns of "severe impact" as downed trees, power outages, and flash flooding are all major threats throughout the weekend.
STORM WATCH: The Canadian Red Cross is in Halifax preparing for the storm
According to Weather Network meteorologist Dr. Doug Gillham, Dorian will make landfall across east or central Nova Scotia (east of Halifax) on Saturday evening, but the impacts will be widely felt throughout much of Atlantic Canada.
"The impact of the storm could be comparable to Hurricane Earl in 2010, which resulted in close to one million people being without power across Atlantic Canada. However, it looks like the track of the storm will be east of Halifax, which means that the strongest winds will be east of the city rather than through Halifax," explains Gillham.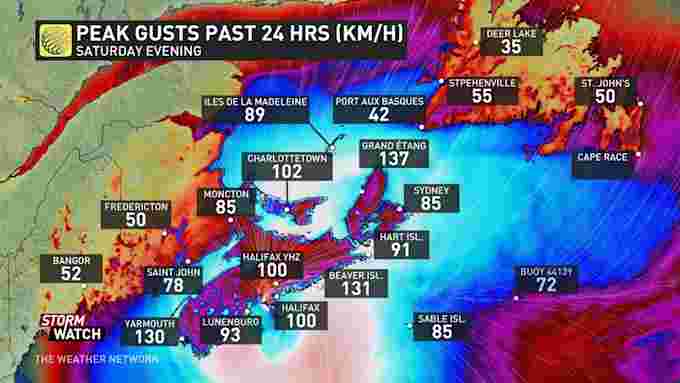 Gillham says that Dorian will not be as strong as Hurricane Juan (2003), which was the strongest storm that most people in the region will remember.
The strongest winds are likely to occur in less populated areas, which will could reduce the number of people who will be without power. However, many people in smaller coastal communities will experience power outages.
Dorian's forward speed is increasing and it will quickly move across Nova Scotia and Prince Edward Island Saturday night. Heavy rain, strong winds are going to continue through the night and taper off into Sunday.
Much cooler air is expected to funnel in behind the storm Saturday overnight through early Sunday morning - specifically over the higher elevations of northern New Brunswick.
Some models indicate near to below freezing temperatures which support the possibility of rain briefly mixing in with wet snow. These cooler temperatures however will not be a concern across the southern sections of the Maritimes on Sunday as daytime highs climb to the mid to high teens.
TROPICAL STORM FORCE WINDS, TORRENTIAL RAIN
Much of Atlantic Canada will experience winds of 90-110+ km/h, while gusts of 120+ km/h are expected in many coastal areas. A maximum wind gust reached 141 km/h on Saturday afternoon about 10 km away from downtown Halifax.
"Wind impacts will likely be enhanced by foliage on the trees, causing broken branches and tree falls, resulting in power outages, blocking of roads, and other type of damages," warns the CHC.
WATCH BELOW: DORIAN'S WIND FIELD
Nova Scotia Power activated its Emergency Operations Centre on Friday, which comprises of a support team of roughly one thousand people that will help plan and manage its storm response.
"Our preparations include bringing in several hundred power line technicians from Nova Scotia, New Brunswick, Ontario and Quebec," said Karen Hutt, President and CEO of Nova Scotia Power. "As well, we will have forestry crews, planners, damage assessors, engineers, supervisors, communication experts, and customer care representatives at the ready."
"RAINFALL WILL BE A MAJOR FACTOR"
The Canadian Hurricane Centre warns that rainfall will be a major factor with Dorian as "torrential rain may lead to flooding."
Rainfall warnings are in effect for Nova Scotia, western Prince Edward Island, and most of New Brunswick stretching from the southwest towards the Gaspesie, according to the CHC.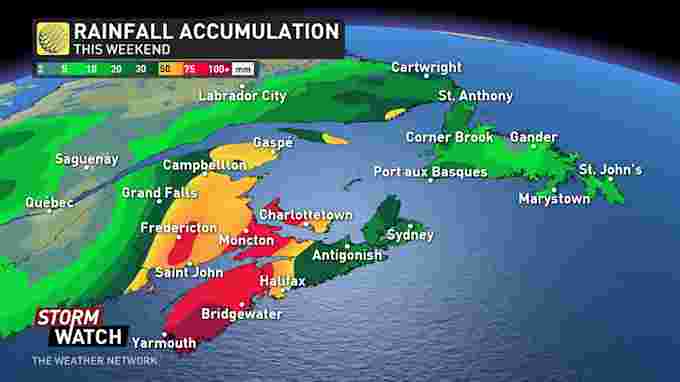 Widespread rainfall totals of 50 to 100 mm are likely, with localized amounts of 100 to 200 mm, which could produce some flash flooding, especially in areas that have recently seen similar rainfall amounts with tropical remnants from Erin. The highest totals are expected for Nova Scotia and the Gulf of St. Lawrence region.
"This combined with the severe winds may result in damage due to falling trees," the CHC says.
SIGNIFICANT WAVE HEIGHTS
Some rough and pounding surf will also occur in parts of Nova Scotia, Newfoundland and the Gulf of St. Lawrence. Large waves could build to nearly 10 metres over the Eastern Shore of Nova Scotia on Saturday night.
Waves of fives metres or higher will impact north facing coasts of the Gulf of St. Lawrence and could cause dangerous rip currents as they break along some of the coastlines.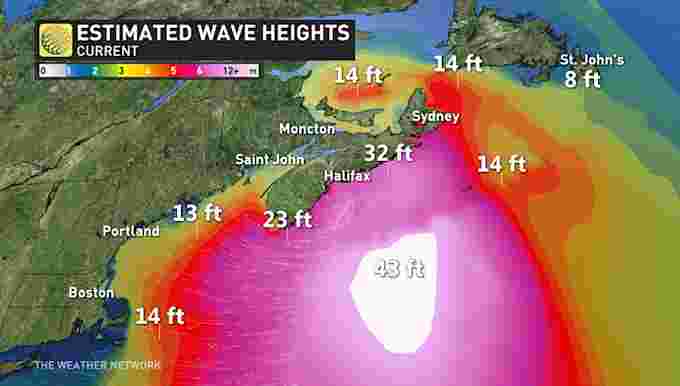 "We have high confidence for brutal surf and coastal storm erosion through Saturday afternoon and continuing into Sunday," adds Weather Network meteorologist Tyler Hamilton.
Storm surge warnings have been issued for the gulf coast of Nova Scotia and are stating that higher than normal water levels with very large waves are expected near the coast. Storm surge is most likely to be a concern Saturday evening and overnight.
Walking tour of the waterfront #Halifax #Dorian pic.twitter.com/kgsVcSRBkm

Walking tour of the waterfront Nathan Coleman on Twitter: "Walking tour of the waterfront #Halifax #Dorian pic.twitter.com/kgsVcSRBkm / Twitter" Nathan Coleman on Twitter: "Walking tour of the waterfront #Halifax #Dorian pic.twitter.com/kgsVcSRBkm / Twitter" Nathan Coleman on Twitter: "Walking tour of the waterfront #Halifax #Dorian pic.twitter.com/kgsVcSRBkm / Twitter"

— Nathan Coleman (@NateTWN) Nathan Coleman on Twitter: "Walking tour of the waterfront #Halifax #Dorian pic.twitter.com/kgsVcSRBkm / Twitter"
HOW DORIAN COMPARES TO JUAN
The Weather Network's chief meteorologist Chris Scott says that Hurricane Dorian will likely be the worst tropical system to hit the Maritimes since Hurricane Juan in 2003.
"Dorian will not rival Juan for the extreme damage it caused, especially in Halifax. However, Dorian will be a larger storm, affecting most of Atlantic Canada as it will take on characteristics of a nor'easter. Strong winds will affect the entire region including PEI, New Brunswick and Newfoundland," explains Scott.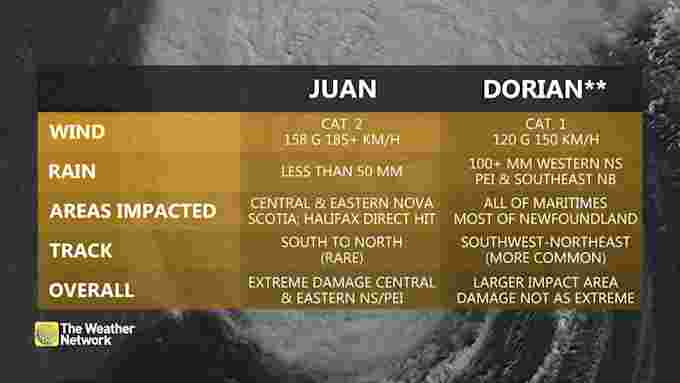 Since Dorian will be transitioning from a hurricane into a nor'easter, the impact will be felt far away from the centre of the system, unlike Juan where the damage was more confined to a swath along and east of the storm track. However, the exact track of Dorian will be quite important for Halifax in particular as a track just to the west would place the strongest winds of the storm right through the Halifax metro area.
"Hurricane Juan was a special storm, and we may not see one like it again for a hundred years. The track is what made Juan so unique," says Scott.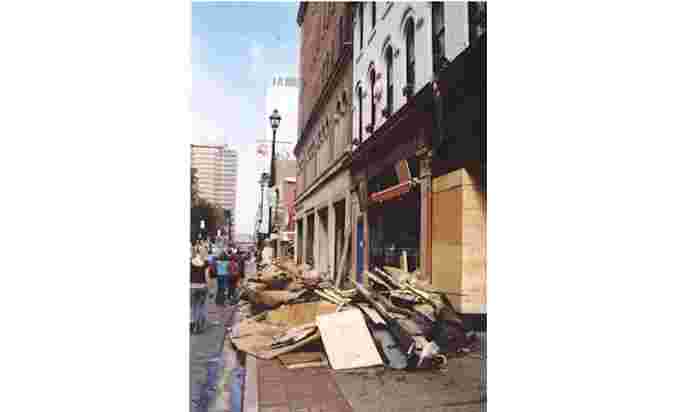 Debris on the streets of Halifax following Hurricane Juan. Credit: Wikimedia Commons
Most hurricanes, including Dorian, track southwest to northeast through Atlantic Canada, however Juan moved due north allowing it to hit the Nova Scotia coast flush as a full-on category 2 hurricane, and was moving fast enough to maintain strong winds right through PEI.
Juan's track was the worst possible scenario for Halifax, as the metro area took a direct hit from the eastern eyewall of the storm where the strongest winds were located.
Hurricane Dorian will not have the extreme damage of Juan - but thanks to an injection of jet stream energy, Dorian will be a large and powerful hybrid-storm which could make it the 2nd most damaging storm in recent memory.
WATCH BELOW: CRANE COLLAPSED IN HALIFAX AS HURRICANE DORIAN APPROACHES, SEE THE DAMAGE