Sunday, September 20th 2020, 9:29 pm - Though will be less potent than at its peak, Teddy will still bring strong, potentially damaging winds, torrential downpours, large swells and storm surge to parts of Atlantic Canada by mid-week.
This story has been replaced, please click here for updates
The 2020 Atlantic hurricane name list is officially exhausted, and already we are two names into the alternative Greek alphabet, with Beta expected to be the latest storm to slam the U.S. Gulf Coast in the coming days. One of the holdovers from the "main" list will have an impact on Canadians shortly: Hurricane Teddy, whose track is pointing to an East Coast impact by mid-next week.
---
MONITOR WEATHER ADVISORIES ON OUR ALERTS PAGE
---
Hurricane Teddy continues to weaken, with further decreasing in strength expected, but still boasted winds of 165 km/h as of Sunday night, keeping it in the Category 2 realm still.
Teddy has shifted to a northerly direction as of Sunday night and the centre will trek east of Bermuda early Monday morning before it begins its trek towards Atlantic Canada. A tropical storm warning is in currently in effect for Bermuda.
By late Monday, Teddy is expected to be picked up by a deep upper-level trough that will allow for a brief intensification. Teddy will undergo a transition to post-tropical status as it approaches Atlantic Canada, impacting the region likely as a strong post-tropical cyclone.
While it is expected to track through eastern Nova Scotia by late Tuesday night or early Wednesday morning, rain and wind impacts could begin pushing into the province Tuesday morning.
Tropical storm watches are now in effect for Atlantic coastal regions of Nova Scotia including Halifax.
RELATED: What you need in your hurricane preparedness kit
Large swells are likely to cause life-threatening surf and rip current conditions, extending several hundreds of kilometres from the centre of the storm. Significant wave heights and storm surge is expected to continue into Wednesday for coastal sections of Atlantic provinces.
The Weather Network meteorologist Tyler Hamilton says that towering waves over 30 metres (100 feet) are possible on Tuesday morning as Teddy approaches. Hamilton says that these waves would be roughly the height of the 7th storey on an apartment and will occur within a couple hundred kilometres south of the Scotian Shelf.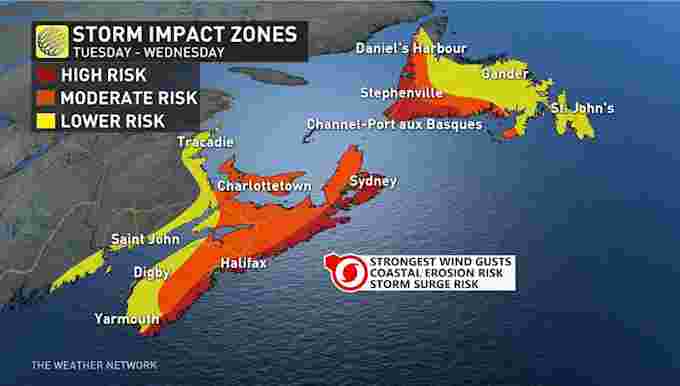 An extremely large wind field associated with Teddy is likely to spread moderate to strong winds onshore. The strongest, and potentially damaging wind gusts, are expected to impact coastal Nova Scotia and Newfoundland through Wednesday.
As Hurricane Teddy moves into Canadian waters, there is a reasonable chance of hurricane-force winds near and south of the track, mainly over southern Atlantic Canada forecast waters. Tropical storm-force winds are likely farther north into the Gulf of St. Lawrence and southern coastal Newfoundland.
The heaviest rainfall amounts are likely north-northwest of the track of the storm, impacting areas such as eastern Nova Scotia and Prince Edward Island. The effects of Teddy are expected to continue into late Wednesday for Newfoundland.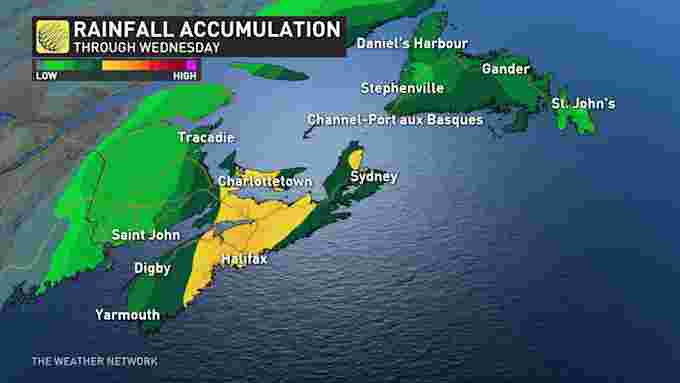 WATCH BELOW: HIGHEST WINDS STAY OFF THE COAST DURING TEDDY, CANADIAN HURRICANE CENTRE SAYS
The last landfalling tropical system in Atlantic Canada was last year's Dorian, which made landfall in Nova Scotia as a Category 1-equivalent extratropical storm on September 7th, and later on made a second landfall in Newfoundland.
As the situation has the potential to be impactful, continue to check back for updates as we keep an eye on Teddy's movements.