AUSTRALIA
Mum shields baby from massive hail (Warning: graphic)
Digital writers
theweathernetwork.com
Monday, October 15, 2018, 8:40 AM - A woman in the Australian state of Queensland suffered severe bruises while shielding her baby daughter from a damaging hailstorm this past week.
Fiona Simpson, 23, was driving on the highway with her four-month-old daughter Clara and her 78-year-old grandmother when the group was caught in the powerful storm. Simpson told the Australian Broadcasting Corporation she pulled over and thought to wait out the storm.
But the car was not up to the task of the sheltering the family, and large hail began smashing the windows, spurring Simpson to leap to the backseat and try to shield her daughter from harm.
"It was so scary but there was no time to be afraid -- it just all happened so fast," she told the broadcaster, later adding: "I looked down and I could see she was screaming but I couldn't even hear her, that's how loud it was."
Both she and her grandmother took a severe beating from the hail, and when it was over, Simpson drove the damaged car to a nearby house for help. An ambulance was called and the three were taken to hospital.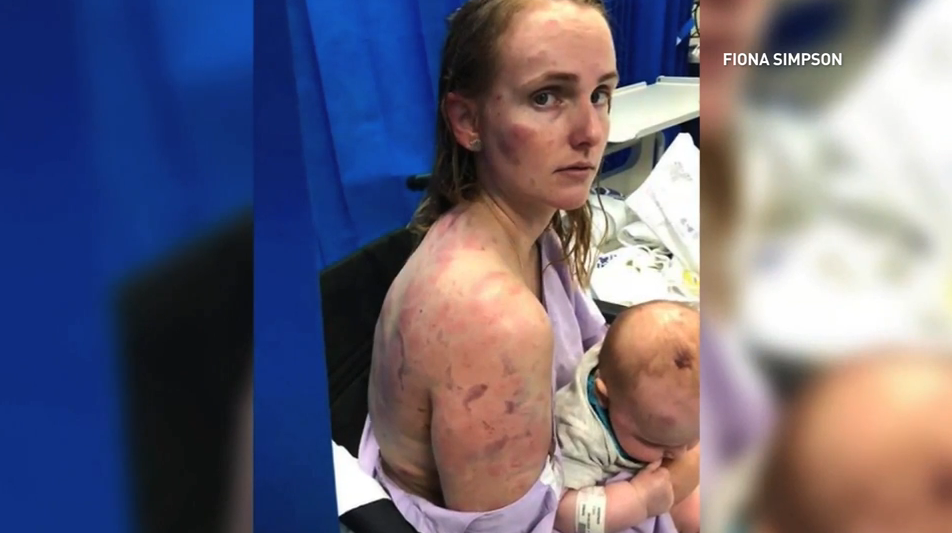 Fiona Simpson/Facebook
"It wasn't until I got in the ambulance that I realized that if I didn't do that [Clara] could have been seriously hurt or killed, anything could have happened," she told ABC.
Simpson suffered several nasty bruises, but her grandmother was more seriously injured. ABC reports the skin of the older woman's left arm was "shredded," while the other arm was "completely black," requiring hospitalization.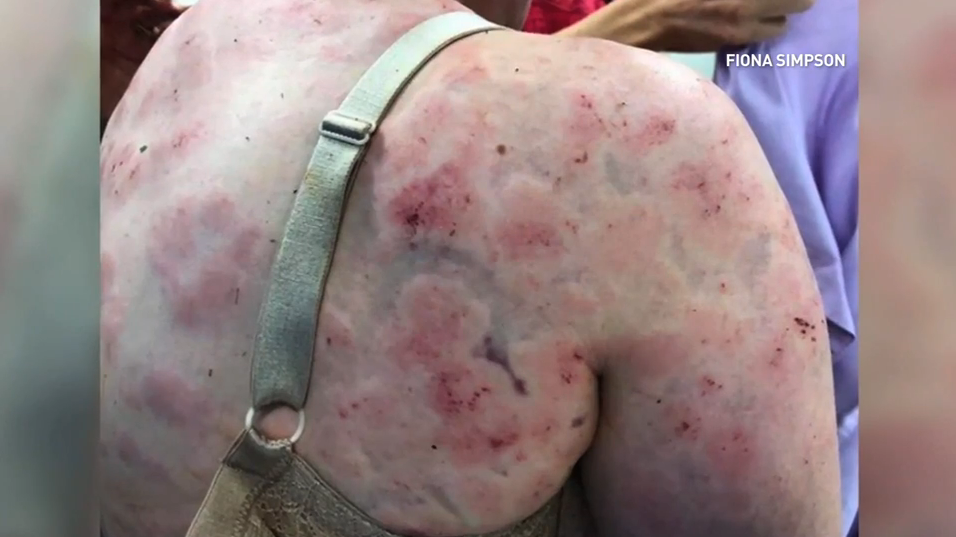 Fiona Simpson/Facebook
The storms that battered that part of Queensland were damaging. Aside from large hail, torrential rain, powerful winds and at least one tornado were reported, with some 10,000 homes left without power.
"It could have been a lot worse, that's for sure," Simpson told broadcaster 9News. "You can replace a car but you can't replace a life."
WATCH BELOW: CURIOUS DOGS INVESTIGATE HAIL AS SHOWERS BATTER AUSTRALIA