HURRICANE SEASON | Michael Upgrade?
Hurricane Michael under review: Was it a Category 5 storm?
Jaclyn Whittal
Meteorologist
Thursday, October 25, 2018, 2:34 PM - Hurricane Michael was a deadly high-end Category 4 storm that claimed 54 lives across the deep south with estimated damage in between 6 to 10 billion U.S. dollars. Quickly in the hours and now weeks following its Florida Panhandle landfall, there has been plenty of debate swirling around Michael -- was it a Category 4 or 5 storm?
STRONGEST STORM OF 2018: SUPER TYPHOON YUTU TESTS THE UPPER LIMITS
---
SATELLITE IMAGERY OF MICHAEL'S LANDFALL IN FLORIDA
HISTORY OF MICHAEL
It all began as a cluster of thunderstorms off the Yucatan peninsula that grew and intensified quickly in the first week of October. By the 6th, the system became sufficiently organized to be declared a potential tropical cyclone, on the 7th a tropical storm and by the 8th, Michael grew into a hurricane.
The storm made landfall at 12:15 pm local time on October 10th as a high-end Category 4 near Mexico Beach, on the Florida Panhandle. With sustained winds of 250 km/h (155 mph) and a minimum central pressure of 919 mb, Michael became the third strongest land-falling hurricane in the U.S. on record. With that estimate of winds, Michael was only 2 mph shy of Category 5 status, so, is it possible that this could have been a Category 5 storm?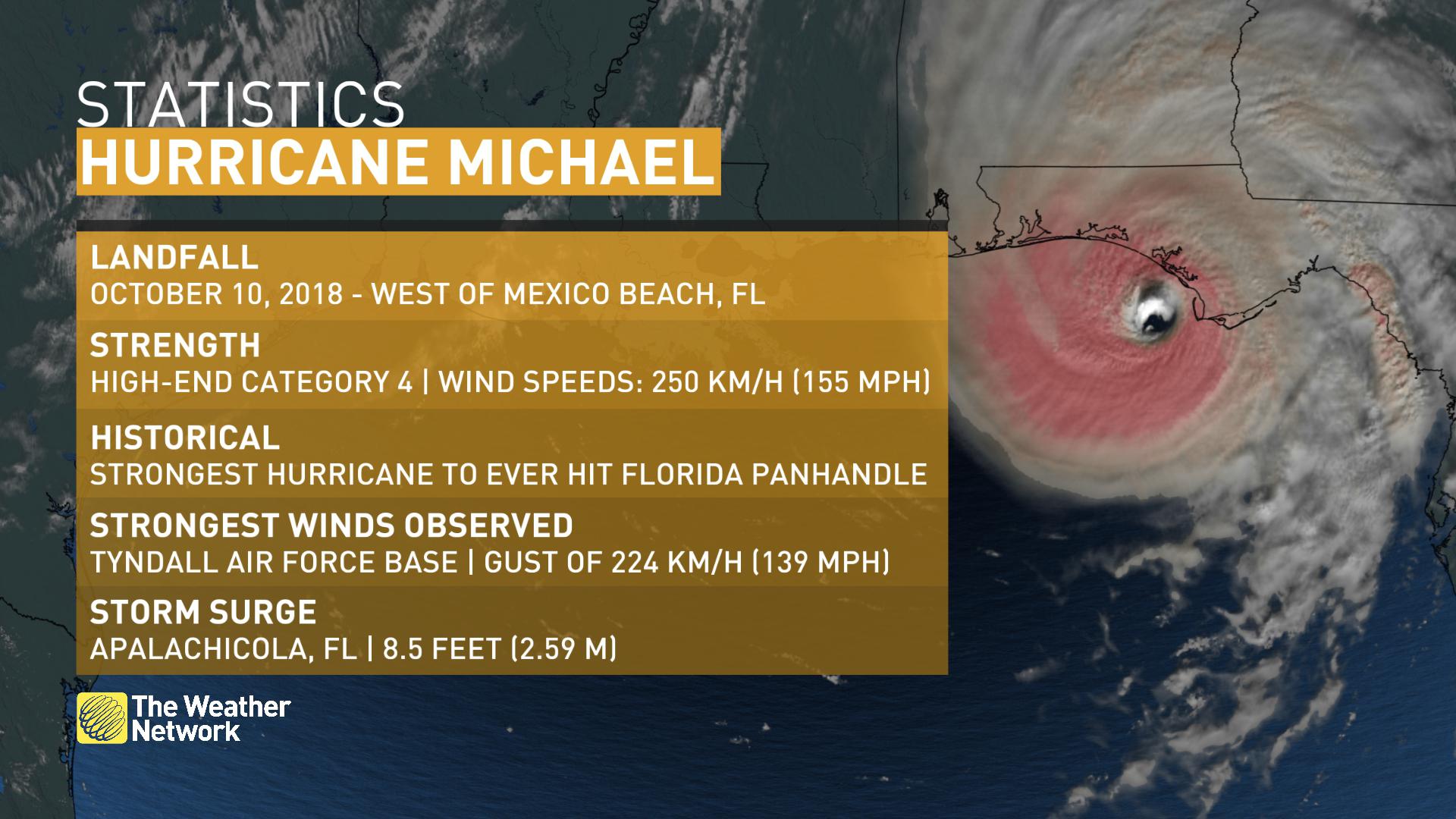 Following the Atlantic season, the National Hurricane Center performs post-storm analysis on tropical cyclones to properly assess initial observations and finalize their strengths for climatological records. If Michael receives revision and a subsequent upgrade, it wouldn't be the first in history. Of the three Category 5 landfalls in U.S. records, two were the results of revision: the 1935 Labor Day storm that hit the Florida Keys and Hurricane Andrew in 1992.
But this raises the question: how do we truly know the absolute strength of a storm so precisely, when the tools and weather stations we use to measure the intensity are few and far between and ironically, often destroyed in the hurricane they're trying to measure. It seems that inherent doubt is always present in the intensity of tropical cyclones due to the shear lack of observation, so is there other evidence that casts suspicion?
SEE ALSO: Hawaiian island completely WIPED OUT by hurricane
MINUTES BEFORE LANDFALL
Taking a look at Michael's pressure, 919 mb would typically indicate a Category 5 hurricane simply based on atmospheric pressure. However, we no longer classify hurricanes on their pressure and solely use their wind speeds. 
As mentioned before, obtaining the highest wind speeds by weather stations is nearly impossible, so we are forced to greater measures to obtain this data. The National Oceanic and Atmospheric Association (NOAA) deploy aircraft reconnaissance missions called the 'Hurricane Hunters' that fly through tropical cyclones and obtain atmospheric data from within the storm.
Hurricane Michael had one last reconnaissance aircraft mission before landfall which actually suggested it was strengthening in the minutes leading up to its Florida strike, with reports that the flight level winds had increased and pressure had continued to decrease even further to 917 mb.
SEE WHAT HAPPENED: DIAMOND RING FOUND IN MICHAEL'S DESTRUCTION
But flight-level winds aren't what determine the categorical strength. For that, you need the surface winds. 
To estimate winds at the surface of a hurricane, there is an important calculation that forecasters use to extrapolate the upper level winds down to the surface, since again, surface observations are few and far between and can't be reliable during the event. So, if flight-level winds increased and pressure did indeed lower, it is not out of the question that Hurricane Michael could have been a Category 5 hurricane.
This will of course still need to be investigated and it may take time, as we've learnt in the past, Hurricane Andrew took nearly 10 years to be upgraded to a Category 5. As soon as the National Hurricane Center has any revisions, we here at the Weather Network will keep you posted.
WATCH BELOW: ONE HOME LEFT STANDING AFTER MICHAEL, HERE'S HOW