Friday, January 31st 2020, 11:26 am - Some startling stats for a sun-starved January across Canada.
Not feeling like yourself lately? Can't find the motivation to kick your new year resolutions into high gear? There could be a perfectly good reason for this and it's an extreme lack of sunshine recorded for the month of January.
"The gloomy weather has been real this January for many cities across Canada," says Weather Network meteorologist Kelly Sonnenburg. "So gloomy in fact, that some cities just experienced their cloudiest January since at least 2013."
BY THE NUMBERS: PERCENTAGE OF JANUARY CLOUD COVER:
Vancouver: 90%
Calgary: 66%
Toronto: 81%
Halifax: 82%
St. John's: 80%
For Calgary, Halifax and Toronto, these were all the cloudiest January's since at least 2013.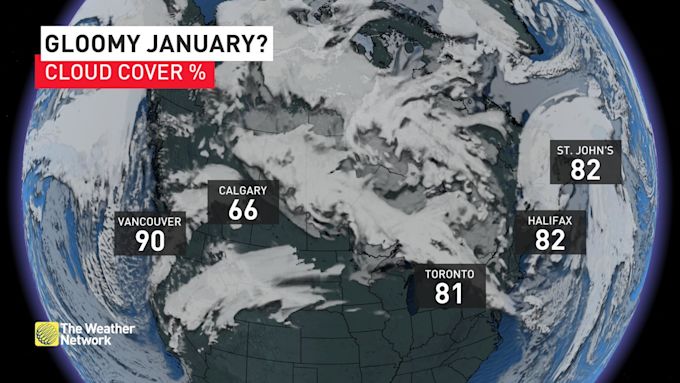 NATIONAL GLOOM INDEX: Find out how sun-starved your city was last fall
WHY SO GLOOMY?
Vancouverites are no stranger to cloud, especially during the winter months. Statistically, January is the cloudiest month on average and this also coincides with the wettest month on average, with approximately 168 mm of precipitation recorded for the month.
MUST SEE: 'Category 4' atmospheric river threatens HEAVY, flooding rain in southern B.C.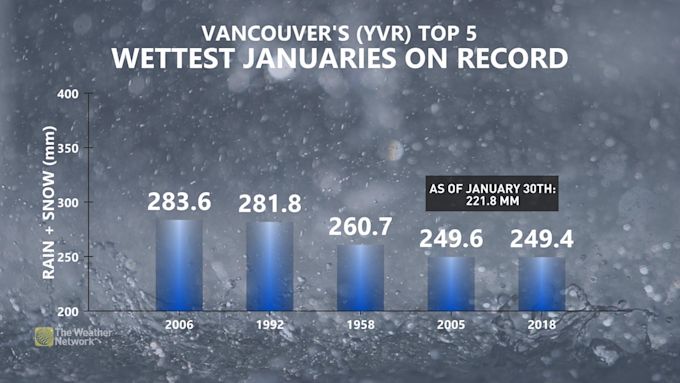 Although this January hasn't been unusually cloudy, much of Calgary's cloud in general can either be blamed on Pacific lows moving into the west coast that allows moisture to spill over the Rockies, or easterly upsloping winds.
Coming off the second wettest January on record for Toronto, this, of course, directly links to the unusually cloudy January. Southern Ontario was targeted by more of an active storm track bringing in rounds of weekend snow and rain, which contributed to the lack of sunshine overall.
Late fall and winter historically bring the greatest precipitation to Atlantic Canada. The active storm track into southern Ontario also stretched at times into Atlantic Canada bringing rain, snow and of course, cloudy conditions.
SEASONAL AFFECTIVE DISORDER, WHAT IT IS AND HOW IT AFFECTS US
Thumbnail image source: Getty Images