Tuesday, January 28th 2020, 10:15 am - January tips to the mild side in Ontario, with uncertainty as to when a severe cold pattern will lock in
January 2020 will likely be remembered as wet and mild for much of Ontario, thanks to a lack of cold air across central and eastern Canada this month.
"What we haven't been lacking however, is the active weather in Ontario," says Weather Network meteorologist Kelly Sonnenburg.
SEE ALSO: Toronto soars past average snowfall, even without consistent cold
The active storm track has been targeted to the Great Lakes region for much of the month, with impactful storms timing out three weekends in a row. But with a lack of arctic air, some of the storm events have resulted in ice or just straight rainfall as opposed to snow.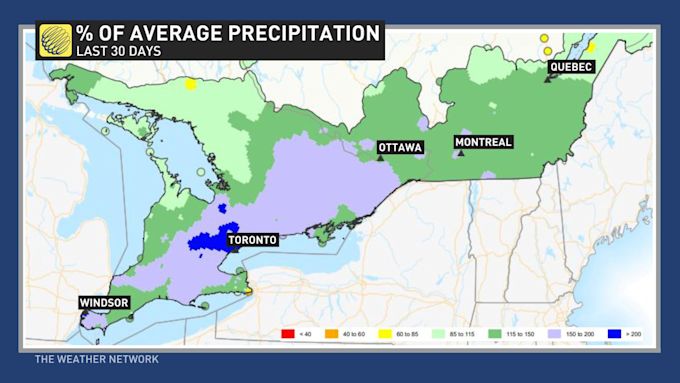 "Much of southern Ontario has seen 150 to just over 200 percent of the normal or average precipitation for the month of January," Sonnenburg adds. "But with the warmer temperatures, a lot of that precipitation has fallen as rain."
Currently, this is Toronto's second rainiest January on record with 105.6 mm of rain reported so far. Total precipitation for the month as of January 26 is sitting at 130.6 mm.
BREAKING OUT OF THE HIGH IMPACT WEEKEND STORM STREAK
The month of January will end in a similar fashion, with mostly mild and above seasonal temperatures persisting through mid-week. A passing flurry is possible here and there, though with no snow accumulation expected across southern Ontario. Daytime highs will tumble slightly on Wednesday and into Thursday, before trending right back to above seasonal values by Friday and through the weekend.
A trough over Alaska and at times, the western Prairies, has allowed the cold air to be focused across parts of western North America this month. Milder, Pacific air has flooded east across the country and into Ontario, and a strong Bermuda high has also fought back against any cold, arctic air, keeping temperatures above seasonal for the region.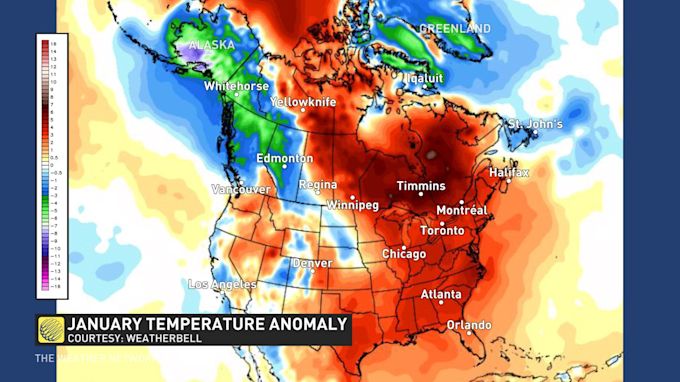 Forecasters are closely watching the potential for yet another weekend system coming up, but at this point, it's likely the region will break out of the streak for high impact weekend storms. A weak clipper will bring some wet snow to parts of southern and central Ontario, though with just minimal snowfall totals expected.
"The first few days of February will bring a continuation of what we have seen during January -- changeable weather," says meteorologist Dr. Doug Gillham. "There are indications that we will see a period of more typical winter temperatures starting around February 5, but at this point, it does not look like we will see severe cold from this pattern."
It is still unclear at this point as to whether there will be a more significant change in the pattern as we head throughout February.