Tuesday, January 7th 2020, 8:00 pm - Plan ahead: Southern Ontario's unsettled week may end with a messy, wintry blast.
An unsettled pattern keeps its grip on southern Ontario this week, complete with quick shots of snow, lake-effect bands, and even a surge of milder air and rain to close out the workweek. This active storm track has caught forecasters' attention, however, as the potential for a messy, high-impact winter storm looms for the weekend. More on the timing and potential threats, below.
Visit our Complete Guide to Winter 2019/2020 for an in-depth look at the Winter Forecast, tips to plan for it and a sneak peek at the spring season next year
---
WEATHER HIGHLIGHTS:
Quick shot of snow through pre-dawn Wednesday with additional lake-effect bands through Wednesday night
Milder, rainy system closes out workweek
Eyes on possible high impact weekend messy storm
Stay up-to-date on the ALERTS in your area
---
THROUGH WEDNESDAY: SHOTS OF LIGHT SNOW
A weak disturbance drifting south through southern Ontario during the pre-dawn hours on Wednesday may leave some residents reaching for the snow brush before they set out for work or school Wednesday morning. Accumulations from this burst of snow will generally be light -- up to 5 cm -- though, if you have an early commute planned, it may make for some slippery untreated roads.
The exception to the light accumulations will be around Lake Huron and Georgian Bay, where lake-effect bands pick up once again into early Wednesday. Up to 10 cm of snow is expected for spots along the shores of Lake Huron, with higher amounts possible in persistent snow bands. Environment Canada has issued snow squall watches for a broad swath of central and southern Ontario adjacent to the shores of Georgian Bay and Lake Huron, stretching from north of Parry Sound to London.
WATCH BELOW: SNOW SQUALLS FOR WEDNESDAY
High temperatures will also occur early in the morning on Wednesday, steadily falling to around -8°C for the evening commute across the south.
"Thursday morning will bring the coldest weather that we have seen in several weeks," says Weather Network meteorologist Dr. Doug Gillham.
THURSDAY/FRIDAY: RAINY, MUCH MILDER FOR THE END OF THE WEEK
Late week will see a surge of milder air from the south ahead of the next low pressure centre to target the region. That means more rain than snow is expected for much of southern Ontario on Friday, with temperatures creeping into the high single digits -- possibly even breaking the 10ºC mark for the extreme southwest.
Before the mild air moves in, however, the leading edge of the system will encounter the lingering cold. That spells the potential for a mix of rain and snow moving northeastward through southern Ontario overnight Thursday into Friday. By the time the morning alarm goes off, however, we should be looking at rain across the board.
WEEKEND: POTENTIAL HIGH IMPACT AND MESSY SYSTEM
Behind that early spring-like front, however, a much more wintry blast is possible as a strong cold front crosses the region Saturday. Environment Canada has already issued a special weather statement for much of southern Ontario ahead of this system, anticipating rain, freezing rain, and snow.
Abundant moisture from the Gulf of Mexico will fuel the weekend weather. In fact, many spots in southern Ontario could be looking at getting their entire January average rainfall in just 12 hours through early Saturday.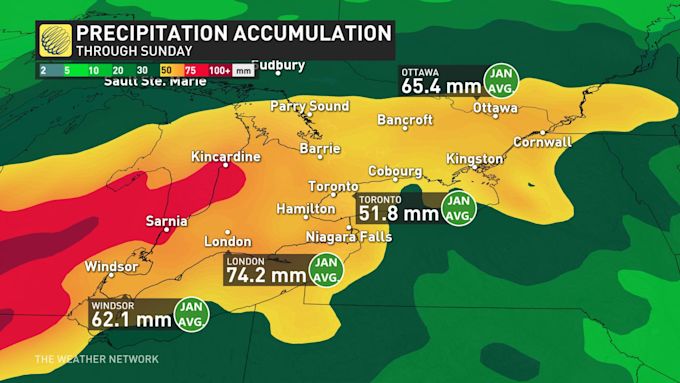 The cold air isn't very far away, however, and that makes for a tricky set up when it comes to how this storm will play out.
"Falling temperatures colliding with abundant subtropical moisture is the recipe for a high impact and messy winter storm," Gillham warns.
WATCH BELOW: COMPLEX SET UP FOR WEEKEND STORM
While it is still early to have confidence in local details and impacts, significant totals of ice pellets and freezing rain appear increasingly likely for parts of the region with heavy snow expected for areas to the north.
"The most likely time frame is late Saturday, Saturday night and into early Sunday, but please check back for updates," adds Gillham.
LACK OF CONSISTENT COLD THROUGH MID-JANUARY
An abundance of cold air from the Arctic is set to spill across western and central Canada next week. However, a very mild pattern will continue over the eastern U.S. That warmer weather will attempt to surge back into southern Ontario at times, limiting a lack of any consistent cold weather into the mid-January mark, with the frigid conditions remaining well to the west.
This type of set-up will create an active pattern, with the potential for the storm track to be far enough south to give blasts of more wintry weather in the weeks ahead.
"However, this pattern favours systems that bring a variety of precipitation types to southern Ontario with the potential for more rain," says Gillham.