Fans allowed into Jurassic Park after thunderstorms clear
Thursday, June 13th 2019, 6:12 pm - #WeTheNorth
Maple Leaf Sports and Entertainment has announced that fans will be allowed into Jurassic Park at 7 p.m. to view Game 6 that is being played in Oakland, California.
Toronto Raptors fans that spent hours and even days lining up in Jurassic Park were forced to temporarily leave due to the risk of thunderstorms, but the threat has now passed.
In true Canadian fashion, fans will stop at nothing to support our team as they brave the less than ideal weather conditions (once again) to soak in the magic of the ultimate outdoor fanzone that is Jurassic Park.
OTHER TROUBLE SPOTS ACROSS THE COUNTRY WE'RE WATCHING
It's not just about Toronto tonight either, as fans rooting for Canada's only NBA team look to face some weather concerns of their own in different parts of the country.
Rain pushes into the city of Montreal during the early evening hours, where two city blocks will be shut down to accomodate Raptors fans.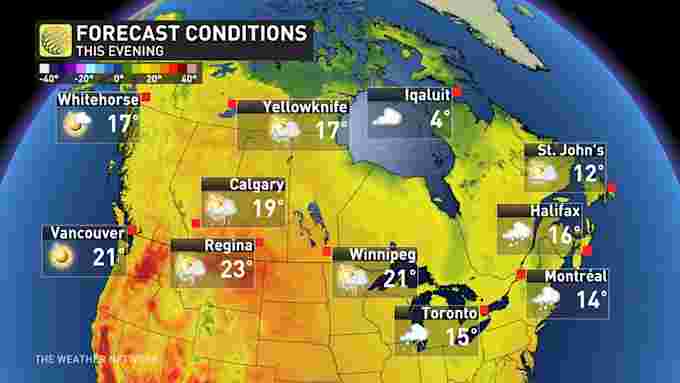 A similar Jurassic Park fanzone has been replicated in the city of Halifax, another area that faces a returning rain threat just in time for the game.
The biggest weather burden for outdoor viewings tonight will be in parts of southern Alberta and Saskatchewan, where severe thunderstorms threaten powerful winds and golf ball sized hail.
Luckily, in Edmonton, a free indoor public gathering will be hosted at the Edmonton Expo Centre for Game 6. The city's basketball team, the Edmonton Stingers, announced the event Tuesday after an overwhelming amount of requests from fans on social media.
Raptors fever spreads into Saskatchewan as well as Regina's Mosaic Stadium gets ready to host another game screening, which drew in around 14,000 people for Game 5.
SEE ALSO: Severe storms threaten golf ball size hail on the Prairies
Wherever you happen to be watching tonight, remember to stay up-to-date on the latest watches and warnings in your area.
WATCH BELOW: WOULD TORONTO RAPTORS FANS TRADE AN NBA FINALS WIN FOR NO SUMMER?