Saturday, March 26th 2022, 8:19 pm - An upside-down pattern will send temperatures in Toronto plummeting colder than parts of Nunavut to start the week.
A sudden burst of winter isn't exactly a pleasant way to end March. A topsy-turvy pattern developing across the eastern half of Canada will make southern Ontario colder than some communities north of the Arctic Circle to begin the week.
---
STAY AWARE: Travel alerts in southern Ontario as snow squalls threaten whiteouts
---
A lobe of the polar vortex dipping south across Central Canada will bring unseasonably cold air to southern Ontario to begin the last week of March. Temperatures will drop more than 10°C below seasonal for many locations on Sunday night and Monday.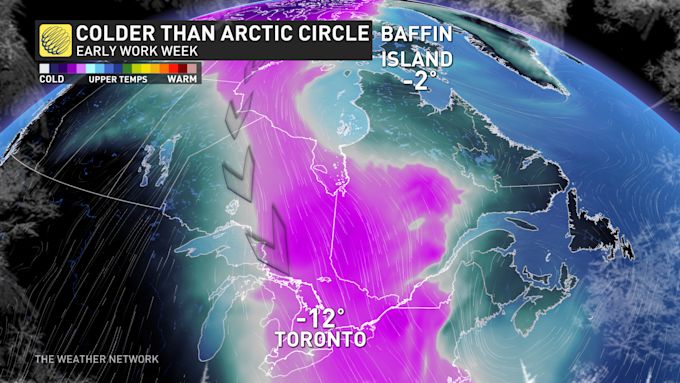 Monday morning's predicted low temperature of -10°C would come close to breaking a daily record in Toronto. The morning low will drop even colder farther north, with Ottawa expected to drop to -12°C and Timmins getting down to a frigid -19°C. For some perspective, the typical low in Toronto on March 28th is about 0°C, and the day's average low is about -11°C in Timmins.
Ontarians won't see much relief from the cold during the day on Monday. Despite the increasing sun angle, Toronto's forecast high temperature of -5°C would make for the city's coldest high temperature since late February.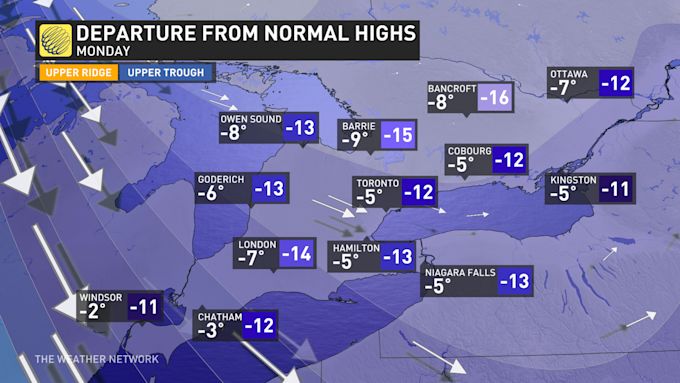 The same pattern that displaced the polar vortex and sent frigid air plunging to southern latitudes is responsible for equally impressive warm temperature anomalies up in the Arctic Circle.
Weather is nature's attempt to equalize the atmosphere, after all. Extremes in one spot are balanced out by extremes in another in nature's everlasting attempt to seek harmony.
While folks in Ontario shiver in significantly below-seasonal cold air, communities up north will experience temperatures more than 15°C above normal for this time of year.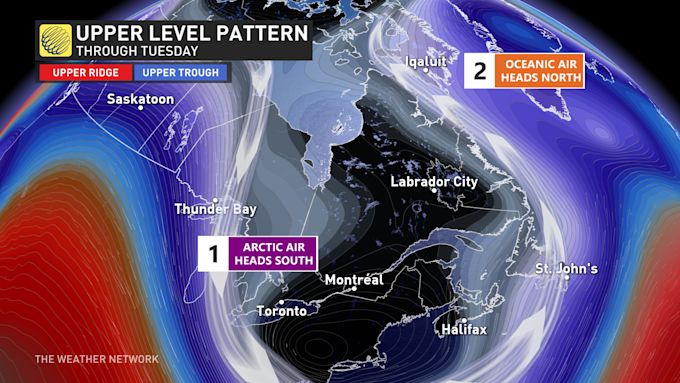 Monday morning will see temperatures in the negative teens around the Greater Toronto Area while parts of Baffin Island bask in temperatures just below the freezing mark. These abnormally warm temperatures are even more remarkable considering that many of the locations expecting unseasonable warmth reside within the Arctic Circle.
Thankfully for winter-weary folks across Central Canada, the upper-level trough responsible for the chill will quickly move downstream and allow temperatures to rebound by the middle of the week.
However, an upper-level ridge will remain in place across eastern Nunavut, allowing temperatures to continue running well above seasonal. By Wednesday, Iqaluit could see a high of -3°C with a low of -7°C, which are far above a seasonal high of -14°C and low of -25°C for the date.