Wednesday, June 29th 2022, 11:37 am - This city just shattered its record for most consecutive days above 25°C, and it's within striking distance of chopping down another heat record this week.
--
A record-breaking stretch of heat has targeted a far eastern Atlantic Canada province. Coming in just shy of an entire week, a new record has been set for the most consecutive days above 25-degrees in the month of June for the city. Find out where and why below.
Newfoundland's largest city, St. John's, averages a mere handful of days over 25 degrees in June. In fact, many years have failed to record even one day at the benchmark during this early summer month. However, a whopping six-day stretch of back-to-back days officially broke records.
On June 23-28th, 2022, St. John's airport experienced the longest stretch of consecutive days over 25-degrees, beating out the past record of four days set back in June 2020. Surprisingly, on all six days, rain amounts were recorded as well.
---
READ MORE: Get your allergies under control with these 7 products
---
But if it wasn't the sunshine, how could the city manage such warm weather for so long?
Part of the answer lies in where the rainfall and moisture has come from. Frequent visits by subtropical moisture, originating from the Gulf of Mexico, assisted in bringing warm, moist and humid air to St. John's.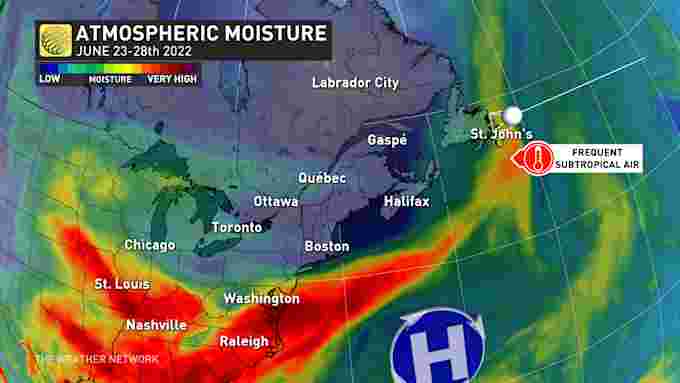 Another key player was responsible for keeping the warm air around for so long.
A mid-month pattern change helped to deliver this summer heat to the region. The warm above-average temperature streak was locked in place thanks to a strong high pressure system in the Atlantic Ocean. Generating a warm south and westerly flow had ushered in the continual warmer air to the region.
Although cooler temperatures and rain is expected to close out the month of June, capping out the 25-degree streak at six days, the city is expected to continue above-seasonal heading into July.