Tuesday, October 22nd 2019, 11:15 am - The final days of October will signal a more widespread chilly pattern with colder than normal temperatures expected from the Prairies to Atlantic Canada.
Another blast of arctic air is on the way for the Prairies, and this taste of early winter weather will spread east across the country in time for Halloween and early November.
Before the arctic air arrives however, enjoy a brief warm-up across the Prairies this week. Here is a look at high temperatures on Friday with Calgary and Edmonton over 5 degrees above seasonal.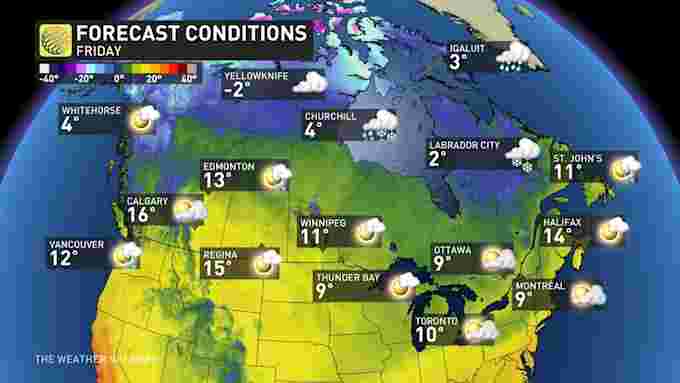 By early next week, temperatures will be more typical of late November and early December across the Prairies with high temperatures running 10 to 15 degrees colder than seasonal in Alberta.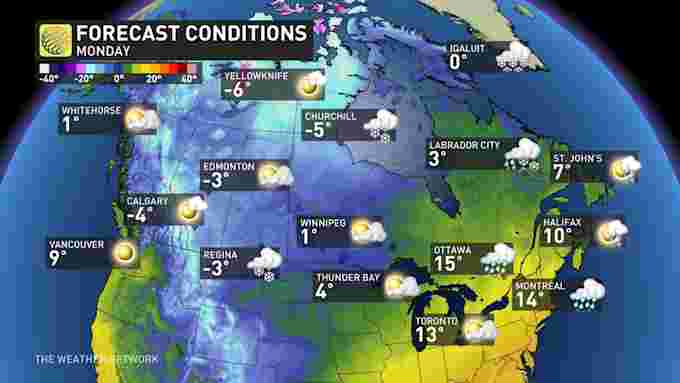 Meanwhile, from the Great Lakes to southern Quebec, temperatures will be a few degrees above seasonal. This is much warmer than what we originally expected as the arctic air will initially be aimed at the Prairies rather than over the Great Lakes. That shift to a colder pattern however, is only delayed, not denied.
WIDESPREAD COOL DOWN IN TIME FOR HALLOWEEN
During the final days of October, the chilly weather will spread east. By the beginning of November, colder than normal temperatures are then expected from the Prairies to Atlantic Canada.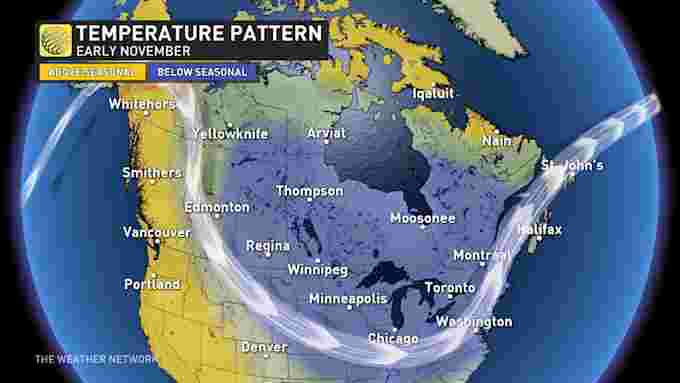 The exact timing of the transition is still uncertain, but this will likely give us a chilly Halloween from Alberta right to Quebec. Meanwhile, above normal temperatures are expected along the coast of B.C. and across parts of northern Canada including Whitehorse and Iqaluit.
As the colder weather spreads east next week, we expect that a significant fall storm will develop along the boundary between the warm and cold weather for the Great Lakes region. The exact timing and track of the system and whether this will impact trick or treating is still highly uncertain.
The image below is a model forecast for the day before Halloween. Please note that this is not our current forecast, but it illustrates the potential for widespread rain, with snow to the north, and strong winds leading up to and possibly during Halloween.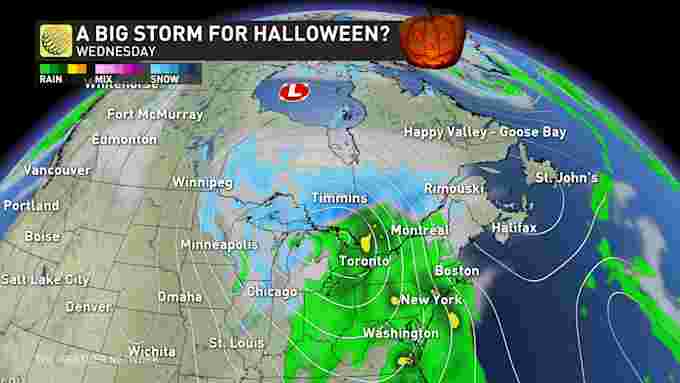 Behind this system, colder weather will flood into the region with the potential for bands of lake-effect snow in the traditional snow belt areas.
Remember, this does not mean a white Halloween for places like Toronto, Ottawa and Montreal. Any accumulating snow will likely be limited to the snow belt areas and higher elevations away from the major cities.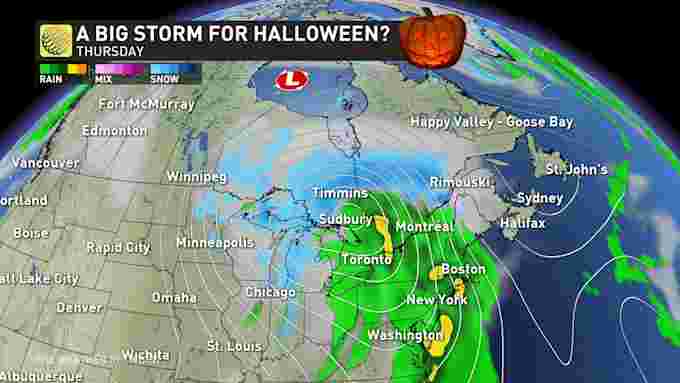 Also, since we are still over a week away, the details of the forecast will definitely change. Think of this as your heads-up as to where you may need to add a layer to your Halloween costume and possibly a pair of boots as well.
This pattern is expected to continue through the first week of November with the potential for more significant lake-effect snow in the traditional snow belts of the Great Lakes region.
WATCH BELOW: HALLOWEEN DECORATIONS GET OUT-SPOOKED BY OCTOBER SNOWFALL