Wednesday, September 11th 2019, 9:00 pm - Fresher, drier air returns to southern Ontario ahead of the next system
The return to heat and humidity culminated in intense downpours amid severe thunderstorms across much of southern Ontario on Wednesday evening, and that won't be the last of our thunderstorm threat this week. While Thursday promises fresher air for most, an approaching Colorado low means forecasters are watching for another round of strong storms to close out the work-week. We track the major temperature drop, and where Friday will bring storms back to the region, below.
---
WEATHER HIGHLIGHTS:
Temperatures will drop closer to seasonal values for Thursday
Approaching Colorado low brings thunderstorm threat back for Friday
Widespread thunderstorms possible Friday, severe risk highest for southwest
Stay on top of ALERTS in your area
---
WATCH BELOW: FOLLOWING WEDNESDAY NIGHT'S STORMS
THUNDERY, RAINY WEDNESDAY NIGHT ACROSS SOUTH
Summer's brief surge provided the fuel for severe thunderstorms to blossom in southwestern Ontario Wednesday evening, and rain and isolated thunderstorms will continue to drift east through early Thursday. Heavy rainfall with some storms may lead to some localized flooding through the overnight hours, particularly across the southwest, where several rounds of rain are expected as a cold front drops through southern Ontario.
Thursday will start on a soggy, showery start for many as far east as Kingston and into the southern parts of cottage country, with spotty showers also likely to linger back through the GTA, along the 401 corridor to Windsor, and across Huron/Perth.
Generally clearer skies are expected for the afternoon, though cooler, northeast winds may spark a few showers off of Lake Huron and Georgian Bay in the wake of the cold front.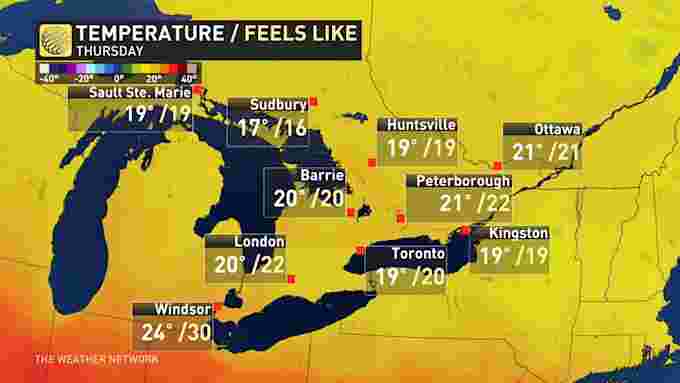 10°C TEMPERATURE DROP IN 24 HOURS
In what may be some more welcome news, that cold front is also expected to put an end to the extreme heat in the southwest. The front will usher in a wave of cool, fresh air from the northwest and send temperatures across southern Ontario back to seasonal -- or just below -- by Thursday. For some, it will be a temperature whiplash of sorts as daytime highs tumble by about 10 degrees during the two days.
RETURN OF STRONG STORMS LOOMS FOR FRIDAY
A Colorado low approaching from the west will bring the rain, and the threat for severe weather, back into southern Ontario for Friday. While the low tracking north will bring another boost for the region's temperatures, forecasters are closely watching conditions ahead of the cold front expected to cut through the province Friday evening.
"Depending on early day cloud cover and timing of front, we will have to monitor the threat for severe storms ahead of the cold front," says Weather Network meteorologist Daniel Liota.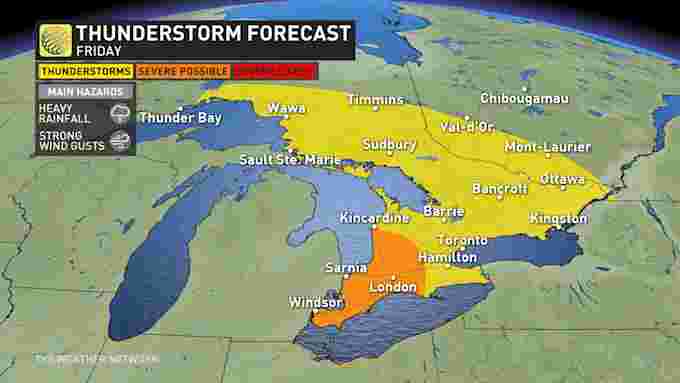 There is still some division between computer model guidance as to the timing of the front, and that timing will figure prominently in our severe risk for Friday afternoon, evening, and even through the overnight hours. This will be a system to watch as we close out the week, particularly for those across southwestern Ontario.
Heavy rain and strong winds are, again, the main threats with this system.
ANOTHER SUMMER SURGE NEXT WEEK
While Friday night's front will chip away at milder temperatures once again, summer isn't quite ready to exit southern Ontario.
"Summer weather will spread back into southern Ontario for several days next week," says Weather Network meteorologist Dr. Doug Gillham. "While there's still some uncertainty regarding the duration of the warmth and whether the truly hot weather will be able to persist across the region, we should see a few days with temperatures at least into the mid-20s."
Southwestern Ontario has the best chance of seeing the real heat, Gillham adds, with several days of mid-summer-like high temperatures possible.
WATCH BELOW: A HELPING HAND FOR DORIAN VICTIMS