Monday, July 18th 2022, 8:53 pm - Sunny skies will greet Ontarians Tuesday morning. The afternoon's heat and humidity, however, will bring the risk of thunderstorms for some areas. Wednesday will see a heightened threat for severe weather in southern Ontario Wednesday.
High temperatures and humidity returns to Ontario Tuesday, prompting heat warnings and bringing the risk of thunderstorms across the province. Forecasters are particularly keeping an eye on Wednesday for heightened severe weather threat. As the week progresses, Ontarians can expect temperatures in the high 20s with feels-like values reaching the mid-30s. More on the storm risk and muggy weather ahead below.
---
READ MORE: Heading to the cottage? Here's your ultimate shopping guide
---
Tuesday and beyond: Heat and humidity build, severe weather risk Wednesday
Heat and humidity will make a triumphant return to southern Ontario Tuesday. Heat warnings are in place as temperatures are expected to breach the 30-degree mark for much of the Greater Toronto Area (GTA), with high humidity making things feel more like the upper 30s.
As we head into Tuesday, a cold front looks to sink into the southern half of the province.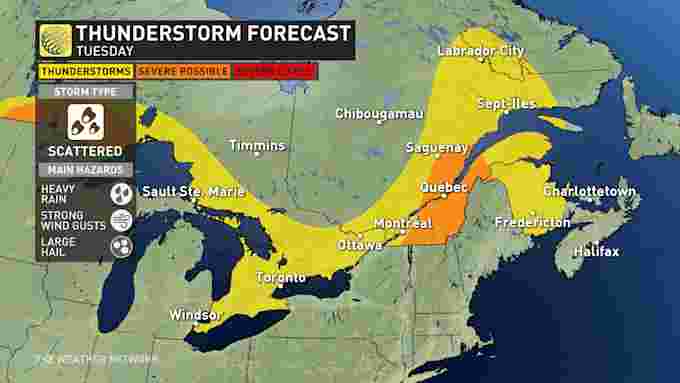 The front will trigger the threat for more rain and thunderstorms, especially across areas that could use the additional precipitation. The storms will be scattered in nature in southern Ontario, but could bring heavy rain and strong wind gusts.
The muggy warmth will stick around for Wednesday, as well, with high humidity sending humidex values into the upper 30s again during the afternoon hours.
In addition to the heat, forecasters are watching the potential for more organized severe storms on Wednesday afternoon as a dynamic weather system tracks into the Great Lakes. Some parts of the risk area may potentially see a chance of rotating storms.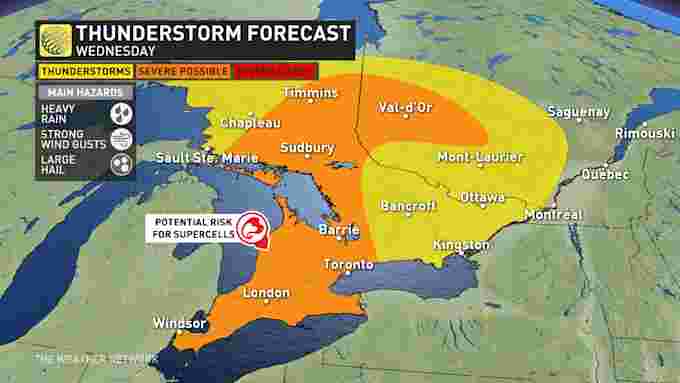 We can expect warm temperatures to stick around through the rest of the week into the weekend. Daily highs will creep into the upper 20s, which is above Toronto's seasonal high temperature of about 25°C for the third week of July.
WATCH: Lawn brown and dry? This watering method will keep it healthy
Stay tuned to The Weather Network for the latest on conditions across Ontario.