Monday, July 11th 2022, 8:42 pm - A low-pressure system, heat and humidity may set off storms in Ontario and Quebec again Tuesday, with the potential for severe weather focused in the latter where there will be a chance for intense wind gusts and large hail.
Southern Ontario is in serious need of rain, but it looks like it is about to get some this week, but will also come with the risk of severe thunderstorms. However, Quebec is where forecasters will be paying closer attention on Tuesday as conditions will be more favourable for severe storms to spark. There could be even some rotating storms in the Eastern Townships, where a small window for a tornado may open, depending on what happens in the morning Tuesday. More on the storm impacts and timing, and what's ahead for later this week, below.
---
MUST SEE: How to keep your pet dog cool during the hottest days of the year
---
TUESDAY: DAYTIME HEAT MAY SET OFF SEVERE STORMS
After the threat for thunderstorms bubbled up across parts of southern Ontario late Monday, a more organized and severe storm threat could develop Tuesday for eastern Ontario and Quebec, especially in the Eastern Townships where the greatest risk is.
The same front will track through the region, but with better timing to take advantage of the daytime heat and atmospheric instability.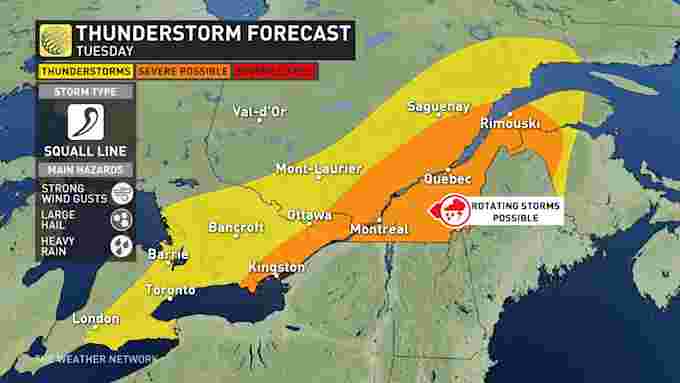 Severe storms will be possible in eastern Ontario and southern Quebec.
There is the risk of rotating storms in the Eastern Townships, with a small window where there could be the potential for a tornado. However, the leftover convection from storms Tuesday morning will dictate what the atmospheric environment will be like in the afternoon.
The storms will also bring much-needed rain to southern Ontario, which has been lacking precipitation in recent weeks.
Wednesday will see the risk for storms linger before the heat and humidity drops come Thursday for Central Canada. The remainder of the month seems moody with a quick return to the heat.
WATCH BELOW: SEE HOW HOT EVERYDAY OBJECTS CAN GET IN RECORD-BREAKING HEAT
Stay tuned to The Weather Network for the latest forecast across Ontario.