Tuesday, October 29th 2019, 9:00 pm - Mother Nature may have some tricks up her sleeves for parts of Canada on Halloween night
Some Canadians might be pleasantly surprised at the relative tranquility as we approach Halloween, while others might just screech in horror. The weather might be as polarizing as our love-hate relationship with candy corn. Read on to get the potentially ghastly details on your region.
MUST SEE: Taste of early winter spreads across Canada by early November
WESTERN CANADA
The Halloween forecast might seem far off, but believe it or not, we have great intel that a ridge of high pressure will be floating around the Pacific Northwest. We can nearly guarantee the weather will be bone-dry for the South Coast, although the risk of fog might make for some seriously spooky scenes across parts of the province of British Columbia.
Next, on our tour, we head east of the Rocky Mountains, where a chilly treat is in order. The bottom line: there's high confidence in a lack of significant weather. Most of the Prairies will remain dry, but temperatures are nearly certain to be below freezing when trick-or-treaters begin their journeys. That's precisely what you get with a little northwest flow. You'll need the warmest Halloween costumes in Canada if you reside here, with the coolest temperature anomalies forecast for the lower half of the Prairie provinces.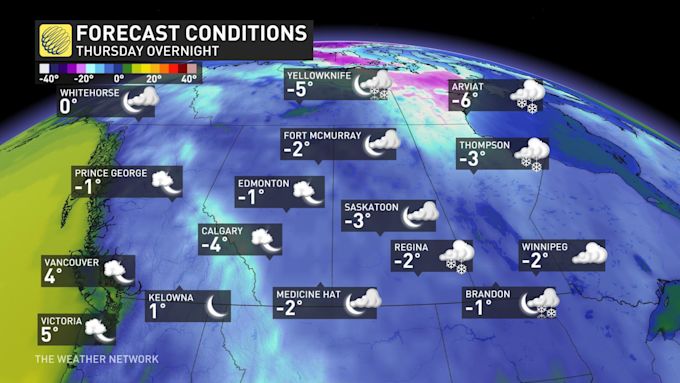 ONTARIO AND QUEBEC
Here's where things get complicated. As cold air funnels and dives far south early next week, as far south as Texas and the Gulf of Mexico, a warm mild southerly flow develops along the east coast.
But, it's almost November, and this time of year, the cold air tends to always win. Like a freight train, this cold air will march towards the Great Lakes Basin as we approach Halloween, but we're also watching a potent low to ride up this extreme temperature boundary, laden with moisture from the Gulf of Mexico.
Much of southern Ontario will see at-times heavy showers, while a real healthy swath of snow north and west of the track of this low is also expected. We'll have to watch the snow-belts and higher terrain across southern Ontario as we turn the page into November, but the good news is the GTA, Ottawa Valley, and Montreal are not expected to see snow this time around.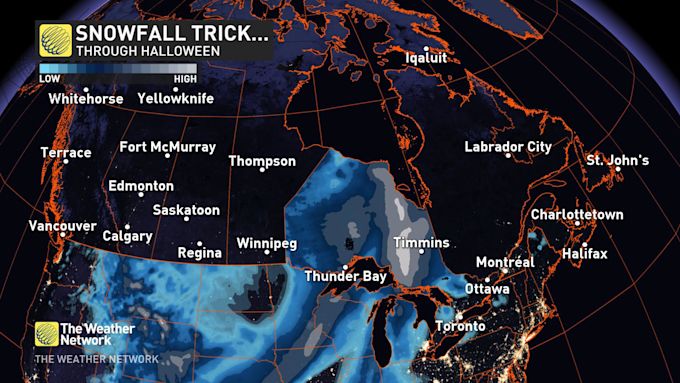 ATLANTIC CANADA
As British Columbia has a ridge to back up its forecast, there's also higher confidence that an axis of high pressure will be just west of Bermuda, but it won't be enough to fend off the rains that are incoming for Atlantic Canada Halloween.
Relatively milder temperatures will accompany this system, such that even parts of Labrador have the potential to be seasonably toasty for late-October, which by the way, is still pretty chilly.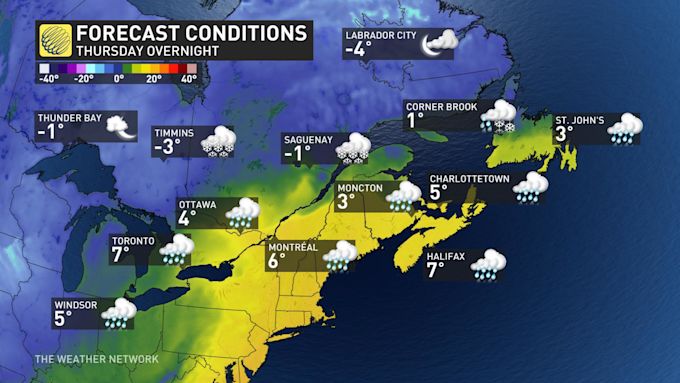 WATCH BELOW: SURE-FIRE WAYS TO WEATHERPROOF YOUR KIDS FOR HALLOWEEN