Monday, November 21st 2022, 2:15 pm - Burgess Shale, other Canadian sites also given new designation by International Union of Geological Sciences
Six Canadian sites — one of which is in Alberta and one just outside — have been recognized internationally as places that contribute to understanding the Earth and its history.
B.C.'s Burgess Shale and Alberta's Dinosaur Provincial Park were designated as international geological heritage sites by UNESCO and the International Union of Geological Sciences.
SEE ALSO: Landmark Ontario estate is given new life with a thriving farm
Both sites were also designated as UNESCO World Heritage sites more than 30 years ago and are among the first included in the list.
"I think it confirms what you know, what we in Parks Canada have always been saying," said Todd Keith with Parks Canada.
"Burgess Shale is one of the most important fossil sites in the world and here we have recognition of that fact coming from the scientific community."
The Yoho National Park fossil find is known as one of the most significant fossil areas in the world that features a diverse marine community dominated by soft-bodied organisms. Originally inscribed as a World Heritage site in 1980, it became part of the larger Canadian Rocky Mountain Parks World Heritage site in 1984.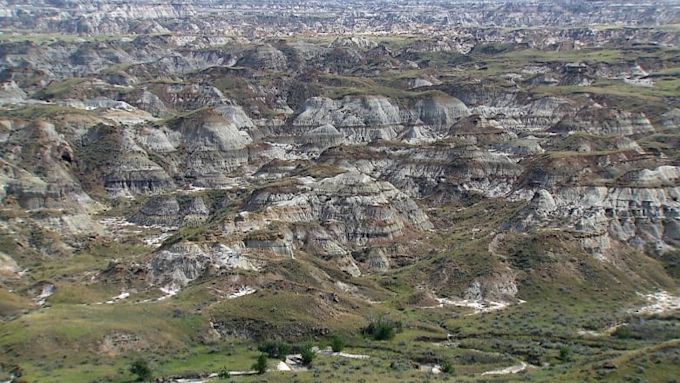 Around 400 to 500 dinosaur skeletons or skulls have been excavated from in and around Dinosaur Provincial Park in the southern Alberta badlands. (Justin Pennell/CBC)
Dinosaur Provincial Park is known as the greatest concentration of Late Cretaceous dinosaur fossils yet found on Earth yielding remains of 44 species of dinosaurs and many other organisms.
"These incredible places are sources of ongoing scientific research and discovery, and also serve as important contributors to local economies as unique, unparalleled tourism destinations," said Minister of Environment and Climate Change Steven Guilbeault.
"Internationally, these places represent the geoheritage of all humanity and the planet we call home."
Across the world, 100 sites were selected from 181 applications and 56 countries and include different types of sites and geological interest.
Other Canadian sites that have been recognized are Mistaken Point and Gros Morne National Park in Newfoundland and Labrador, Joggins Fossil Cliffs in Nova Scotia and Eo-Archean Nuvvuagittuk Greenstone Belt in Quebec,
They are the among the first 100 that have been designated as such by the IUGS.
WATCH: Timelapse: Exploring the beauty of Alberta's Dinosaur Provincial Park
The story was orignally published for CBC News. It contains files from Rick Donkers.