Friday, May 20th 2022, 11:40 am - Summer-like heat and thunderstorms will kick-off this May long weekend in Ontario.
In true long weekend fashion, the weather forecast across much of Ontario will be anything but simple as we kick-off the unofficial start to summer. If you're planning a getaway this weekend, you'll have a tough time packing for the heat in some areas and the chill in others, not to mention dodging the risk for severe storms in spots. Most days carry a thunderstorm threat, with the holiday Monday looking like the driest day of the bunch, though at the cost of a major cooldown. The weekend will start by feeling like July, only to end up much closer to early-spring like temperatures. See the breakdown of the weekend weather to come, below.
MUST SEE: Spring gives Canada the cold shoulder for the unofficial kick-off to summer
SATURDAY:
Saturday will start humid with summer-like temperatures, however those temperatures are going to fuel severe weather. A cold front will slide through southern Ontario through the day with heat and humidity staying locked towards the southern Great Lakes.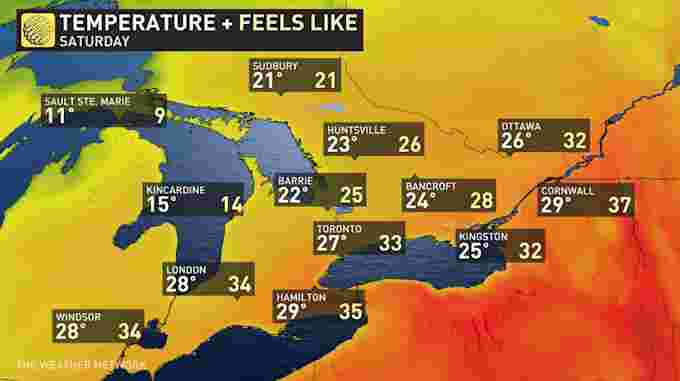 Storms are expected to develop along the cold front during the afternoon, stretching from the Ottawa valley, along the Highway 401 corridor and south towards the lakes.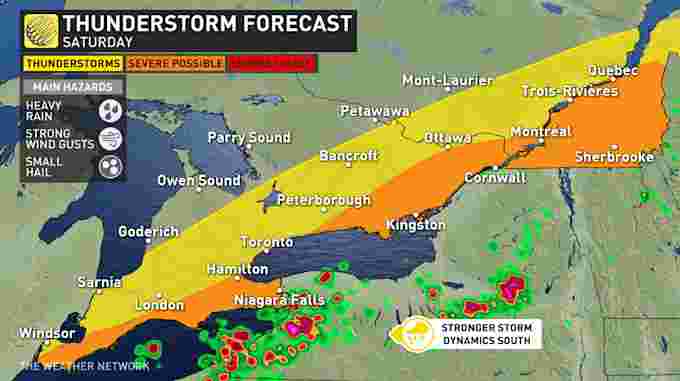 Communities in the area may see severe thunderstorm activity which could include large hail and heavy downpour. This system is expected to continue Saturday evening into Sunday morning.
RELATED: Watch? Warning? How we communicate severe weather in Canada
SUNDAY:
More rain and thunderstorms are on the forecast for Sunday. The most instability will build through the morning and afternoon hours and will be present towards eastern Ontario, so major areas from Kingston to Ottawa, and communities east, will need to be on the watch once again for storm development.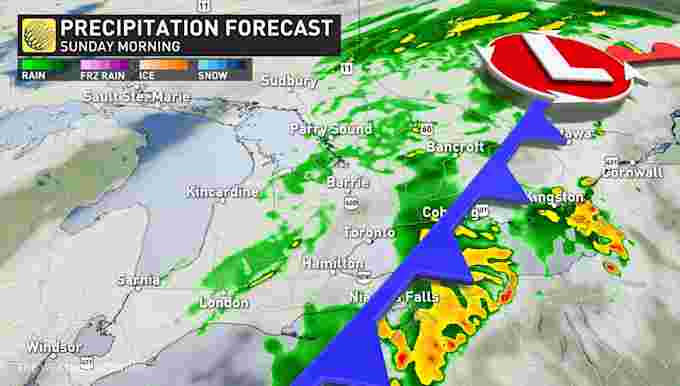 WATCH: STRONGER STORMS TARGET COTTAGE COUNTRY THIS WEEKEND
MONDAY:
Monday will be the driest day of the long weekend, but it comes at a price.
All of the weekend's heat and humidity will have been swept away by the cold front, leaving behind temperatures that are 2-5°C below seasonal for late May. Widespread daytime highs in the low to mid teens are in the forecast.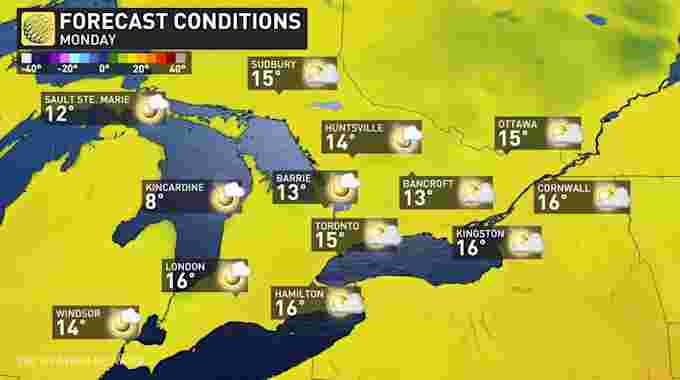 Cooler-than-seasonal temperatures will persist through the middle of next week, with changeable temperatures and an unsettled pattern taking shape for the final week of May.
Be sure to check back for the latest updates on your long weekend weather across Ontario.