Tuesday, October 19th 2021, 3:15 pm - The annual Fall Colour Report breaks down the progress of the peak shades of Ontario's leaves and how people can take advantage of everything the provincial parks have to offer.
We are nearing the heart of the fall season, so for many that means taking trips to check out the scenic foliage, an activity that is quite popular across the country every year.
That's why, in Ontario, the Fall Colour Report is produced each year, which has become "very popular," says Destination Ontario media relations co-ordinator Kevin Forget, in a recent interview with The Weather Network.
---
SEE ALSO: Four amazing things that happen in fall (aside from changing leaves)
---
"The report has been very popular but this year we've actually seen a huge, huge uptake in the number of people who are looking at the report," said Forget.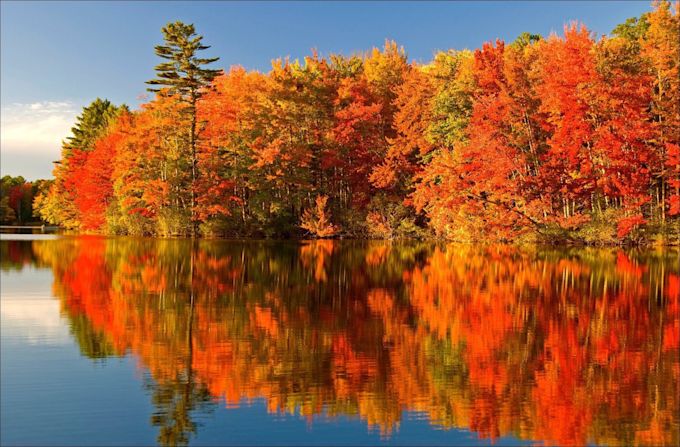 Northern Ontario. (CrazyCanuk/Twitter).
"We've found it is one of the most popular things that we get right now, where people want to know where the fall colours are changing right across the province," said Forget.
REPORT IS POSTED WEEKLY ON SOCIAL MEDIA
The report has been compiled by Destination Ontario for more than 15 years, but this year a link to it is being posted exclusively on social media through its Twitter account @OntarioTravel. The status of the leaf colours at each of the provincial parks is collected and published each week in the fall.
"Fall is more than just the fall colours changing. It's also about maybe taking a bit of a driving route, stopping along the way and enjoying some of the fall flavours," said Forget.
He said the report is "unique this way" because it provides fall-colour progression across the province, as far north as Thunder Bay, all the way down to the Windsor area.
Muskoka, Ont. (Martin Jeon/Instagram)
But the analysis offers more than just showing you where the colours are changing. It also has information on where you can enjoy fall camping, where the lookout points are and the driving routes to catch some of the foliage, among others.
There is also a fall colour progression map that gives you timely updates on how far along the leaves are changing in each region/park in the province.
Information on the status of the leaf colours is collected by a staff member at each provincial park and then provided to Destination Ontario for inclusion in the report. The account will answer such questions as "Are they red? Are they orange? Are they yellow? How much has changed? And how many have fallen already?" Forget said.
OPPORTUNITY TO 'REDISCOVER' A LONG-FORGOTTEN PARK
The report provides people "a great opportunity" to rediscover a park they perhaps haven't visited in a long time," Forget stated.
Taken in 2019 in Dundas Peak, Ont. (Ayaz Chandio/Instagram)
"Why not head to Balsam Lake near Coboconk, [Ont.,] and see the fall colours there? Or a provincial park near Penetanguishene?" he said. "Fall colours are all over the place. Algonquin Park is a very beautiful place to see the fall colours, but there are so many other places across Ontario not overly populated where you can go and enjoy them."
In addition to seeing the foliage, what some people may not realize is that you can still camp at provincial parks at this time of year — some are open year-round while many will remain accessible until the end of October, Forget said.
"Fall camping can be one of the most beautiful times of the year. It's not as busy, [children] are back to school, and then with those fall colours right on your campsite, it's pretty spectacular," said Forget.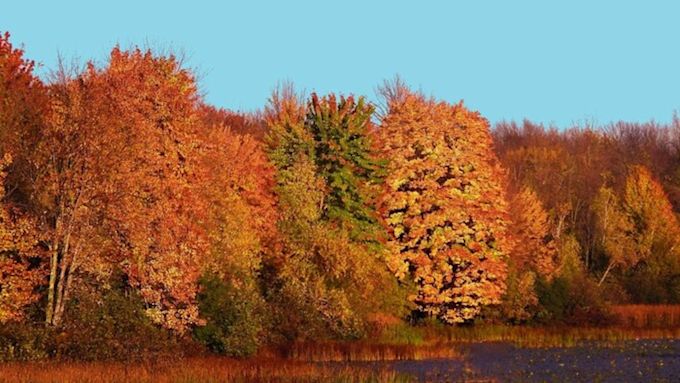 South Stormont, Ont. (Hanson Pictures/Provided)
TIME RUNNING OUT ON PEAK COLOURS IN SOME AREAS
With the colour transformation well underway, particularly in northern Ontario, there isn't much time left to explore and enjoy the peak colours before the leaves turn, and ultimately fall to the ground.
Fall foliage is weather-dependent, so if you are planning on doing any fall touring, you should do it "very soon," Forget said.
"When you look at the map right now, you will notice from Barrie north, we're almost at peak, which means that almost all of the colours are starting to change. Now, as you go farther north into Ontario, those leaves are starting to fall already," said Forget.
Kelso Conservation Area, Milton, Ont. (David Hodge/The Weather Network)
However, those in the Greater Toronto Area (GTA) and southwestern Ontario will still have a little bit more time to check out the change.
"If you don't have the time to enjoy the fall colours right now, you can still plan [for the] end of October [or] beginning of November to even make a trip down to Pelee Island, the most southern part of Ontario," said Forget.
The Ontario Fall Colour Report will be produced weekly until Oct. 28.
Thumbnail courtesy of CrazyCanuk/Twitter, taken in northern Ontario.
Follow Nathan Howes on Twitter.