Friday, December 17th 2021, 6:30 pm - A system south of the border is likely to bring 5-10 cm of snow to the 401 corridor through Saturday. Cool air will remain in place for Sunday.
Winter returns to southern Ontario in full force this weekend, as a stateside system threatens up to 10 cm of snow into Saturday. In addition to the snow, gusty easterly winds could reduce visibility at times. Impact to travel along the 401 and QEW corridors are likely, with slippery and snow-covered roads expected on the final weekend leading up to the holidays. More on the timing and impacts, below.
WEEKEND: TEMPERATURES FALL, WIDESPREAD SWATH OF SNOW PUSHES IN
After a dip in temperatures Friday following Thursday's record warmth, conditions will turn much colder on Saturday, as a system is set to track south of the Great Lakes, bringing widespread snow and gusty winds to the region.
"Widespread snow totals of 5 to 10 cm are expected across the Greater Toronto Area and Niagara region, though most places should end up being closer to 5 cm than 10 cm," says Dr. Doug Gillham, a meteorologist at The Weather Network. "The snow will start early in the morning and continue through the afternoon."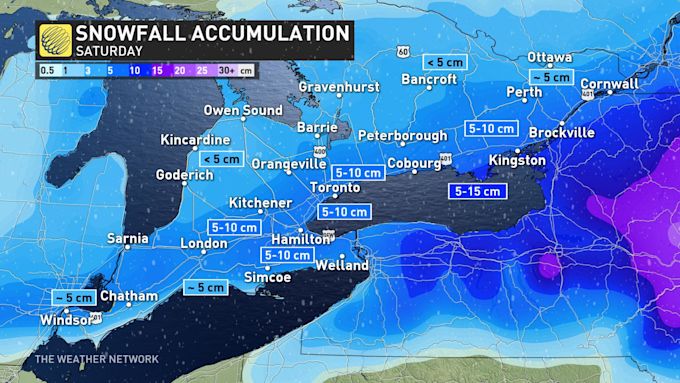 ---
DON'T MISS: Winter driving tips from a world rally champion
---
For areas on the western end of Lake Ontario, some higher amounts with lake-enhancement is possible. Meanwhile, areas along the Lake Erie shoreline from south of Windsor to Niagara could see a brief mix of ice pellets or light rain. Areas across cottage country can expect around 5 cm of snow or less.
Drivers are being urged to expect slippery and snow covered roads, especially across the 401 and QEW corridors. Reduced visibilty could also impact travel, with easterly winds gusting between 40-60 km/h.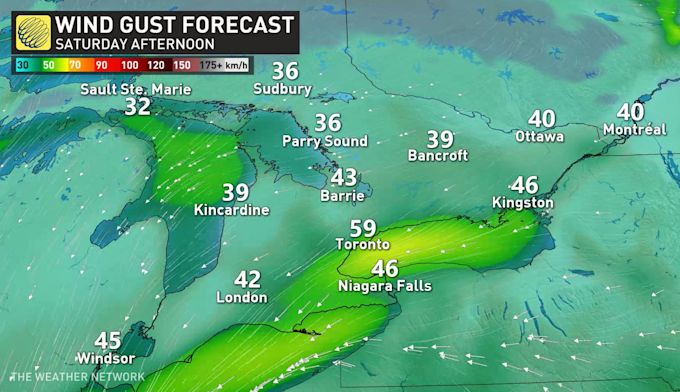 LOOK AHEAD: CHANCES FOR A WHITE CHRISTMAS WILL COME DOWN TO THE WIRE
While the pattern next week looks to be more seasonal, changeable conditions are still expected, with exact storm tracks being the key to a white Christmas.
---
MUST SEE: Canada's 2021 Holiday Snow Report
---
"A white versus green Christmas will likely come down to the wire," says Gillham. "We are keeping an eye on the potential for a system around Christmas Eve. It is too early to make a call on the exact track and whether that will bring us snow or rain and that will likely be the deciding factor for a white versus green Christmas."
Be sure to check back for the latest updates on the changeable pattern across Ontario.