Monday, September 26th 2022, 8:32 pm - Cleanup efforts are well underway in Atlantic Canada, but another bout of rain on Tuesday could further hinder the recovery process
Atlantic Canada will get a break from the rain Monday overnight, but Tuesday will see another round move in during the afternoon, complicating cleanup efforts from the severe impacts of Fiona this weekend. The heaviest rainfall will occur in regions that were hit hardest by the former major hurricane, likely to worsen any flooded infrastructure.
---
PHOTOS: Arduous cleanup for Atlantic Canada after Fiona's destruction
---
The next round of rain on Tuesday afternoon and evening is courtesy of another bout of moisture pushing north from the Atlantic Ocean. It is part of an expansive swath of moisture that extends all the way south into the Gulf of Mexico, connected with Hurricane Ian.
The heaviest rainfall will target eastern Nova Scotia and southern sections of Newfoundland. Locally, up to As much as 70 mm of additional rainfall could fall through Thursday in southern Newfoundland, with 30-50 mm in surrounding regions. Meanwhile, a further 15-30 mm is possible in Cape Breton.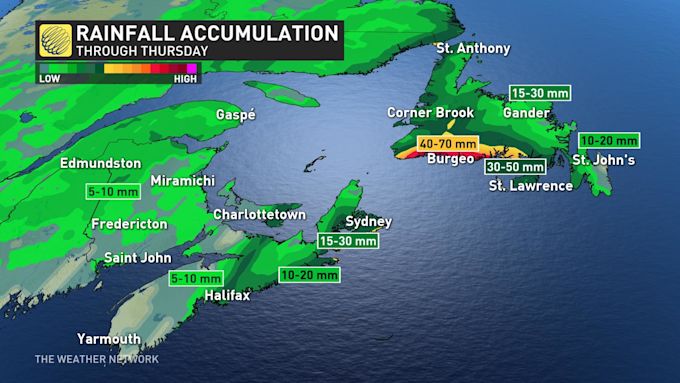 It is likely the rain will put a damper on recovery efforts.
"Unfortunately much of this week for the east appears to be wet and unsettled as a trough remains somewhat parked across much of the East Coast," Sonnenburg adds. "Drier weather isn't expected until the end of the week."
Another system will bring showers to Newfoundland Thursday and Friday, with much cooler temperatures for the island during the latter. By Saturday, fair and mild conditions are expected across the entire region.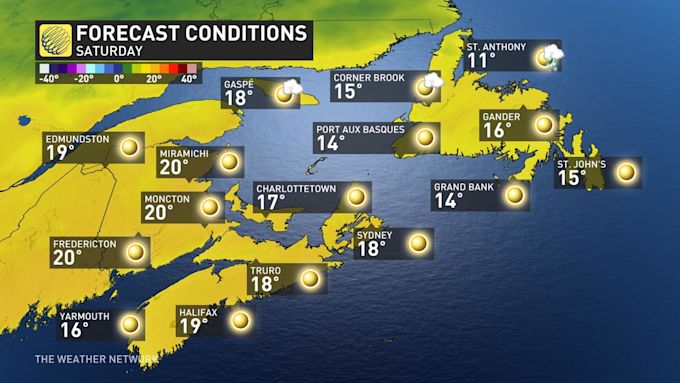 Much cooler across the region Sunday with a few showers, but primarily for Newfoundland.
CHECK IT OUT: Strong winds nearly take out TWN reporter live during Fiona
Forecasters are also closely monitor the progress of Hurricane Ian down in the Caribbean this week.
The U.S. National Hurricane Center expects the storm to grow into a major hurricane in the Gulf of Mexico by Tuesday morning. Depending on the storm's development and future track, we may have to watch the system or its remnants through the weekend.
---
The Canadian Red Cross is encouraging people impacted by Hurricane Fiona to register with the organization. Registration with Red Cross ensures people can be contacted while away from home, and can be reached with information on Red Cross services and assistance that may become available to them during this time of need.
Households impacted can register by calling 1-800-863-6582 between 8 a.m. and 8 p.m. ADT or online, here.
---
Stay tuned to The Weather Network for the latest conditions across Atlantic Canada.