Monday, September 26th 2022, 8:34 pm - The Atlantic Ocean has churned out another potentially destructive storm, Hurricane Ian, which threatens Cuba and then Florida later this week.
Conditions in western Cuba are beginning to deteriorate as intensifying Hurricane Ian is on the verge of bringing significant wind and storm surge, along with flooding rains. Florida is also preparing for destructive impacts from what is expected to become a major hurricane by Tuesday morning. In fact, the Florida government has already issued a state of emergency in anticipation.
According to the National Hurricane Center's (NHC) 8 p.m. update on Monday, the storm is currently 205 km southeast of the western tip of Cuba.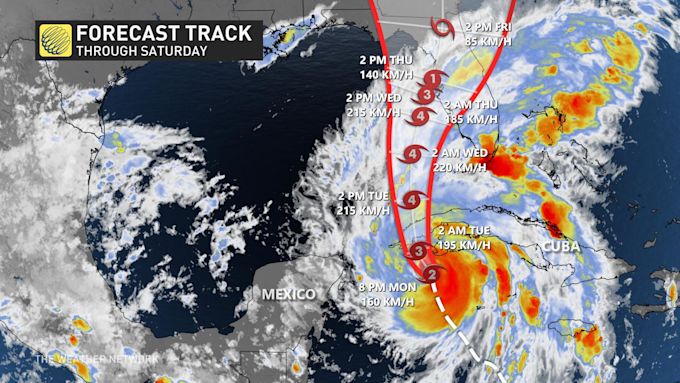 Hurricane watches and warnings, as well as tropical storm warnings and watches, and storm surge watches and warnings are now in effect in Cuba and for parts of Florida.
RELATED: PHOTOS: Arduous cleanup for Atlantic Canada after Fiona's destruction
Maximum sustained winds are near 155 km/h with higher gusts. Rapid strengthening is expected during the next day or so, and Ian is forecast to become a major hurricane Monday night or early Tuesday when it is near western Cuba, and remain a major hurricane over the southeastern Gulf of Mexico on Wednesday.
The centre of Ian is expected to move near or over western Cuba Monday night and early Tuesday. Ian will then emerge over the southeastern Gulf of Mexico on Tuesday, pass west of the Florida Keys late Tuesday, and approach the west coast of Florida on Wednesday into Thursday.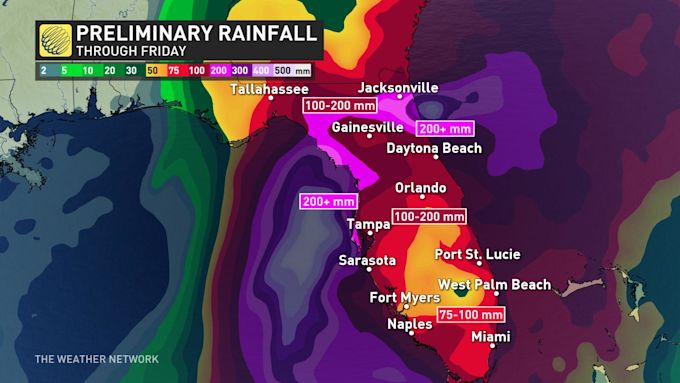 Heavy rainfall is expected to affect the southeastern U.S. Friday and Saturday. Widespread considerable flash and urban flooding, and prolonged significant river flooding impacts are likely mid-to-late week across central and northern Florida, southern Georgia, and coastal South Carolina. Flash and urban flooding impacts are also possible with rainfall across the Florida Keys and the Florida Peninsula through mid-week.
Through Thursday, Ian is expected to produce 150-250 mm of rainfall in western Cuba, with isolated amounts of up to 400 mm. These rains may produce flash flooding and mudslides in areas of higher terrain over western Cuba. The Florida Keys can expect to see 100-150 mm, with isolated amounts up to 200 mm. The southwestern and southeastern coastal regions of Florida are on tap to see 100-150 mm, with up to 200 mm in isolated spots. Central-west Florida may see 150-300 mm, with local amounts up to 500 mm. Northeastern Florida could see 150-250 mm, with local amounts up to 300 mm. Remainder of the central Florida Peninsula may get 100-200 mm.
As well, the storm is expected to produce potentially catastrophic storm surge.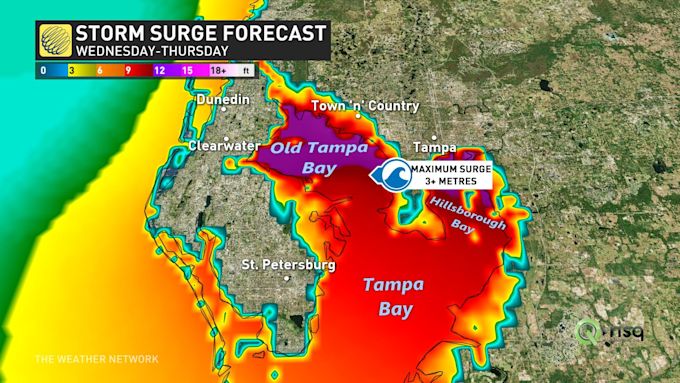 Storm surge could raise water levels by as much as 3 metres to 4 metres above normal tide levels along the coast of western Cuba in areas of onshore winds in the hurricane warning area tonight and early Tuesday.
In Florida, water could reach as high as 3-5 metres above ground along parts of the coast including in Tampa Bay, if the peak surge occurs at the time of high tide.
"Hurricane-force winds will likely be experienced along an extended stretch of the Florida coastline and inland, as well. Closely watching the risk that Ian could be the worst-case scenario for Tampa -- if the track is just west and north of the city, which would bring a catastrophic storm surge into Tampa Bay," said Dr. Doug Gillham, a meteorologist at The Weather Network.
WATCH: P.E.I. surveys damage on Sunday morning from Fiona
Depending on the storm's development and future track, we may have to watch the system or its remnants around next weekend -- with the possibility of Canadian impacts.
While it's still fairly long range, it will be monitored closely. There is only a low chance of Ian remnants impacting southern Ontario next week, but if the energy tracks east towards the mid-Atlantic, we will need to monitor that moisture and if it heads northeast towards Atlantic Canada where Fiona recovery efforts are underway.
Thumbnail courtesy of NOAA.
Stay tuned to The Weather Network for the latest forecast updates on the tropical system Ian.