Saturday, October 31st 2020, 6:45 pm - Though Saturday was relatively dry, if chilly, Sunday will be more blustery, with showers to start and some lake-effect snow to end the weekend.
After a chilly but mostly dry Halloween, the second half of the weekend looks to be more messy, starting with widespread showers across southern Ontario. There'll be a chance of light snow or flurries for parts of the southwest by the afternoon, but the bigger snow risk comes later in the day as the winds shift, triggering lake-effect snow squalls off of Lake Huron and Georgian Bay. Those squalls will last through Monday morning for some areas, but beyond, a milder temperature rally beckons. For a closer look, see below.
---
WEATHER HIGHLIGHTS:
Sunday will feature showers across much of the south, snow squalls in the evening off Lake Huron and Georgian Bay
Snow squalls weaken through Monday morning for snow belt areas
Comparative warmup for next week
---
SUNDAY INTO MONDAY: INGREDIENTS ALIGN FOR LAKE-EFFECT SNOW, WINDS WILL BE STRONG
A low-pressure system originating on the Prairies will start to make itself felt Sunday morning in southern Ontario, bringing showers across the region.
For some parts of the southwest, precipitation could manifest as some flurries or light snow, perhaps enough to coat some surfaces. But a more substantial snow event will begin by the evening, when strong, cold winds gusting up to 80-90 km/h, will race across Lake Huron and Georgian Bay.
The lakes' waters will be much warmer than the winds, resulting in precipitation forming as lake-effect snow and being driven well inland.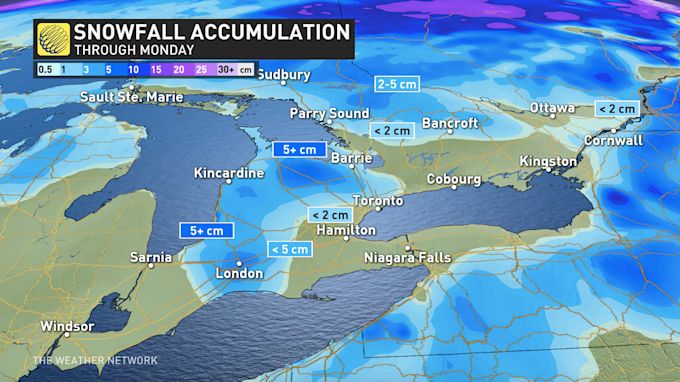 The usual snow belt communities, such as London and Barrie, will see a few centimetres of snow from this event, generally less than 5 cm, but there will be some very localized higher amounts of 10-15 cm.
The squalls will ease off by Monday morning, as another weak low brings snow to northern Ontario. A shift in the wind direction with the incoming system will limit the lake-effect snow during the day. However, Monday will still be blustery and chilly, with flurries lingering here and there. Temperatures aloft will be more typical of mid-late-December.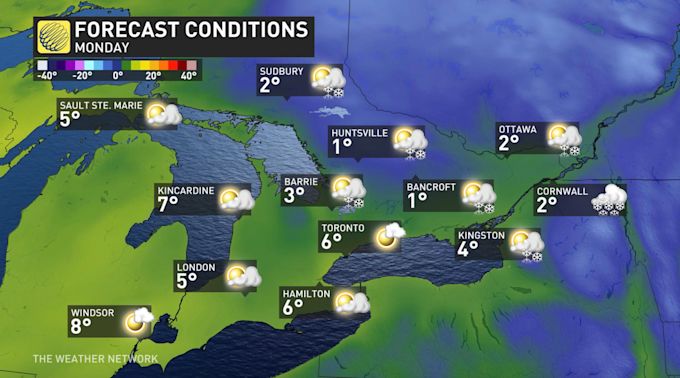 FALSE START TO WINTER, THE WARMER WEATHER RETURNS
It won't take long either for the warmer weather to nudge back in, with much more comfortable temperatures climbing back above seasonal by the middle to end of next week.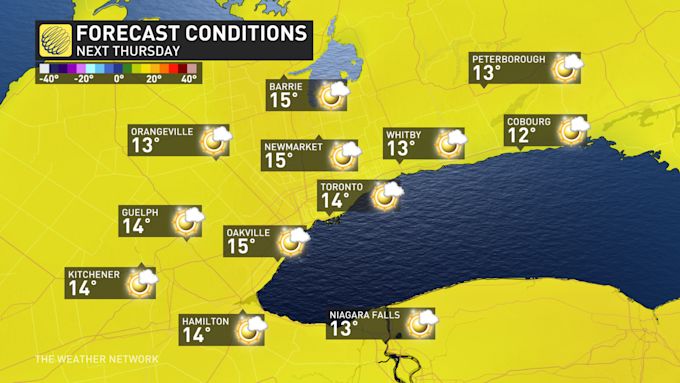 "An extended period of near to above seasonal temperatures are expected through the second week of November with temperatures more typical of mid-October," says Weather Network meteorologist Dr. Doug Gillham.
Be sure to check back for the most up-to-date weather in your area