Thursday, December 12th 2019, 6:16 am - Several people had to be extricated after crash involving tractor-trailers, dump truck, cars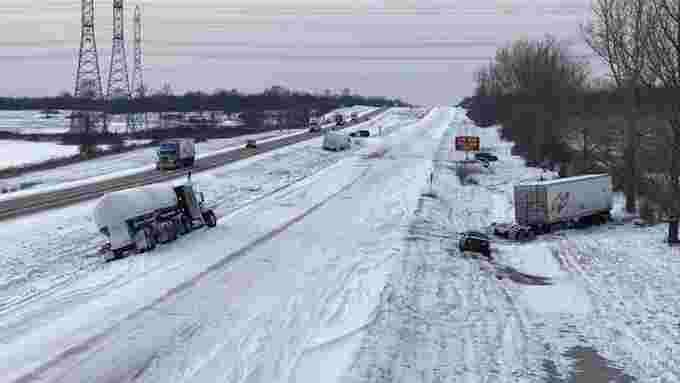 Ontario Provincial Police have closed multiple stretches of the westbound Hwy. 401 Wednesday, including this stretch near Napanee, Ont., due to weather-related crashes. (Frédéric Pepin/CBC)
One person was killed and several more injured Wednesday after a series of weather-related collisions closed stretches of the westbound Highway 401 between Napanee and Brockville, Ont.
At around 12 p.m. ET, Ontario Provincial Police were called to a series of crashes involving cars and tractor-trailers near Brockville and County Road 15.
MUST READ: How the Great Lakes contribute to dangerous wintry weather
OPP spokesperson Bill Dickson said one person was killed in the crashes, which started with a single collision that "was compounded as additional vehicles approached the scene."
Between 20 and 25 vehicles needed to be removed from the highway, Dickson said. Several people also suffered non-life-threatening injuries, he added.
The highway's westbound lanes were closed between Brockville and Maitland, Ont., until about 2:30 a.m.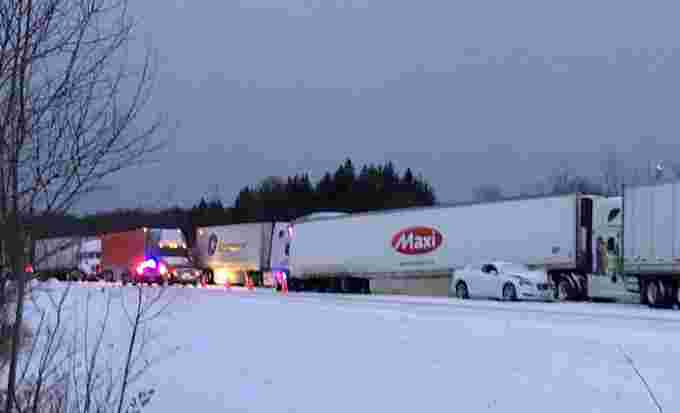 Ontario Provincial Police say as many as 20 to 25 vehicles will be need to be removed from the westbound lanes of Hwy. 401 after today's crashes near Brockville, Ont. (Frédéric Pepin/CBC)
TRACTOR-TRAILERS, DUMP TRUCK
Officers were also called to the scene of a similar crash on the westbound 401 around noon, just east of Napanee at County Road 41, as heavy snow hit the area.
That crash involved cars, tractor-trailers and a dump truck, according to police. Several people were extricated and taken to hospital with as-of-yet undisclosed injuries, OPP said.
The westbound lanes were closed for more than three hours before reopening at about 3:30 p.m.
Police said they would be towing disabled vehicles and would let their owners know where they ended up.
Images from #Hwy401wb near Deseronto Rd in the #Napanee area. Several people with minor injuries. Warming station setup for motorists.

OPP East on Twitter
Winter travel advisories were in place for much of that area, with Environment Canada warning about "brief but intense snowfall" that could seriously reduce visibility on the roads.
In a tweet, OPP urged drivers to "adjust their driving to changing weather conditions."
Police also were called to crashes on the westbound 401 near Kingston and Trenton Wednesday morning, but any lane closures have since ended.
This = that ...

Chris St.Clair on Twitter
At least one person suffered critical injuries in the Trenton-area crash, OPP said.
This article was originally published on CBC News and written by Trevor Pritchard
WATCH: SUDDEN BLIZZARD-LIKE CONDITIONS UNDER INTENSE SQUALL