Friday, August 12th 2022, 8:44 pm - British Columbia's Interior will see another risk for storms on Saturday afternoon. A long-duration stretch of heat builds in for next week.
We're looking at one more day of stormy weather across parts of British Columbia on Saturday ahead of a major pattern change that'll bring a long stretch of hot and dry weather to Western Canada. Some of Saturday's storms could grow severe in the Interior. More on what you can expect Saturday and into next week, below.
---
MUST SEE: A year ago, B.C. looked like an ashtray from space
---
Saturday: Severe storms across parts of the Interior
Saturday will see yet another risk for thunderstorms across the province's Interior region.
Widely scattered thunderstorms are possible from the Okanagan north toward the Peace River.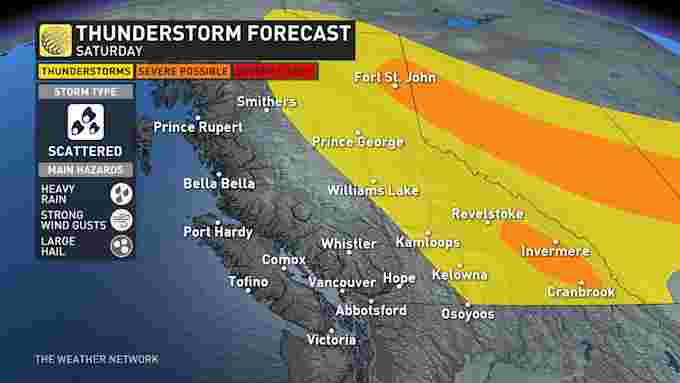 Some of the storms across the Kootenay Region could grow severe, with strong wind gusts and large hail the primary risks.
Storms aren't the only issue in the area.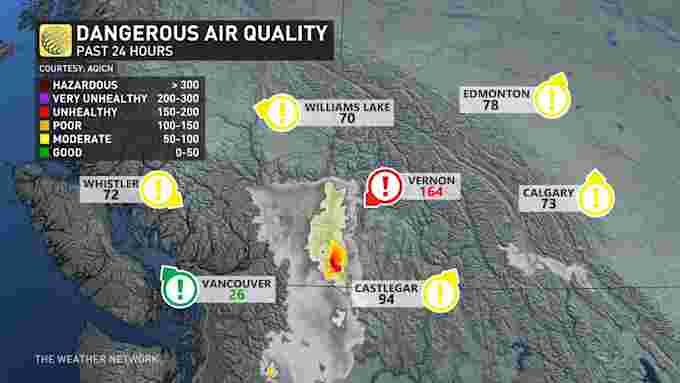 Smoke from ongoing wildfires will continue contributing to poor air quality for portions of the Interior. We've seen some dangerous air quality values to end the week, and the upcoming risk for hot and dry weather could lead to additional wildfires and even worse air quality.
Looking ahead: Hot temperatures build as ridge settles in
The current streak of active weather will soon come to an end as a growing ridge of high pressure south of the border exerts its influence across Western Canada.
Daytime high temperatures will start ticking upward on Sunday and continue to climb heading into next week. Temperatures will push the upper 30s across the Interior toward the middle of next week.
Excessively high temperatures will spare the coast this time around, but daytime highs will come in well above seasonal and feels-like values will tick into the 30s even in Vancouver next week.
Check back frequently for the latest updates on conditions across British Columbia.