Thursday, April 8th 2021, 8:53 am - A moisture-packed stateside low is bringing considerable amounts of rainfall to northern Ontario, lasting into Thursday, and elevating the risk of localized flooding in low-lying areas.
An extended period of persistent rain will continue across northern Ontario through Thursday, with special weather statements in effect, warning of localized flooding in low-lying areas. Flood threat aside however, this moisture is welcome, especially in a region that's received well below normal precipitation as of late and ahead of the upcoming wildfire season. For areas in the far north, Thursday also threatens a period of freezing rain as well, with advisories in place for the potential of some decent ice build up. More on the timing and impacts, below.
---
THURSDAY: PERSISTENT RAIN, ICE BUILD UP WITH FREEZING RAIN THREAT
A swath of persistent rain, which first began on Wednesday will have lingering impacts set to last through much of Thursday, before tapering somewhat into the evening across northern Ontario. Not unwelcome for a region that has received less than half of its average precipitation over the last three months, and on the doorstep of wildfire season.
Amounts will be heaviest west of Thunder Bay and near the eastern shore of Lake Superior, around Wawa, where 30-50 mm of rain is expected by the time the system has departed. Widespread 20-30 mm of rain is forecast for areas north of Dryden and between Geraldton and Kapuskasing.
Localized flooding is possible in low lying areas, especially with the frozen ground having a reduced ability to absorb the rainfall.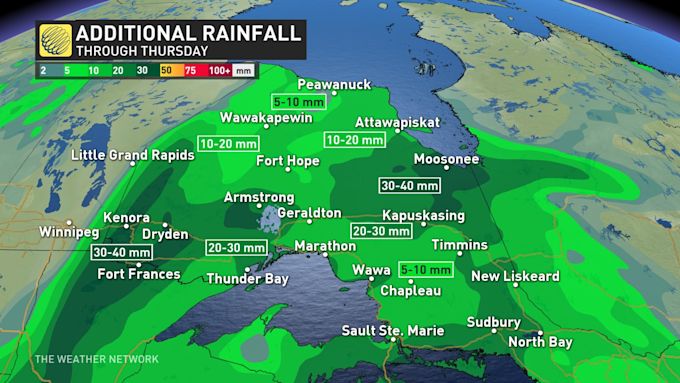 Rain will linger into Thursday evening before diminishing for the overnight as the low mostly pushes out.
That won't be the end of the story for more northern areas, however. On Thursday night, temperatures fall low enough that the moisture from the departing low will fall as freezing rain, something people in the region should be mindful of if they plan to travel. Several millimetres of ice build-up is possible in some areas.
"Surfaces such as highways, roads, walkways and parking lots may become icy and slippery," warns Environment Canada. "Take extra care when walking or driving in affected areas."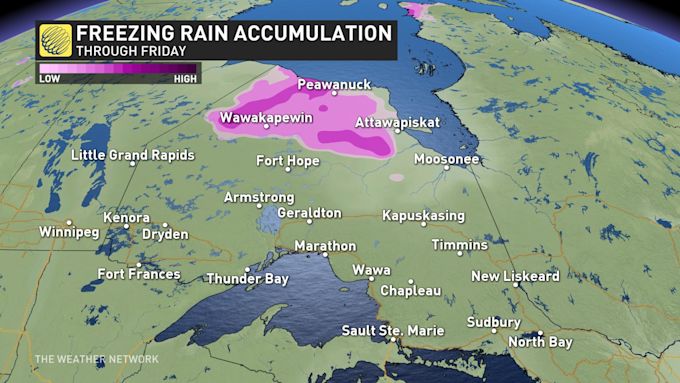 Special weather statements are in place across almost all of the north, covering the rainfall and freezing rain.
BEYOND: ISOLATED SHOWERS IN THE SOUTHWEST, MORE POTENT SYSTEM FOR THE WEEKEND
Meanwhile, the south will be mostly untouched from this system, though forecasters are eyeing the effects of a Colorado low that looks to brush the southwest with showers, and a chance of a few thunderstorms.
Temperature-wise, warm temperatures build in to close out the week, with a chance to reach the 20-degree mark as far north as Timmins, though most of the north will reach no higher than the low to mid teens.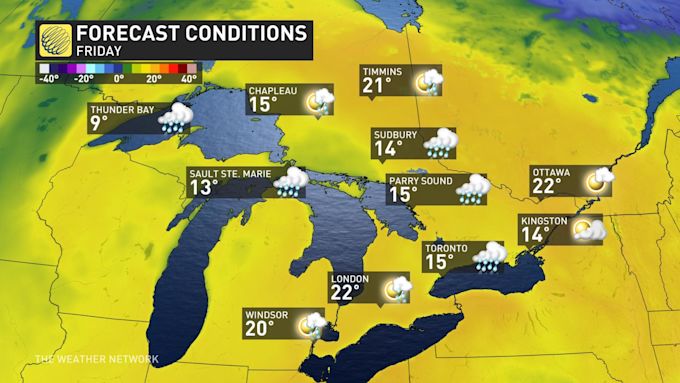 Beyond, a Texas low will track into the Great Lakes Saturday. A widespread soaking rain is anticipated for southern Ontario Saturday night, though drying out for much of Sunday. However, rain will continue to spread across cottage country and eastern Ontario.
Be sure to check back regularly as we continue to monitor this forecast.