Tuesday, March 29th 2022, 8:22 pm - A potent spring storm threatens a myriad of wintry effects including heavy snow and freezing rain across sections of central and northern Ontario into Thursday, while temperatures and rain surge across the south for a brief time.
Another strong March storm is on Ontario's doorsteps, as the month comes to a close, threatening to disrupt travel and power across a swath of the province Wednesday and into Thursday. A messy mix of freezing rain, ice pellets, heavy snow and rain will be felt across different parts of the province. Locales such as Sault Ste. Marie could see up to 12 hours of it, potentially leading to power outages and slippery surfaces. Amid the mess will be a brief warm-up for the south Thursday, dependent on the front's timing. More on what's coming, below.
MUST SEE: Canada, we're stuck in a weather time warp. Here's why
WEDNESDAY/THURSDAY: MID-WEEK STORM THREATENS TRAVEL WITH SIGNIFICANT SNOW AND ICE
A low-pressure system is set to track into Ontario on Wednesday, as March goes out like a lion instead of a lamb. In fact, the setup has some resemblance to the storm that hit Ontario on Wednesday, March 23. Widespread weather alerts including special weather statements, freezing rain and winter storm warnings are in effect across the province.
PHOTOS: Rude wake-up call: Ontario sees impressive spring lake-effect setup
The storm track favours rainfall, snow, freezing rain and ice pellets, as well as a brief warm-up across Ontario. Many of the same regions that saw the ice accretion last Wednesday will see it again.
Meanwhile, heavy snow will target northern Ontario once again, but Thunder Bay looks to have escaped the worst of it this time around. Still, it's a region that has held on to an impressive snowpack already, with these additional totals only stacking up.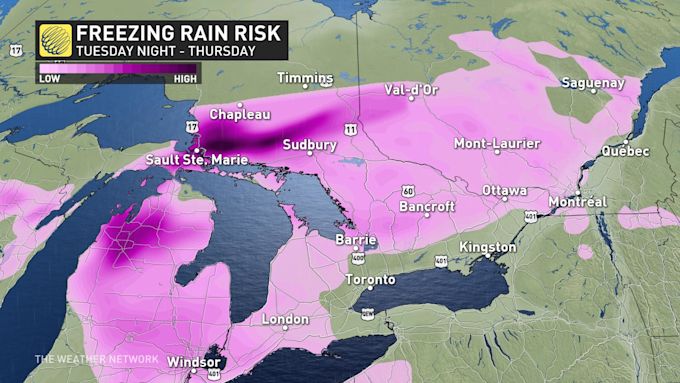 A period of mixed precipitation -- snow, ice pellets and freezing rain -- with a light glaze is expected, as a warm front advances north across the region during Wednesday.
"There will be a lull in the system for southern Ontario between the warm front and cold front. So Wednesday overnight through Thursday afternoon, the cold front will move through bringing rain, as well as some warmth," says Matt Grinter, a meteorologist at The Weather Network. "Temperatures into the teens are expected for Wednesday overnight through early Thursday afternoon, then temperatures will start to drop once again behind the front."
By Wednesday morning, freezing rain and ice pellets will reach southern Ontario including the Greater Toronto Area (GTA), while snow continues to push across northern sections. However, the GTA may see a little bit of snow in the morning before changing to freezing rain, ice pellets and then rain in the afternoon as temperatures warm up.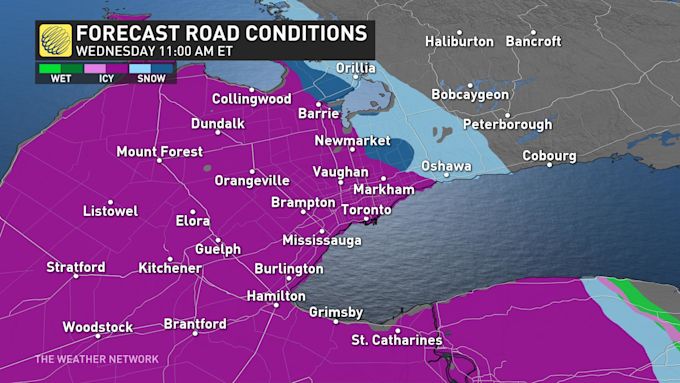 Winds will pick up through the day on Wednesday, however, gusting between 60-80 km/h along the front and will continue into Thursday.
For parts of northern, central and eastern areas, ice pellets and freezing rain is expected to begin Wednesday morning or the afternoon, respectively. Freezing rain may be heavy at times before changing over into rain during the overnight hours. Possible gusty winds along with ice build up may result in power outages. Sault Ste. Marie may see up to 12 hours of freezing rain.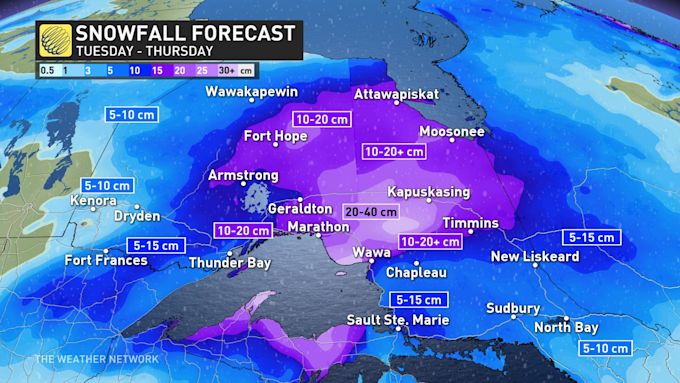 The heaviest snow will be northeast of Lake Superior with a large swath of 20-40 cm possible, while 10-20+ cm is earmarked for areas well north and east of the lake.
Considerable travel interruptions should be anticipated across the province for Wednesday and Thursday. Showers will be sporadic across southern Ontario during the latter, but the day isn't expected to be a washout and there will be dry breaks. Thursday evening will see the return of lake-effect snow on the backside of the system.
Widespread colder weather will spread back into the region as the storm departs, with near to below seasonal conditions dominating this weekend and next week. In fact, the cooler temperatures will likely continue for the first half of April as well, with no sustained warmth in sight.
Be sure to check back for the latest updates on the changing conditions across Ontario.
---
Subscribe to 'This Day in Weather History': Apple Podcasts | Amazon Alexa | Google Assistant | Spotify | Google Podcasts | iHeartRadio | Overcast