Sunday, March 27th 2022, 7:51 pm - Many folks across Canada will be getting déjà vu vibes this week, with eerily similar weather events unfolding across parts of the country.
Canada, we're stuck in a weather time warp. A lot of our weather is eerily similar to last week. Let me lay out the evidence.
MUST SEE: Toronto will be colder than the Arctic Circle this week
Western Canada features the same pattern mid-week, with showers on Wednesday for Vancouver, B.C., and an extensive warm-up across Alberta. Yes, that's mirroring last Wednesday, March 23, when the province soared above 20°C.
Tracking towards Ontario and Quebec, even the storm system will mimic last weekend's messy spring low.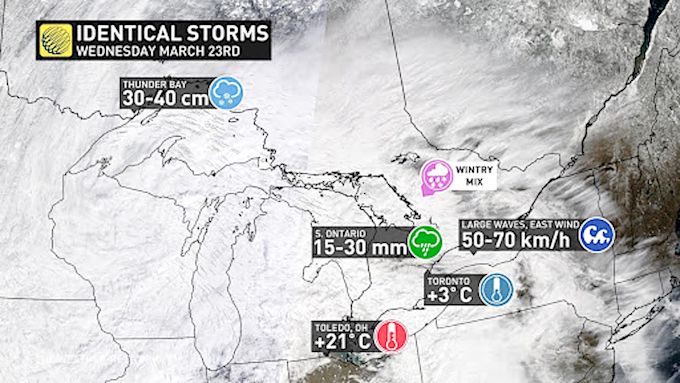 Thunder Bay, Ont., recorded more than 30 cm of snowfall last week. This week, it'll also see snow accumulations exceeding 30 cm. The raw east wind will be a staple in the Great Lakes forecast, creating contrasting temperatures over short distances, including a rejuvenated risk of freezing rain. The warm air will abruptly stall in Ohio, where temperatures will soar towards 20°C this week. Are you getting big déjà vu vibes, yet?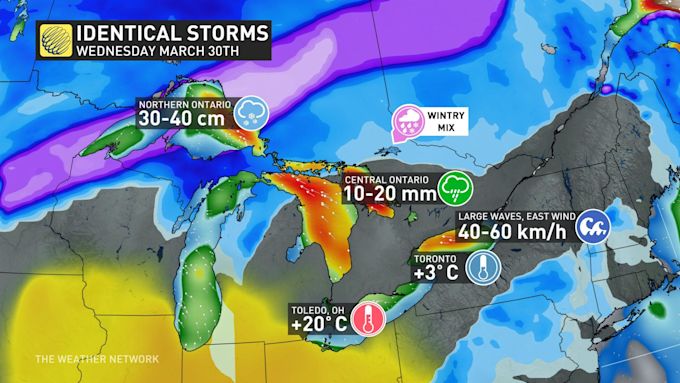 Even the severe weather threat is repetitively disconcerting, targeting the same U.S. states like Texas and Louisiana -- mirroring the locations where tornado outbreaks occurred last week.
Moreover, even the finer details might repeat, such as the dense fog late Wednesday across southern Ontario. It's the perfect recipe for advection fog, a type that flourishes when warm air travels over the snowy ground.
Is Atlantic Canada stuck in the same weather time-warp continuum?
Last Wednesday featured a trough over Newfoundland. This Wednesday? A stalled low will spiral over Newfoundland, highlighting the risk for bursts of heavy snow.
Looking ahead to April, the typical Gulf of Alaska trough will fling Pacific air at British Columbia — and that will continue to keep Alberta warmer than average.
There's still some residual cold to fight off near Hudson Bay; that will fuel a chilly trough or two for Central Canada and the Great lakes for the first several days of April.
More often than not, Atlantic Canada will be locked into milder southwest flows, meaning several double-digit days on the horizon as we push into April. Be on guard, though, because a lurking trough further west might align with the perfect storm track -- meaning a heavy, wet snow event could be lurking on the horizon across the Maritimes next week. Is that a surprise to anyone?