Saturday, April 30th 2022, 8:00 am - Officials are worried that the province's third storm in three weeks will push local waterways out of their banks.
The rain has arrived in Manitoba and it won't let up until later this weekend. The arrival of the province's third storm in three weeks prompted rainfall warnings for much of southern Manitoba, as well as worry from officials as residents brace for additional flooding. More on what you need to know about the storm and the preparations underway, below.
RELATED: Red River flood now expected to be as high as crest in 2009, worst since 1997
THIS WEEKEND: RAIN CONTINUES INTO SUNDAY MORNING
This will be the third major storm to hit the Prairies in the past three weeks. Each successive storm has been a little warmer than the one before it, with this current system predominantly a rainmaker for southern Manitoba.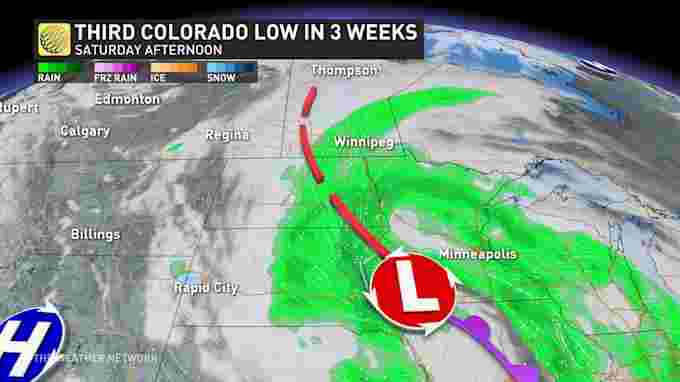 Rain is already pushing into southern Manitoba and it will pick up in intensity and coverage through the overnight hours and into the day on Saturday.
Steady rain will blanket southern Saskatchewan and Manitoba for much of the day on Saturday. We could see widespread totals of 30+ mm across these areas. Locally heavier amounts of up to 60 mm are possible, especially in any thunderstorms or persistent bands of heavy rain that stay in one place for too long.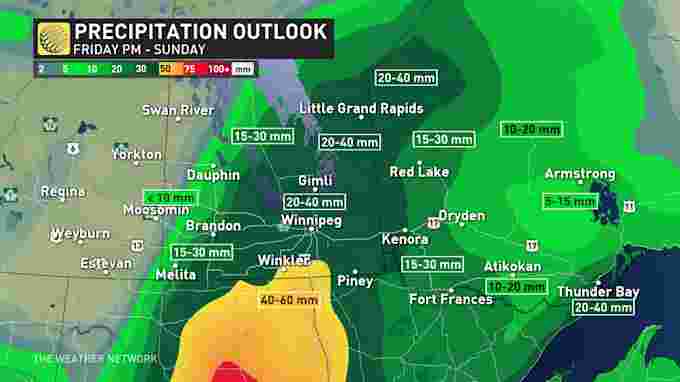 Additional rainfall is bad news for areas struggling with flooding from the combination of excess rainfall in recent weeks and runoff from the ongoing thaw across the region. The impending precipitation could put unneeded stress on waterways, rivers, and streams.
Officials held a press conference Friday afternoon to discuss the flooding potential along the Red River.
Fisaha Unduche, a hydrologist for the province, predicted that the Red River would crest in about a week and a half near the level of the river's memorable 2009 flood.
While the level of flooding would be lower this time around because there's no ice left on the river, such a high crest would still be "a significant event that will likely close most of Highway 75 for several weeks and require the precautionary evacuation of several dozen properties that may lose road access to emergency services," CBC News reported on Friday afternoon.
DON'T MISS: Nearly 60 million litres of raw sewage released into Winnipeg river
WATCH: OFFICIALS BRIEF RESIDENTS ON THE FLOOD SITUATION HEADING INTO MAY
Environment and Climate Change Canada (ECCC) issued widespread rainfall warnings for the southern half of Manitoba ahead of this weekend's system.
"The ground, already near saturation, has little ability to absorb further rainfall," ECCC said in its warning. "Localized flooding in low-lying areas is possible."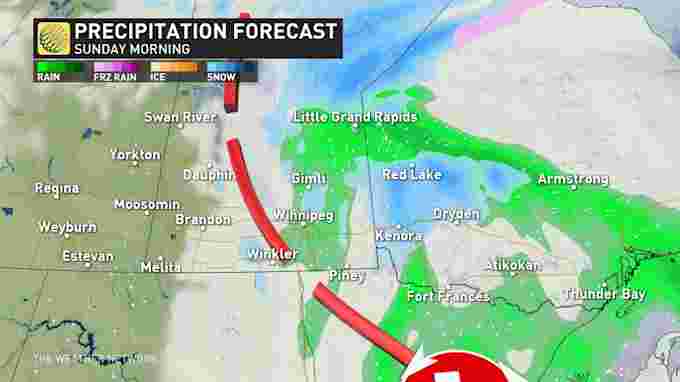 Most of the precipitation will likely fall as rain, although some snow is possible over the higher terrain of southwestern Manitoba on the back side of the low on Sunday. This will be a solid snowstorm for folks in northeastern Manitoba, where more than 30 cm of snow could fall through the end of the weekend.
Officials continue to warn residents to stay off local waterways, as the risk for high flows, debris, and cold temperatures all present a significant safety risk.
We're looking forward to a more favourable pattern heading into the first week of May. Drier and warmer conditions should build across the eastern Prairies behind this weekend's system.
Beneath clearer and calmer skies, Winnipeg's daytime highs should climb around or slightly above seasonal by the middle of the week.
Contains files from CBC News