Thursday, April 1st 2021, 12:15 pm - Snow joke! Spring shows its fickle nature for the start of April as a major temperature drop and periods of snow span Ontario and Quebec through Friday.
Despite what the calendar says, temperatures will be more reflective of late February than April as the new month kicks off across Ontario and Quebec on Thursday. While it won't be a long-lived tumble, daytime highs are falling sharply, especially in comparison to the near 20 degree digits that were widespread on Tuesday. It'll be Saturday before they rebound again, setting the scene for an overall pleasant Easter weekend. Before that however, a storm system threatens some difficult travel through parts of Quebec on Thursday, with as much as 20 cm of snow on tap for the start of April. Eastern Ontario now looks to escape the worst of it, though we can't rule out the chance for some flurries and a burst of snow even reaching the Greater Toronto Area. More on the timing and impact, below.
---
Visit our Complete Guide to Spring 2021 for an in-depth look at the Spring Forecast, tips to plan for it and much more!
---
WEATHER HIGHLIGHTS:
Temperatures around zero for much of the region Thursday
Shot of snow for eastern Ontario and parts of Quebec through Thursday, heaviest accumulations look to be over the Eastern Townships and Laurentians
Clearing conditions in time for the Easter weekend, with the return of double-digit warmth by Saturday
---
THURSDAY: TEMPERATURES DROP BY 20 DEGREES, SNOW WARNINGS SPAN EASTERN QUEBEC
It will seem like quite a precipitous drop in temperatures Thursday compared to Tuesday's widespread double-digit warmth. Daytime highs look to not venture too much higher than freezing throughout the day, though that will mark the low point for the next little while.
MUST SEE: Will Canada's strong start to spring persist? Exclusive April outlook revealed
Even in places that do inch above that mark, it'll still feel markedly cooler with the wind chill.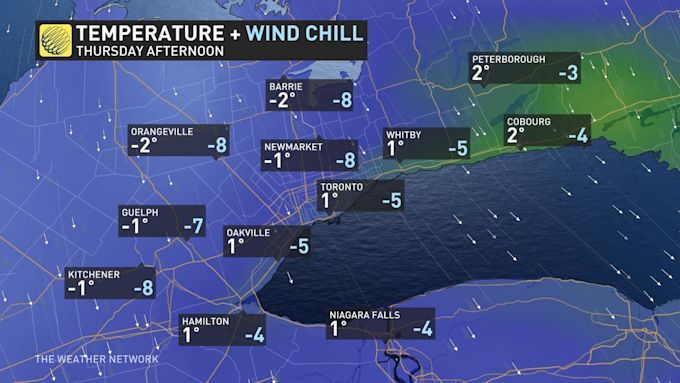 It could, however, have been considerably worse. Forecasters were keeping an eye on a conveyor belt of moisture that could have made for some measurable snow for much of Ontario's eastern half, and a few flakes elsewhere. However, an area of high pressure has nudged the effects of that system further east, with its full brunt now expected in Atlantic Canada.
That will be a real boon for Ontario – places like Kingston and Ottawa had some potential to be in the 10-15+ cm range, but now look to see just some flurries at times.
A brief burst of snow is also possible across the GTA, with a north wind gusting to 60 km/h making it feel more like a late February day.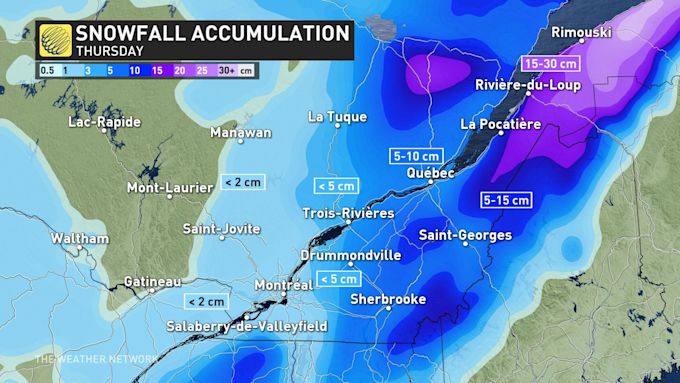 Quebec will bear the brunt of the storm in terms of heaviest snowfall accumulations. The St. Lawrence Valley is expected to see a general 5-10 cm of snow from this storm through Thursday, with higher elevations in the Eastern Townships and Laurentians still picking up between 5-15 cm by the time all is said and done early Friday, and possibly as much as 30 cm for areas north and east of Quebec.
"Prepare for quickly changing and deteriorating travel conditions. Rapidly accumulating snow could make travel difficult over some locations," says Environment Canada in a snowfall warning issued for eastern Quebec.
BLOWING SNOW CREATES DANGEROUS DRIVING CONDITIONS ON QUEBEC ROADS
SPARED FROM A WHITE EASTER ACROSS SOUTHERN ONTARIO
Beyond Thursday's system, temperatures will remain on the cool side of seasonal for Friday, though with morning clouds giving way to abundant sunshine for the start of the holiday weekend.
Temperatures will continue to climb back into double digit territory by Easter Sunday across the south, with pleasant weather persisting through Monday as well.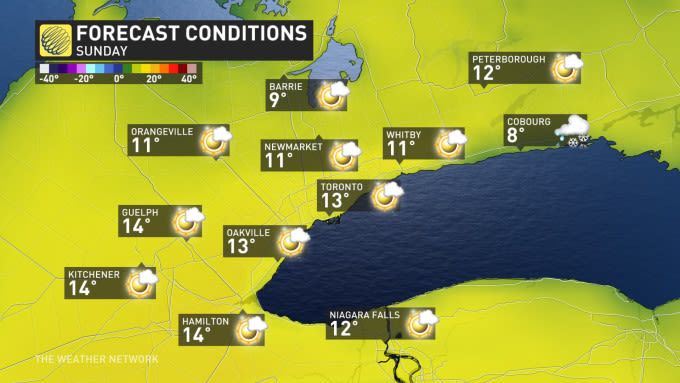 "The good news story here is that we'll avoid a 'white Easter' across southern Ontario this year," says Weather Network meteorologist Dr. Doug Gillham.
Be sure to check back as we continue to monitor the track of this incoming winter-like system.