Wednesday, September 28th 2022, 2:00 pm - Rapidly intensifying Hurricane Ian is expected to cause catastrophic storm surge, winds, and flooding in the Florida Peninsula Wednesday and Thursday.
After powerful Hurricane Ian battered Cuba Tuesday, the centre of the extremely dangerous storm is expected to move onshore in western Florida on Wednesday, with catastrophic impacts forecast across the state.
Ian strengthened to a major Category 4 hurricane Wednesday morning, with maximum sustained winds of 250 km/h, according to the National Hurricane Center's (NHC) Wednesday morning update. That's just shy of a monster Category 5 storm.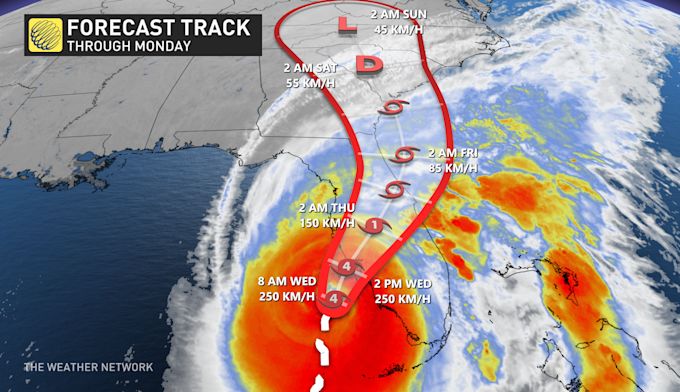 "Ian is forecast to make landfall on the west coast of Florida as a catastrophic Category 4 hurricane," the NHC warns. "Weakening is expected after landfall."
Hurricane, tropical storm and storm surge warnings are in place.
WATCH: Power lines burst into flames as Hurricane Ian makes landfall in Florida
The agency is calling for Ian to bring "life-threatening" impacts to Florida including catastrophic winds, storm surge and flooding on Wednesday and Thursday.
"The storm is here," Florida Division of Emergency Management Director Kevin Guthrie said at a news conference. "Stay indoors. Stay away from windows."
On the forecast track, the centre of Ian is expected to move over central Florida Wednesday and Thursday morning and emerge over the western Atlantic by late Thursday.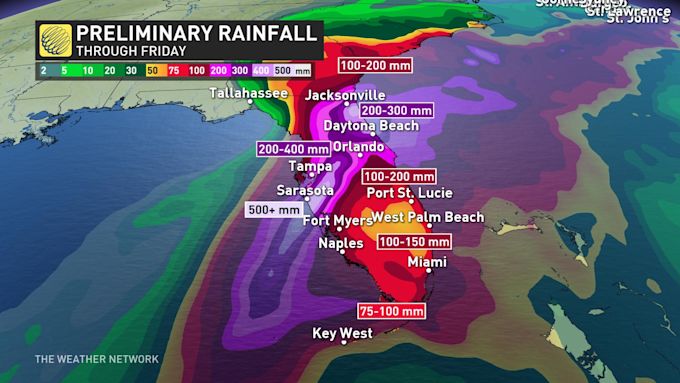 The state of Florida could receive remarkable amounts of rain through Friday. The Tampa area has the potential to see 500+ mm of rain, an unthinkable amount to fall in just 72 hours. Daytona could see 200-300 mm, and the Miami area could get up to 150 mm.
"Widespread, life-threatening catastrophic flash, urban, and river flooding is expected across central Florida," the NHC says. "Widespread considerable flash, urban, and river flooding is expected across portions of southern Florida through Wednesday, and northeast Florida, southeastern Georgia, and coastal South Carolina later this week through the weekend."
However, it is not only rains that are of concern to the state. Ian's pressure could create storm surges that elevate the sea level. If it gets its timing right, Ian could have its peak storm surge at high tide and raise water levels 2-4+ metres above ground level.
MUST SEE: Connection between extraordinary storm surges in Canada and Florida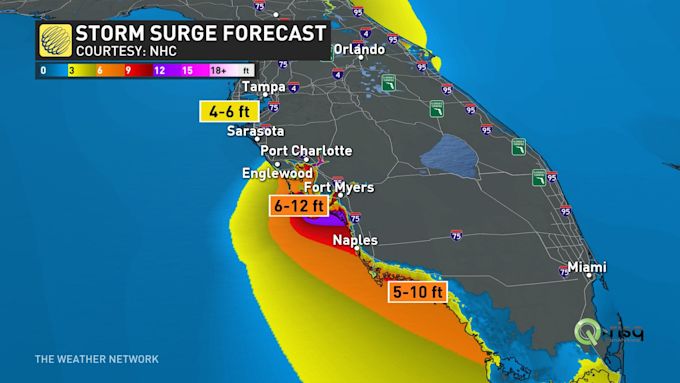 Hurricane-force winds are expected to extend well inland near the core of Ian as well.
Earlier in the week authorities told more than 2.5 million residents to evacuate for higher ground. As of Wednesday morning, nearly 80,000 homes and businesses in Florida were without power, with tens of thousands more expected as the storm passes through.
Hurricane conditions are possible across portions of South Carolina on Thursday and Friday, and a hurricane watch has been issued for that area.
Post-Ian moisture could climb through the United States and appear in Canadian long-term forecasts. Depending on the direction the storm decides to go, southern Ontario could see some rain remnants next week. More likely, though, the system will stay east and exit into the mid-Atlantic, and beyond our shores.
WATCH: The devastating consequences behind 'stalling' hurricanes
Stay tuned to The Weather Network for the latest forecast updates on Hurricane Ian.
With files from Reuters.