Thursday, April 29th 2021, 1:55 pm - Water shortages in Canada and many other parts of the world are possible as glaciers rapidly recede.
The world's glaciers are in an accelerating melt down according to the first ever study of all 220,000 glaciers. In the past two decades these mountain glaciers have lost an average of 267 billions tons of ice per year. That's enough to submerge all of southern Ontario from Windsor to Cornwall and up to Algonquin Park under two meters of water every year.
This does not include ice loss from the Greenland and Antarctic ice sheets.
Between 2000 and 2004 ice lost by glaciers averaged 227 billion tons a year but accelerated to nearly 300 billion tons a year in recent years. This enormous volume is rising sea levels worldwide and will have major impacts on water availability and food production for more than a billion people according to the study published in Nature.
These findings show how important it is for global society to act together to cut carbon emissions, says co-author Brian Menounos, Canada Research Chair in Glacier Change at the University of Northern British Columbia.
"If we enjoy our way of life, then we have to act," Menounos said in an interview. "Canada needs to be a leader."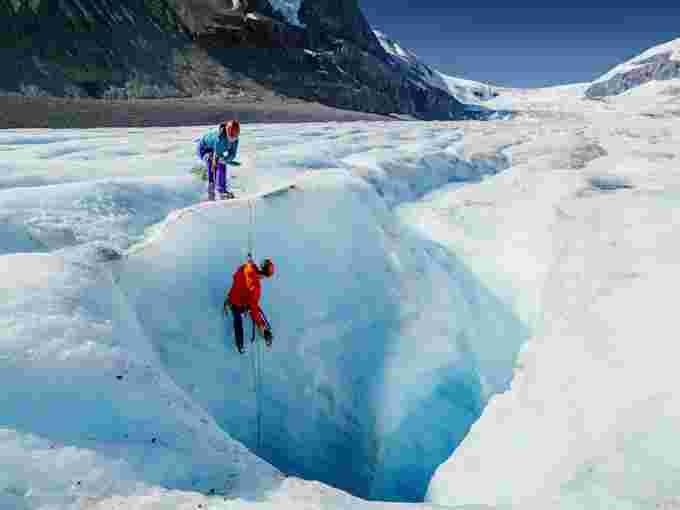 Ice climber climbing out of deep crevasse on Athabasca Glacier in Alberta, Canada. Credit: Alex Ratson. Moment. Getty Images
Wherever glaciers are found in the world, they have been melting at a high rate since the mid-20th century. The full extent of ice loss was unknown until now.
Among the fastest melting glaciers in the world are those in Alaska, Western Canada, Iceland, and the Alps. Ice loss from glaciers in north-western America (Alaska, Western Canada, and USA) have increased 400 per cent in the last 20 years alone as these regions have experienced much warmer temperatures.
Overall Alaska and Arctic Canada account for 45 per cent of global glacier ice mass lost in the past 20 years, the study found.
Glaciers can both shrink in area and become thinner as they melt. A glacier's ice mass is the amount of ice it has. Scientists measure the amount of snow accumulated in winter and how much snow and ice melts in the summer to calculate a glacier's overall mass.
UNBC SUPERCOMPUTER CALCULATED THE MASS OF EVERY GLACIER IN THE WORLD
Since 1999 NASA's Terra satellite has been taking detailed pictures as it orbits the Earth once every 100 minutes. Terra's multispectral imager with two cameras is used to record pairs of stereo images. Menounos and co-authors at ETH Zurich and University of Toulouse, used nearly a half million of those images to create high-resolution digital elevation models of all the world's glaciers. With 20 years of images, a detailed time series was reconstructed to show how each glacier changed over time.
"It took about a year for the UNBC and Hakai Institute supercomputer to process the data," said Menounos.
With what amounted to a series of 3-dimensional snapshots over 20 years, the ice mass changes for each glacier could be accurately estimated. These estimates were then validated with available independent, high-precision measurements of individual glaciers.
The new study has also found that glacier melt is responsible for 21 per cent of the observed sea-level rise in the last 20 years. Rising sea levels have serious implications for low-lying coastal regions such as Bangladesh.
"People in these regions are really going to suffer and will be forced to move," said Menounos.
The melt down of the massive glaciers in the Pamir mountains, Hindu Kush, and Himalayas have enormous water and food implications for more than a billion people. These glaciers, collectively known as the Earth's 'Third Pole', are the critical sources of water for Ganges, Brahmaputra, and Indus rivers during the dry season.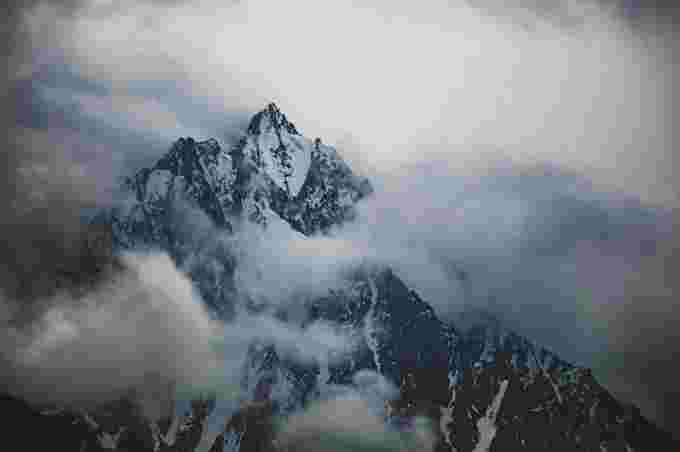 High mountains of the Hindu Kush in Afghanistan, viewed from the Afghan/Tadjik Border in the Tadjik side of the Wakhan Corridor, Tajikistan. Credit: Jean-Philippe Tournut. Moment. Getty Images
"Right now, this increased melting acts as a buffer for people living in the region," explains Romain Hugonnet, lead author of the study and researcher at ETH Zurich and the University of Toulouse.
"But if Himalayan glacier shrinkage keeps accelerating, populous countries like India and Bangladesh could face water or food shortages in a few decades," Hugonnet said in a statement.
The implications of this are "hair-raising" says Garry Clarke, a glaciologist and professor emeritus at the University of British Columbia. "We can't replace water and we need it for nearly everything," said Clarke in an interview.
The study itself is an impressive piece of work and confirms in detail that "glaciers are going away everywhere," said Clarke who wasn't involved in the study.
Glaciers are the water towers for large parts of the world, providing water during the dry season. That includes Canada: Alberta rivers like the Bow, Red Deer, North Saskatchewan, Athabasca, and Peace are fed by glaciers in the Rocky Mountains. A University of British Columbia study in 2020 said one in four Albertans will suffer water shortages as glaciers rapidly shrink.
If temperatures continue to rise then glaciers will continue their accelerated meltdown said Clarke.
"Glaciers are sending a clear message: It's up to us to step up and halt the rise in global temperatures."
Thumbnail credit: Paul Souders. Stone. Getty Images