Thursday, August 1st 2019, 8:00 pm - What's Up In Climate Change? A heatwave over Greenland, NASA tracks soot from Arctic wildfires, and a new marine conservation area in Canada's North.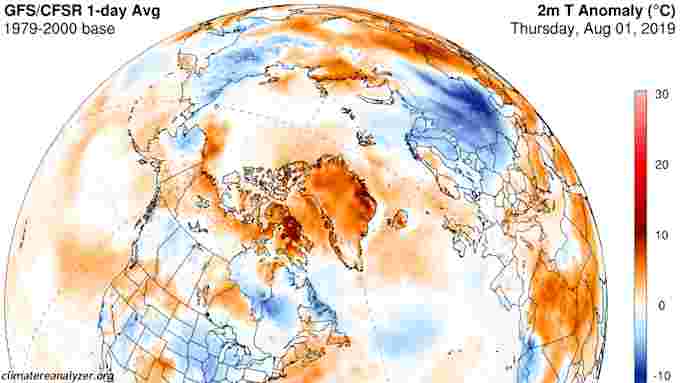 After an intense heatwave spread across Europe, pushing temperatures up to levels unseen before, that blob of extreme heat moved on to settle in over - of all places - Greenland.
As a result, it took an incredible toll on the Greenland ice sheet, with at least 60 per cent of the ice sheet suffering a millimetre or more of melting, which resulted in the loss of some 10 billion tonnes of ice in just one day, as it melted and poured into the ocean.
Ruth Mottram, a climate scientist and glaciologist with the Danish Meteorological Institute, pointed out that the ice sheet lost a total of 197 billion tonnes of ice for the month of July.
As the graph below shows, this amount of ice loss is very unusual for this time of year. It even exceeds the normal ice for the peak melt period, in mid-July.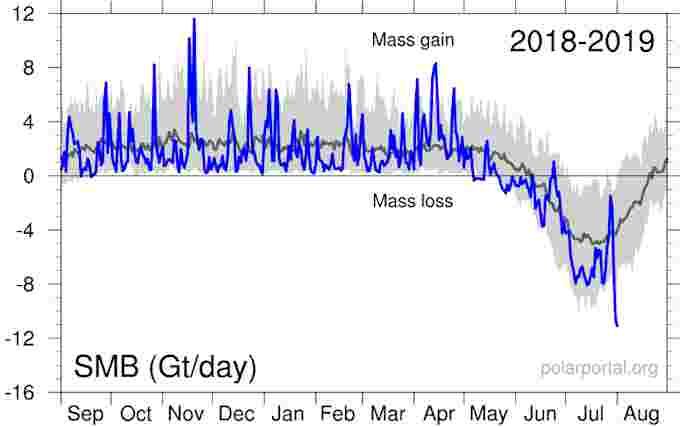 Graph of mass gain vs mass loss from the Greenland ice sheet, in gigatonnes per day. Credit: Polar Portal
NASA TRACKS ARCTIC WILDFIRE IMPACTS
With hundreds of wildfires burning across the Arctic so far in 2019, and over 100 just in June and July, there is a concern about how much smoke, ash and soot has been blowing across the Arctic, and what kind of impact this will have on the region, and the fragile ice that is so important to our climate.