Tuesday, March 1st 2022, 11:41 am - Any further delay in making rapid, deep cuts in greenhouse gas emissions will make survival in some regions impossible, the report concludes.
Countries aren't doing nearly enough to protect people and nature from escalating impacts of climate change, says the Intergovernmental Panel on Climate Change (IPCC). Those dangerous impacts, including extreme weather events, will be beyond our ability to adapt without rapid reductions in fossil fuel use, according to the IPCC's latest major scientific report released Monday.
There are two key takeaways from the report:
The impacts of climate change are already severe, will get many times worse, and become increasingly irreversible beyond 1.5°C of warming.
We must take a low-carbon path now or miss the "rapidly closing window of opportunity to secure a livable and sustainable future for all."
"This report is a dire warning about the consequences of inaction," said Hoesung Lee, Chair of the IPCC in a press release. "Our actions today will shape how people adapt and nature responds to increasing climate risks."
"The facts are undeniable. This abdication of leadership is criminal. The world's biggest polluters are guilty of arson of our only home," said UN Secretary General Antonio Guterres commenting on the report.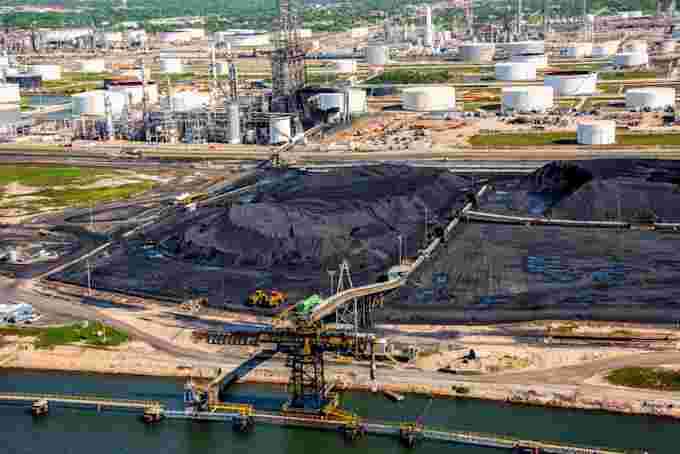 A field of oil sands imported from Canada ready for production and refining at a southeast Texas oil refinery along the Gulf of Mexico. (Art Wager/ iStock/ Getty Images Plus)
This new report from the IPCC's Working Group II focuses on climate impacts and adaptation. It involved 270 researchers from 67 countries working together over the last six years.
Extreme weather will get many times worse over the next two decades with global warming rising from 1.1°C today to 1.5°C, according to the report. Exceeding this, even temporarily, "will result in additional severe impacts, some of which will be irreversible."
Canada is already being hard hit by destructive and deadly climate-driven extreme weather. In 2021 alone:
Severe flooding and landslides in British Columbia last November was likely the worst weather disaster in Canadian history.
A heat dome with temperatures over 40°C in June killed nearly 600 people in B.C., 185 people in Alberta, and impacted millions of Canadians.
Wildfires in B.C. destroyed the town of Lytton and burned 889,813 hectares, polluting Alberta's air for weeks.
Record drought in western Canada resulted in billions of dollars in economic losses.
The Atlantic coast saw multiple hurricanes and tropical storms causing extensive flooding and wind damage.
"Canada is really being impacted by climate change, far more than people realize," said Eddie Pérez of the Climate Action Network - Réseau action climat (CAN-Rac) Canada, a coalition of more than 100 organizations across the country. "We aren't prepared to deal with those impacts and have no plan on how to adapt to what's already happening," Pérez told The Weather Network.
Canada is working on a National Adaptation Strategy that will be released this fall according to Steven Guilbeault, Minister of Environment and Climate Change. Various levels of government, Indigenous Peoples, and others are working on a "coordinated national strategy to make communities safer and more resilient," Minister Guilbeault said in a statement to The Weather Network.
Last year the Federal government added $1.375 billion to Canada's $2 billion Disaster Mitigation and Adaptation Fund for projects to help communities cope with climate impacts. However, this funding is spread out over 12 years. A single flood event in southern Alberta and B.C. in 2013 resulted in more than $6 billion in damages. The cost of the November 2021 flooding in B.C. was likely close to $9 billion according to recent reports.
The costs of adaptation soar as temperatures rise, and in some regions such as coastal areas and along rivers, the only option is to retreat from shorelines. Flooding in Canada's cities and towns will become the dominant climate risk along with wildfires and droughts, the IPCC warns.
Canada and the U.S. also have a major barrier to urgent climate action, according to the report: misinformation and politicization of climate science. Vested interests in the fossil fuel industry and others continue to falsely downplay the risks and urgency despite the overwhelming scientific certainty.
"By hiding the truth, the fossil fuel industry is putting people's health and well-being at risk," said Pérez.
Any further delay in making rapid, deep cuts in greenhouse gas emissions will make survival in some regions impossible, the report concludes. However, governments intend to allow companies to produce 120 per cent more coal, oil, and gas by 2030 than is consistent with limiting warming to 1.5°C according to a 2021 United Nations Environment Program report. Canada was noted for its plans to significantly increase oil production.
"Oil and gas production in Canada has to decline to meet our climate targets," Tzeporah Berman, an environmental policy expert with Stand.earth told The Weather Network. "We're still allowing new projects and adding new industry subsidies… making it impossible to get to zero emissions," Berman continued.
The federal government is in the process of reviewing a brand new oil project called Bay du Nord. Equinor, a Norwegian oil company plans to develop a huge new complex of oilfields offshore of Newfoundland and Labrador. Its production target is 200,000 barrels a day, which would add 30 million tonnes of CO2 to our atmosphere every year when burned — that is equivalent to the emissions from 7.5 million vehicles.
"I can't believe the cabinet is even considering the Bay du Nord project," Berman said. By making climate change worse it threatens Canada's ability to cope with climate impacts. "The transition to a low-carbon economy is hard enough without making the challenges bigger."
A majority of Canadians are ready for their governments to respond to the climate crisis with "honesty and courage and to take the actions needed in a climate emergency," Berman added.
Vancouver, for example, was the first city in the world to sign the Fossil Fuel Non-Proliferation Treaty. Modelled after international treaties to used defuse the threats posed by nuclear weapons, this initiative calls for a phase-out of fossil fuels and a just transition to renewable energy. The Dalai Lama and 101 Nobel Laureates have signed on, along with 39 cities and sub-national governments including Toronto and Burnaby.
Thumbnail credit: NirutiStock/ iStock/ Getty Images Plus