Toronto, Ottawa, and others set record for early-November cold
Friday, November 15th 2019, 4:00 pm - Congratulations?
Congratulations are in order, although this may not be an achievement everyone wants to celebrate. As of Thursday morning, the temperature at Toronto's Pearson International Airport has spent 87 hours below freezing so far in November.
If that number seems high, well, that's because it is. It marks the longest stretch on record the site has spent below zero on or before November 15.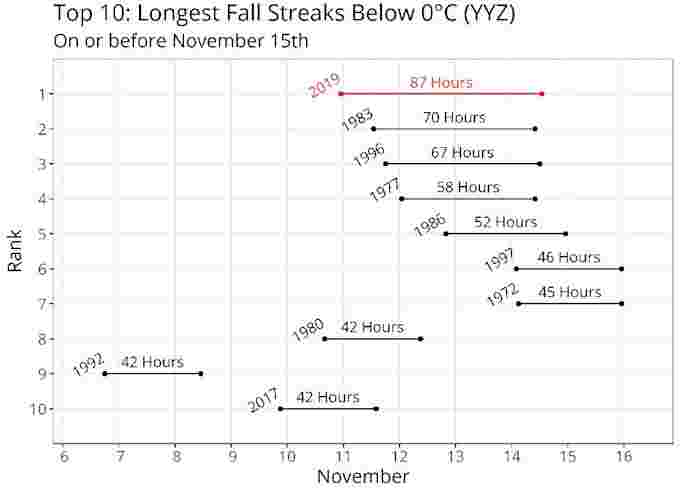 Plot shows below-zero stretches on record for Toronto's Pearson International for the first half of November.
Toronto wasn't alone in seeing an unusually-prolonged period below freezing this month. The first 15 days were also the coldest start to November for Ottawa, and Val-d'Or in Quebec. Montreal and Quebec City's temperatures also ranked among the top-3 coldest.
This below-average streak got a helping hand from an early shot of cross-polar air, sending Siberian air across the Arctic and into eastern North America.
Does a cold fall automatically mean a cold winter? Not necessarily. What the jet stream is doing in November doesn't reflect what it will be doing in, say, January. If you are ready to see how the winter will play out, however, The Weather Network's official Winter Forecast premieres on TV and online, Monday, November 18.
Thumbnail image: Neil Nguyen, Grimsby, ON.