Saturday, June 5th 2021, 9:03 am - According to the Canadian Coast Guard (CCG), there are approximately 1,800 wrecked, abandoned or hazardous vessels across Canada, leaving behind significant environmental and health hazards.
We've all seen garbage strewn on the ground and in the water, whether it's something small such as a cigarette, or perhaps a TV or tire. But some people are ditching large-scale items such as boats, which can cause serious damage to the environment and potentially your health.
Because of the risks, the federal government wants to crack down harder on the issue -- with additional funding of nearly $1.7 million announced in February to assess removal projects and/or remove abandoned boats in B.C., Nova Scotia and Newfoundland.
SEE ALSO: Plastic pollution dumped into oceans will triple by 2040
Robert Brooks, the Canadian Coast Guard's (CCG) director of vessels of concern, told The Weather Network recently there are approximately 1,800 wrecked, abandoned or hazardous vessels across Canada.
The vessels have been left behind despite the fact it is illegal to do so -- under The Wrecked, Abandoned or Hazardous Vessels Act (WAHVA or the Act). The legislation aims to protect coastal and shoreline communities, the environment and infrastructure.
An abandoned boat removed from small craft harbours in Port Edward, B.C., as part of Fisheries and Oceans Canada's Wrecked and Abandoned Vessels Removals Program in March 2018. (Canadian Coast Guard)
There are also initiatives in place to educate the public about the legal and financial responsibility boat owners have in properly disposing of their vessels, such as Transport Canada's Abandoned Boats Program.
To get to the bottom of the problem, CCG has partnered with Transport Canada and other organizations across the country to build a national inventory of wrecked, abandoned and hazardous vessels.
"We're trying to really take this kind of approach to really identify the scale [of the issues], and then take a risk-based approach on how we start to address them," said Brooks.
"We're not just allowing boats [to go] unattended and creating risk. We try to make sure that through that risk assessment we're paying attention to the vessels we need to and addressing the highest-risk cases first."
RISKS VARY DEPENDING ON VESSEL
While the discarded vessels pose a threat to the environment and public safety in general, not all of them carry the same level of hazard. It depends on the size of each one and what materials are on it, as well as what the structure of the watercraft is composed of, Brooks stated.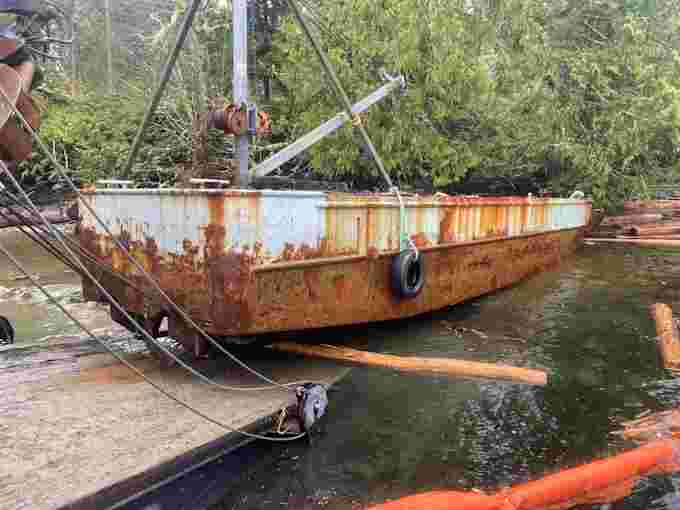 A barge removed from Reeks Island in the Pacific Rim National Park Reserve in B.C. by the Canadian Coast Guard's vessels of concern team in March 2021. (Canadian Coast Guard)
Any type of boat left discarded, whether on land or water, may contain leftover fuel, oils or other pollutants. These could leak and cause serious damage to the nearby environment, and your health if you come into contact with the hazardous materials. The risk may also come from the vessel's cargo, he added.
"You know, leftover gas can produce hazardous vapours. [The vessel] could have a stability issue, and you know, [there] could be a whole host of challenges that somebody can encounter," said Brooks.
On Canada's West Coast, in particular, the government will often discover a public safety risk to human health from the abandoned vessels, which are being utilized as people's homes or for those just seeking shelter. Exposure to the pollutants from the boats can be hazardous to human health.
In 1968, the MV Schiedyk sank near Bligh Island in B.C. Oil was first spotted leaking from the shipwreck in December 2020. A joint partnership among several government agencies have been working to clean it up since then. To date, 38,826 kilograms (85,596 pounds) of surface oil has been removed from the waters. The surface oil includes saltwater and organics mixed in.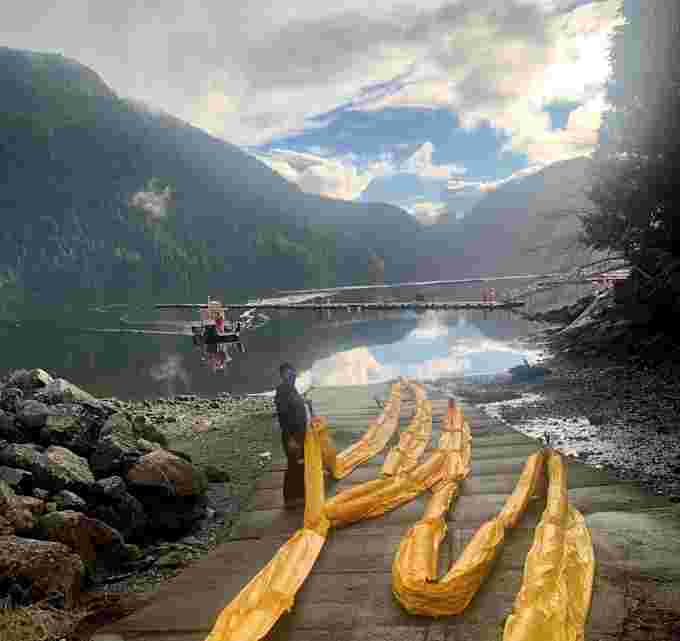 Environmental response for the MV Schiedyk near Bligh Island, B.C. (Bligh Island Shipwreck Unified Command)
There's even been cases where they've posed a security threat, too, Brooks mentioned, but these are "extreme" instances and not typical.
"When you think about how to deal with a fibreglass hull at the end of the life of a ship or a boat, there is no real way to deal with it. And a lot of the dump yards won't accept fibreglass," said Brooks.
While the issue is enough to warrant the federal government to create an inventory of the vessels, Brooks acknowledged that most boat owners are responsible.
"When you think about the relative proportion or percentage of [the] number of vessels that are abandoned, it's not a high relative to the number of boats across Canada that are owned," said Brooks.
MONITORING FOR LAND, AQUATIC CHANGES
The Canadian Coast Guard is actively keeping an eye on the land and marine environments for potential impacts from the deserted vessels. The agency is looking for changes to water quality, shoreline effects -- if fuel drifts to shore -- or the potential leaking of other contaminants into the water, Brooks noted.
"We are aware of cases that are higher risk, and we put monitoring equipment on some of those vessels, so that we can go and make sure they're staying afloat, that they're staying stable," said Brooks. "In many cases, we'll place pumps [on them] so that we can pump out any rainwater or water that accumulates in and keep the mooring lines tight to the vessels, etc., and keep them safe."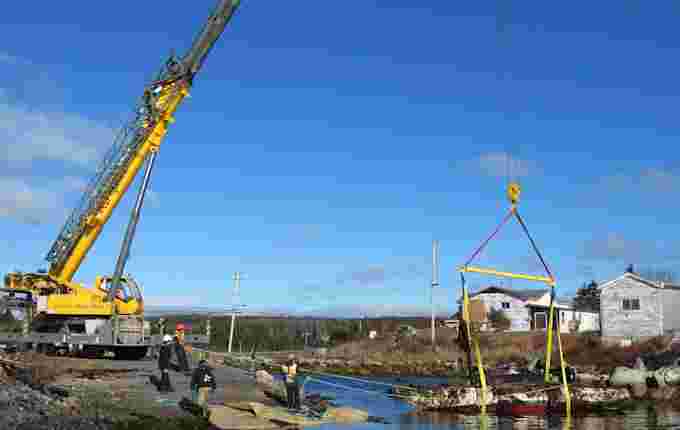 The Canadian Coast Guard's vessels of concern team removes a sailboat in Sambro, N.S., in February 2021. (Canadian Coast Guard)
To help with the cleanups, the $1.5-billion national Oceans Protection Plan was launched in 2016 -- the largest investment the federal government has made to protect the coasts and waterways.
Brooks said "we've really advanced considerably as a government in addressing the issue" of cleaning up the abandoned vessels.
"When we do that triage and assessments, if there's an active environmental threat, then we'll send environmental response teams to deal with any active pollution case, and to stabilize the vessel," said Brooks.
The government's passing of The Wrecked, Abandoned or Hazardous Vessels Act in 2019 was the first time it became illegal for boats in Canada to be abandoned, he added, as there were no regulations for it before then.
The total number of vessels that have been removed so far is 170, which includes removals from Transport Canada's Abandoned Boats Program and the Small Craft Harbours Abandoned and Wrecked Vessels Removal Program operated by Fisheries and Oceans Canada.
People can report sightings of abandoned vessels to the federal government by contacting their regional Canadian Coast Guard office. Numbers can be found, here.
ONTARIO TEEMING WITH LEFT-BEHIND BOATS
While a large number of vessels have been found along both of Canada's coasts, discarded recreational boats have been discovered on parcels of land and in aquatic environments in other regions including in Ontario, says Rick Layzell, Boating Ontario Association (BOA) CEO.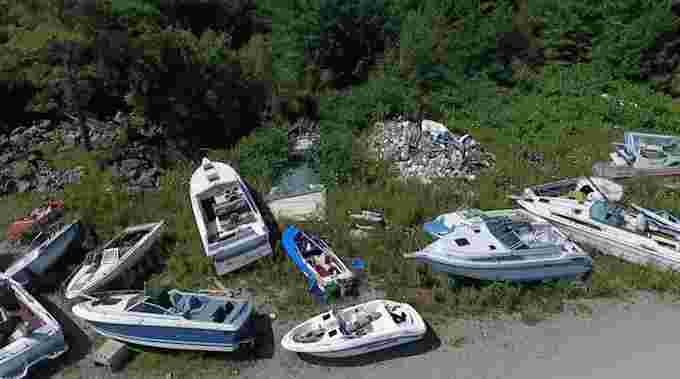 (Boating Ontario Association)
They've been found deserted in marinas, backyards, storage yards and farm fields, among other locations. It also against the law to abandon a recreational boat.
"A half-hour drive to rural Ontario, you're bound to pass by somebody's backyard that's (got a boat) sitting in [it] that's been there for 20 years. They don't know what the heck to do with it," said Layzell.
According to the BOA's website, abandoned boats left untouched can contaminate terrestrial and marine environments, if in the water. They impact the aesthetics of facilities and areas where they have been ditched, and also pose a safety risk to individuals that approach the vessels.
Layzell echoed Brook's comments about the serious impacts vessels pose to both the environment and humans, whether it's the gasoline and oil contained within or other hazardous liquids since they do have the potential to leak.
"The environmental hazard [obviously] becomes the holes just sitting there, doing nothing, because if it's fibreglass, they're not going away. They're certainly an eyesore for certain people and a potential human hazard if anybody interacts with these boats," said Layzell.
PEOPLE 'JUST DON'T KNOW WHAT TO DO'
As to why someone would ditch a boat rather than taking it to be recycled or properly disposed of, the Boating Ontario Association's position is people "just don't know what to do with it," he added.
SEE ALSO: How plastic pollution is contributing to climate change
The second issue is they don't know how to bring their boat to a site to have it correctly taken care of since their trailer isn't roadworthy or it is sitting on blocks. "So I think it's a combination of not knowing where to take them and not knowing how to take them somewhere," Layzell said.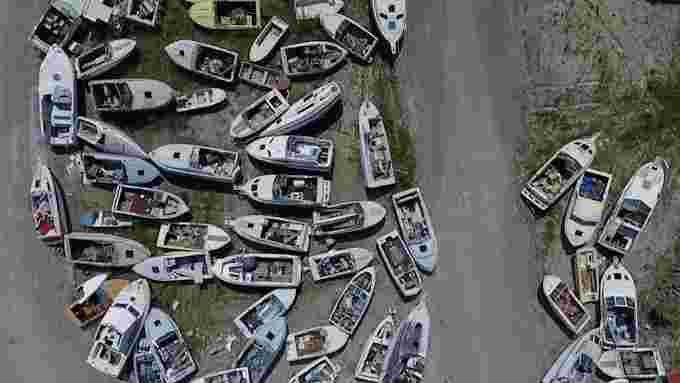 (Boating Ontario Association)
While Brooks acknowledged as many as 1,800 abandoned vessels have been discovered across Canada, the number of discarded boats in Ontario isn't crystal clear since it has never been "truly captured," the BOA CEO stated.
However, the association conducted a provincewide survey of its membership, which represents about 95 per cent of the marinas in Ontario. Three years ago, the analysis revealed there were about 450 boats on marina grounds, Layzell noted. The BOA will be conducting an updated survey this summer to get a "better sense" of what's left since a lot of the inventory has been relocated.
The bigger "unknown" in Ontario is the tally of abandoned boats sitting on consumer property, he added.
"It would take somebody literally driving every backroads in the province to get that data figured out [and] reach all those consumers and effectively get a handle on that," said Layzell. "Unfortunately, there isn't a definitive answer. We know it's a serious issue and we're doing our best."
The cost of boat disposal can vary depending on size, type, composition and "method of intake charge," which is either by foot or by weight, according to the BOA. The association recommends getting an estimate from one or two local businesses that offer the recycling services.
The BOA has a list of sites in Ontario where you can properly dispose of boats, which can be found, here.
Thumbnail courtesy of Canadian Coast Guard.
Nathan Howes can be followed on Twitter: @HowesNathan.