Saturday, May 9th 2020, 6:50 pm - Experts at Colorado State University are predicting an above-average Atlantic hurricane season.
The 2019 Atlantic hurricane season was a catastrophic and deadly year to be remembered. Most notable, Hurricane Dorian, which remained almost stationary for 36 hours and devastated the Bahamas. The storm was a powerful Category 5 hurricane that became the most intense tropical cyclone on record to strike the Bahamas and was noted as the worst natural disaster in the country's history.
While that will be a year we won't soon forget, our attention now turns to this season, where hurricane forecasters with Colorado State University (CSU) have put together their first prediction for the 2020 Atlantic season, which begins June 1.
GLOBAL PATTERNS AND HOW THEY INFLUENCE THE TROPICS
One of the major determining factors in hurricane forecasting is whether there is an El Niño or La Niña pattern present. Each pattern has different influences, an El Niño usually means that the Caribbean and tropical Atlantic will experience more wind shear which can tear apart tropical development.
In contrast, a La Niña can mean bad news for the U.S., where conditions are more favourable for development and can lead to increased tropical activity. Additionally, when tropical Atlantic sea surface temperatures are warmer than normal, it can also increase the threat for more storm development, as tropical cyclones are fueled by warm ocean waters.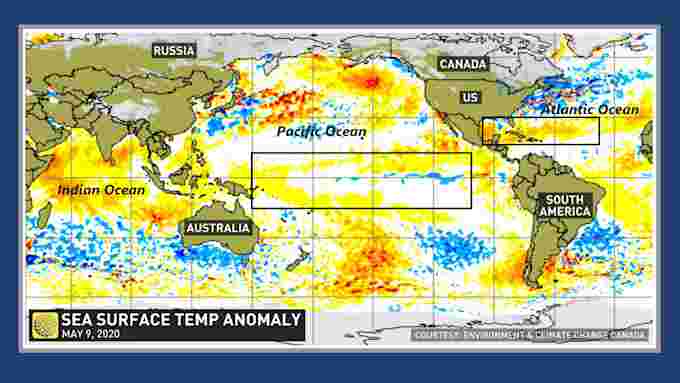 THE NUMBERS: THE OFFICIAL PREDICTION
An average hurricane season has 12 tropical storms, six of which are hurricanes. This year, CSU hurricane researchers are predicting an above-average Atlantic hurricane season, citing the likely absence of El Niño as a primary factor.
It is likely that we will see a transition to either a neutral El Niño or weak La Niña during the summer or fall. Additionally, tropical and subtropical Atlantic sea surface temperatures are currently warmer than normal and are consequently also considered a factor favouring an active 2020 Atlantic hurricane season.
Finally, CSU sited that U.S. landfall probability is higher than normal this season with nearly a 70 per cent chance of a major hurricane making landfall along the U.S. coastline.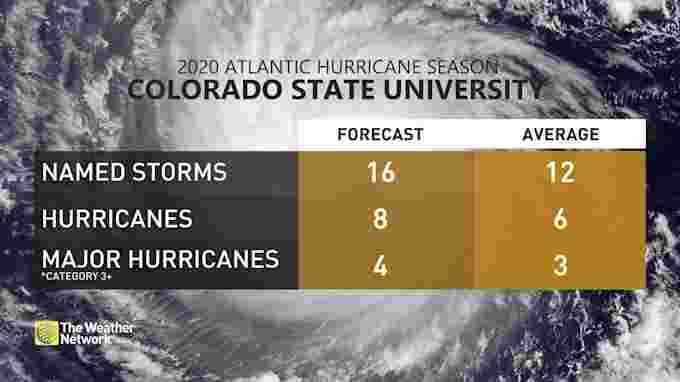 As far as Canadian impacts, it only takes one storm to impact the country as we saw last year with Hurricane Dorian that impacted the Maritimes.
The CSU team will issue forecast updates on June 4, July 7 and August 6, so be sure to check back to The Weather Network for updates.
WATCH BELOW: ABOVE AVERAGE SEASON FOR FIRES ACROSS MUCH OF CANADA, ACCORDING TO NATURAL RESOURCES CANADA
--
Thumbnail courtesy: Hurricane Florence/NASA