Tuesday, April 26th 2022, 4:05 pm - With an increase in habitat disconnection across Canada, wildlife corridors are significant tools in the conservation arsenal that can maintain attachment and protection of our ecosystems.
Humans aren't the only ones who need a safe way to cross roads and rivers. Animals, too, need their own passages to get around.
These wildlife passages are "critical" conservation tools, helping to maintain habitat connectivity -- something that is increasingly being lost in Canada, said Emily Giles, senior species specialist with World Wildlife Fund Canada (WWF-Canada), in a recent interview with The Weather Network.
SEE ALSO: One million species are at risk of extinction, according to a new report
The passages, known as wildlife corridors or ecoducts, are as the names imply -- different physical mediums that connect areas to provide safe passages for animals. There are land and water corridors -- from highway overpasses and underpasses to culverts.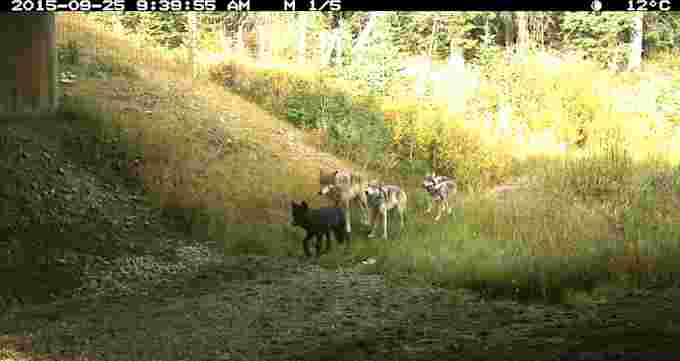 Wolves on a Trans-Canada Highway wildlife crossing (underpass) in Banff National Park in Alberta. (Parks Canada)
"One of the most important conservation tools we have is to protect habitat," said Giles.
"There's really no point in having all these protected areas all over the place that act functionally as islands. If you can give out some habitat that is not connected to anything else, it basically functions as an island out in the sea."
HABITATS ARE SPLINTERED
WWF-Canada studied the current state of connected habitat in the country through its Wildlife Protection Assessment, which highlighted some lacklustre results. "Not too surprisingly, for those of us in the conservation world, we found that only 21 per cent of habitats in Canada have adequate connectivity," said Giles.
The Canadian government previously committed to protecting 30 per cent of terrestrial lands and waters by 2030 in its 30-by-30 initiative. While Giles acknowledged that it is "great and absolutely what we want to see," she said we need to ensure we protect the right areas and that they are connected.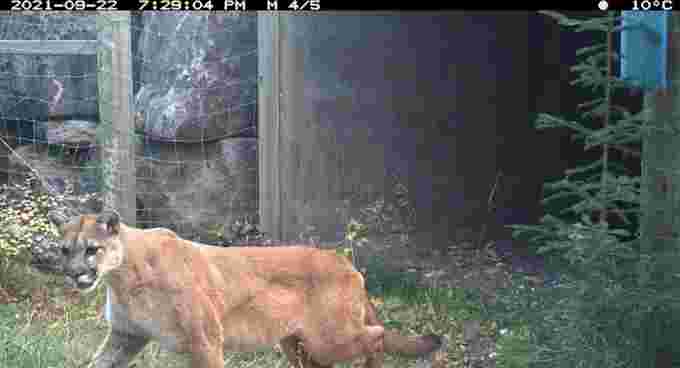 Cougar on a Trans-Canada Highway wildlife crossing (underpass) in Banff National Park in Alberta. (Parks Canada)
"We want to make sure that we protect areas that are important for biodiversity and important for sequestering carbon. We also want to make sure the habitat is connected," said Giles.
In terms of which corridors are most effective and used more, Giles noted it depends on the species and the design of the passages. However, she highlighted Banff National Park's corridors as being "incredibly successful," so much so that they have garnered much attention globally.
BANFF NATIONAL PARK CORRIDORS EFFECTIVE IN WILDLIFE PROTECTION
As Giles mentioned, a notable success story is Alberta's Banff National Park, where its wildlife corridors on the Trans-Canada Highway have reduced wildlife collisions by at least 80 per cent.
Within Banff, wildlife corridors are located near the towns of Banff and Lake Louise, with three situated near the former – Cascade, Sulphur and Rundle – and two are adjacent to the latter – Whitehorn and Fairview. The park began building the animal passes in 1993 around the towns.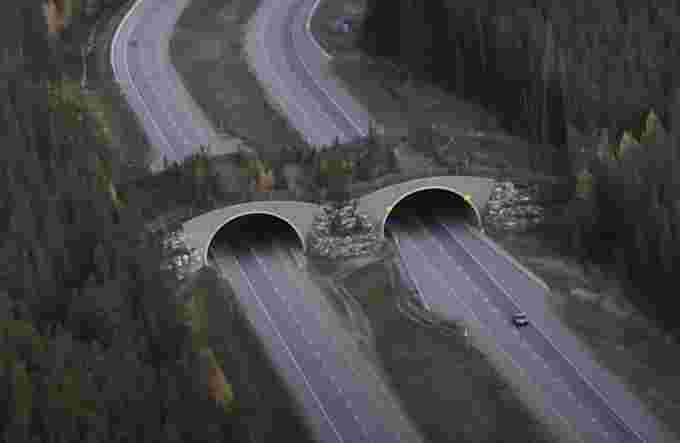 Banff National Park wildlife corridor. (Parks Canada)
"We live in the Rocky Mountains, which are this majestic landscape. But, the best habitat for wildlife is actually right in the valley bottoms and that's where we also concentrate our [human] activities," said Jesse Whittington, wildlife ecologist at Banff National Park, in a recent interview with The Weather Network.
"If you have human activity that fills up the entire valley bottom, you can actually block wildlife movements along the valleys."
While the corridors have been successful in preventing wildlife collisions, they occupy a "very small per cent" of Banff National Park, he said.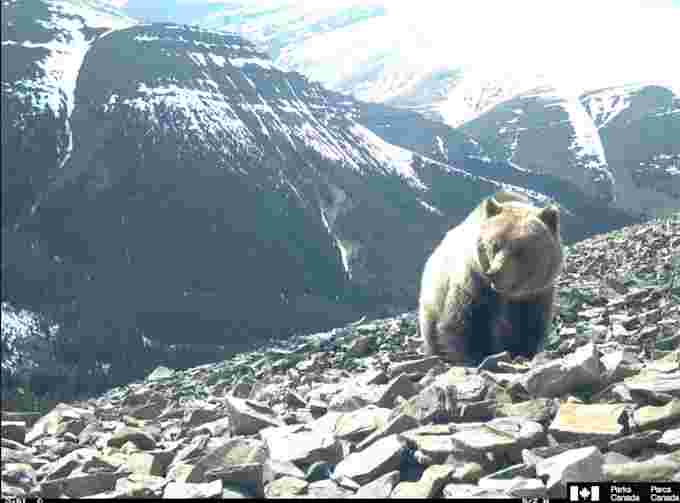 Grizzly bear in a wildlife corridor in Banff National Park in Alberta. (Parks Canada)
The park encompasses more than 7,000 square kilometres and a typical home range for a single wolf is 1,000 square kilometres, but the Cascade wildlife corridor might be up to five kilometres long and varies in width from 200-300 metres to a kilometre, contingent on locale in the passage, Whittington added.
"These animals have huge home ranges. It's really important that we provide them with travel routes throughout their home range so they can successfully navigate this landscape [and] access food, mate, den and reproduce," said Whittington.
He said "one of the most important restoration actions we've done" from a wildlife perspective was setting up fencing around the Trans-Canada Highway, allowing for the building of 49 overpasses and underpasses across 88 kilometres along the roadway through Banff and Yoho national parks.
"What we see is that connected wildlife populations are just much more resilient and much more likely to persist than fragmented populations," said Whittington.
Another factor in the decline of wildlife collisions has been closing the Bow Valley Parkway at night and opening it for traffic during the day. "It has been a tremendous success for us," Whittington said, as it has provided safe and secure habitat for animals.
"We saw that wildlife use on the Bow Valley Parkway doubled during the closure. So it was safe and secure for wildlife, yet people can still come and enjoy it," Whittington added.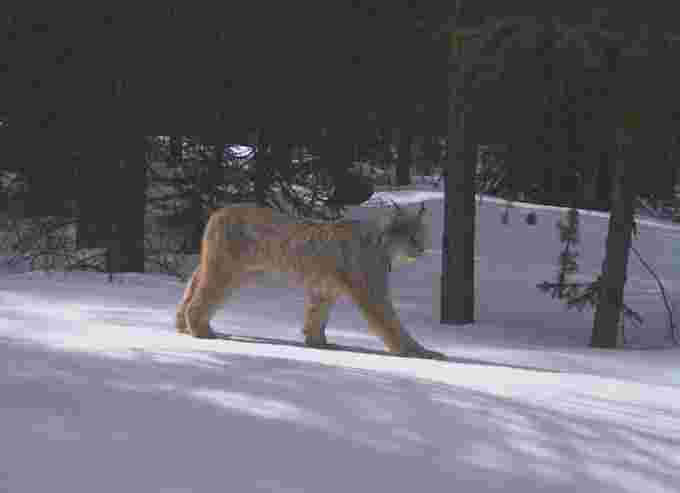 Lynx in a wildlife corridor in Banff National Park. (Parks Canada)
"I think it actually increased the probability of people seeing wildlife because wildlife were staying in the area and continuing to use the area."
Elsewhere in the province, construction has officially begun on a wildlife bridge over the Trans-Canada Highway -- the first in Alberta to be built outside a national park. Located east of Canmore, Alta., it will include 12 kilometres of fencing along both sides of the roadway.
CORRIDORS CAN REDUCE ROAD MORTALITY
Highway overpasses or underpasses can reduce road mortality, which is a significant problem for wildlife -- particularly turtles in Ontario. In 2020 alone, there were more than 1,000 turtles found dead on the roads in two study areas in the province, according to the Canadian Wildlife Federation (CWF).
"They lay their eggs on the soft shoulders or they have to cross busy roads in order to access important habitats that might be on the other side. These eco-passages have been shown to be really, really successful for turtles," said Giles.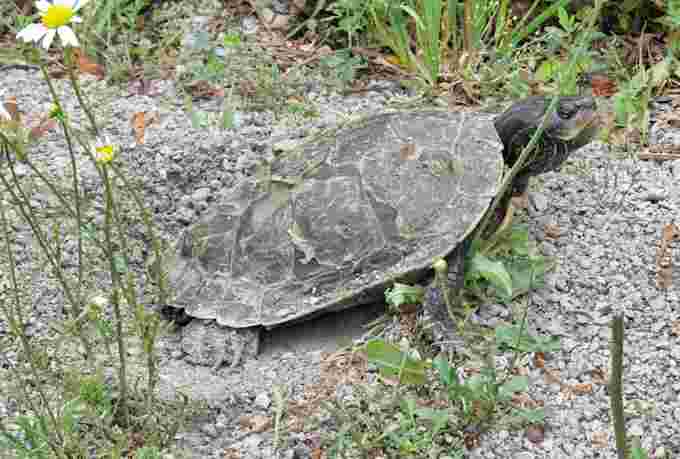 (Warren Howes)
Passages for turtles typically involve under-road culverts. Special fencing set up on either side of a culvert guides turtles into the passage and allows them to cross. According to the Ontario Turtle Conservation Centre, this setup is becoming more common in Ontario and the Ministry of Transportation is working with communities and individuals in the province to implement them.
Amphibians such as frogs are also seeing population declines from attempting to cross high-traffic areas. Nicole Regimbal, an undergraduate student at the University of Toronto, recently analyzed amphibian population and mortality data for 23 locations throughout the Greater Toronto Area (GTA) -- which could help determine high-risk zones that could benefit from tunnels that allow frogs and other creatures to safely cross roads by going underneath.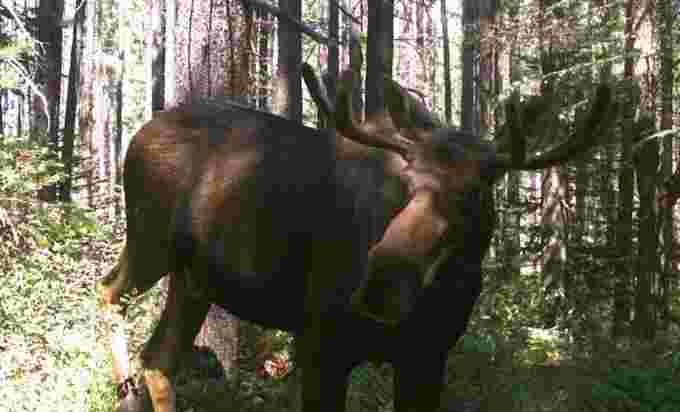 Moose in a wildlife corridor in Banff National Park in Alberta. (Parks Canada)
THOUSANDS OF ROAD INCIDENTS EACH YEAR
Countrywide, there were 35,152 accidents involving animals in 2020, according to Transport Canada and its National Collision Database (NCDB). The database does not record the injury status of the animal. Most resulted in property damage only (33,183), but there were still 17 human fatalities and 1,952 injuries as a result of the collisons. In 2019, the tally of accidents was 37,044, with 34,849 of them property damage only, 2,179 human injuries and 16 fatalities.
In Ontario, which has some of Canada's busiest routes, there were 1,079 collisions with wildlife on the 400-series roadways and highways 1 and 11 in 2021, according to data provided to The Weather Network in an email from the province's Ministry of Transportation. Of the tally, nine occurred on the ramps.
From 2018-2021, there were 4,946 collisions with animals. Highways 11, 401, 400 and 417, respectively, had the highest figures in the period.
While it's hard to nail down an exact number of animals killed or injured in vehicle collisions across the country every year, it's safe to say the tally is in the thousands.
But there are some provincial estimates of animal casualties from vehicle collisions. In B.C., for example, the province's Ministry of Transportation and Infrastructure says 6,100 animal deaths are documented on average each year, though as much as 18,300 fatalities go unrecorded.
CULVERTS ARE IMPORTANT PASSAGES FOR AQUATIC LIFE
Land corridors are well recognized, but passages also extend to aquatic spaces. Giles pointed out that culverts, especially, are critically important as many of them are bisected by roads and can become fragmented.
For aquatic species such as salmon, fragmentation can disrupt accessibility to food and spawning habitat.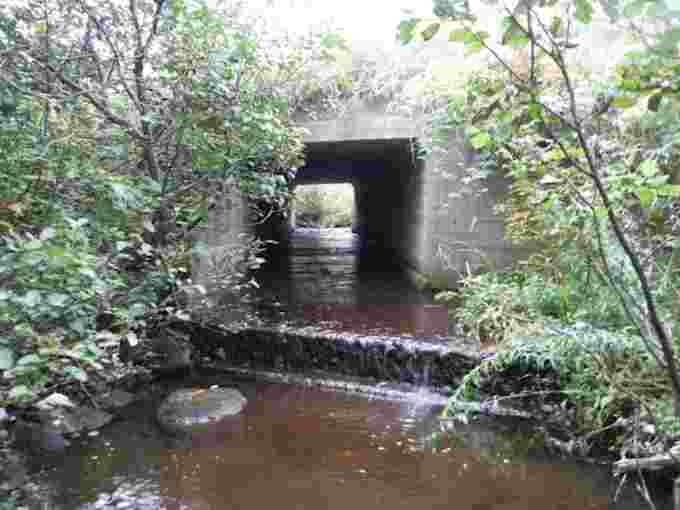 (Nashwaak Watershed Association Inc. (NWAI))
"If you live in one little area, you're going to deplete all the food and all the resources. You're going to have to move on to find something else. If you can't move on, then you're not going to be able to access that food you need," said Giles.
One culvert in particular that has significant ecological value is New Brunswick's Saint John River/Wolastoq watershed, where WWF-Canada is helping address habitat fragmentation with a new plan called Priority Threat Management.
There are almost 1,000 road-stream crossings in the Nashwaak River portion of the Wolastoq. Nashwaak Watershed Association Inc. (NWAI) has been surveying and assessing culverts, and other crossings, since 2017. According to the organization, less than 40 per cent of the culverts permit fish to move freely through the road-stream crossings. The majority are considered barriers to passage.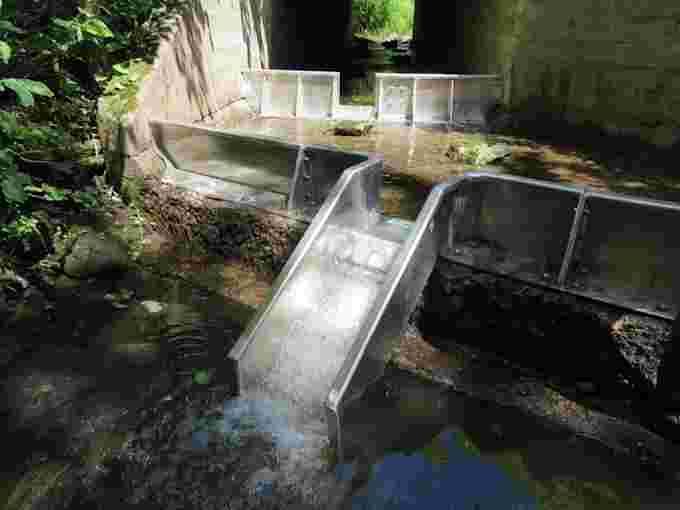 (Nashwaak Watershed Association Inc. (NWAI))
In 2020, NWAI put in fish ladders and other structures to help fish pass through. As a result, 46 kilometres of stream was opened. The habitat is also considered climate-safe, meaning fish should be able to access the habitat for many years.
"They're [culverts] really critical pieces that probably don't get the attention that they need," said Giles.
Thumbnail courtesy of Parks Canada.
Follow Nathan Howes on Twitter.