Thursday, April 7th 2022, 5:00 am - Every day of spring that passes, a couple of factors work incrementally in our favour for better weather days ahead.
Spring is a tug-of-war. It's a season filled with weather disappointments. But, if everything aligns, the elusive, perfect spring weather day can come into view.
After analyzing the characteristics of a Canadian spring, it's clear it's not for everyone. If the season popped up on Tinder, I'd swipe left for these reasons:
RED FLAGS
What goes up must go down. When you see a warm-up in the long range, it's best to be skeptical about what follows. When warm air moves north, the pattern extends and amplifies towards the North Pole, creating an unsustainable setup. With the ridge building, there's often an equal, chilly trough waiting in the wings.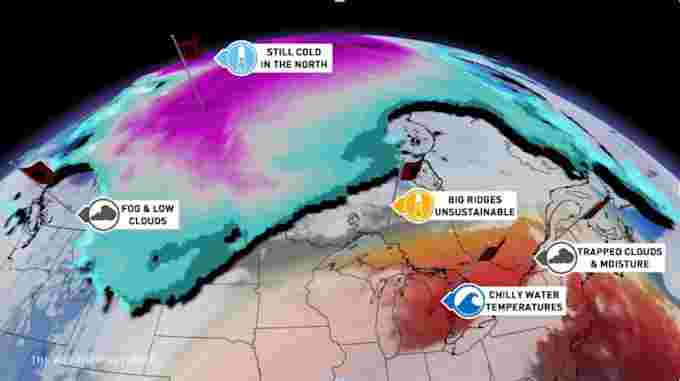 It's still cold in the north. The sun's energy is still meek across the northern latitudes. It's this chilly air that develops those messy spring storms that traverse Canada.
Chilly water temperatures. The water can trigger a marine layer, a low-level stratus cloud that lives near the coast. The freezing waters can be responsible for the low-level fog across British Columbia and eastern Canada. Although lake breezes can be a welcome, natural air conditioner in the summer, their unwelcomed presence in spring can knock shoreline temperatures down by over 10°C.
RELATED: Five reasons why spring's unpredictability is just the worst
SPRING PERKS
Are you searching for the perfect spring day? If you swiped right on spring, it's probably because of this.
Every day, a couple of factors work incrementally in our favour. The contrast in temperatures gradually ease. The increase in daylight includes a higher sun angle, allowing more energy to reach the surface. This energy surplus melts the snowpack, allowing the darker ground to absorb more energy; it's a feedback loop that every Canadian can get behind.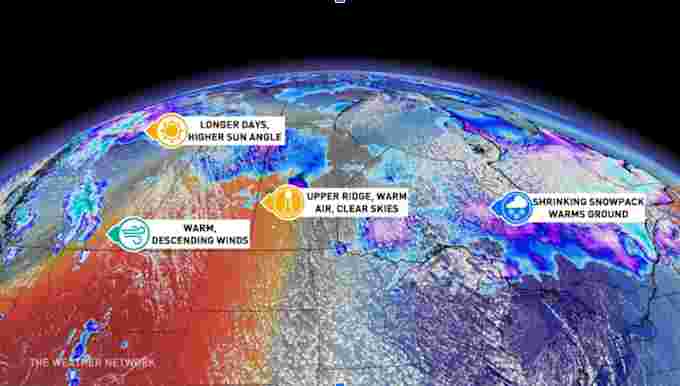 Ridges and troughs eventually become less temperamental, with that lustrous spring ridging providing that much-needed warm air and clear skies.
It feels like a paradox, mountains being the source of warmer temperatures, but they're the secret sauce to get you out of a spring funk.
We often think of wind direction and the influence of temperature, but the atmosphere is a fluid flowing over topography, so up and down become paramount in warming us up. The air warms and compresses as it sinks. Those in Alberta are frequently flaunting their chinooks – and even Ontario and Quebec can get downsloping winds off the Niagara escarpment and down the Adirondacks and Appalachian mountains.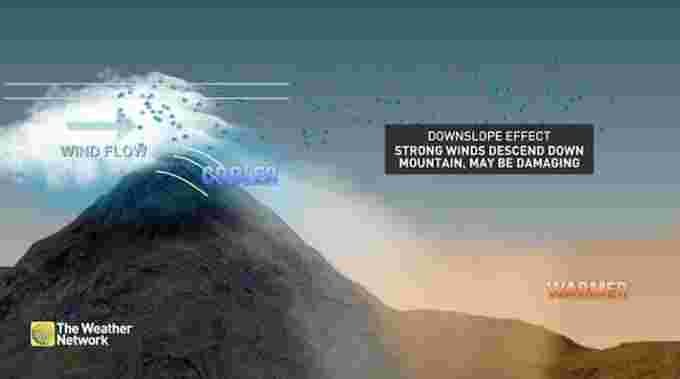 So what do you think? Do we give spring another chance, Canada?
MUST SEE: Deprived of warmth: Patience will pay off for Canadians in the cold