Monday, April 4th 2022, 4:48 am - For parts of Canada yearning for some signs that winter is finally in the rear-view mirror, including a glimpse of late-spring or early summer-like warmth, the scales are about to tip in their favour.
Well, it's safe to say the start of spring has perhaps felt lopsided for parts of Canada. Some areas have seen more snow and cold, while others have already dabbled into late-season, even early summer-like warmth.
As a whole, April is capable of delivering a brief hint of summer while also feeling more like late winter at times, so it's not unusual to have the country experiencing different extremes at any given time right now.
MUST SEE: Hint of summer or winter flashback? Canada's April 2022 forecast
However, for the parts of Canada yearning for some signs that winter is finally in the rear-view mirror -- things are about to change. The scales will tip a bit closer towards the balanced side of what the current season can offer all Canadians.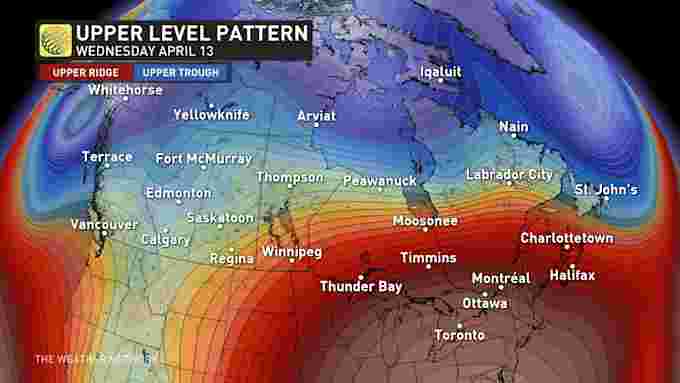 MID-MONTH WARM-UP TRAVELS EAST, BUT A ROADBLOCK COMES FIRST FOR SOME
This story kicks off thousands and thousands of kilometres away. A picture is worth a thousand words, so check out this powerful jet stream careening across the Pacific. The key to a warm-up in Canada is locked within this powerful feature, but there will be a few bumps along the way.
The first bump is Wednesday. On paper, the upper-level pattern looks half-decent for southern Ontario. For portions, it is pleasantly comfortable, unless you happen to be one of the millions who reside along the western edge of Lake Ontario.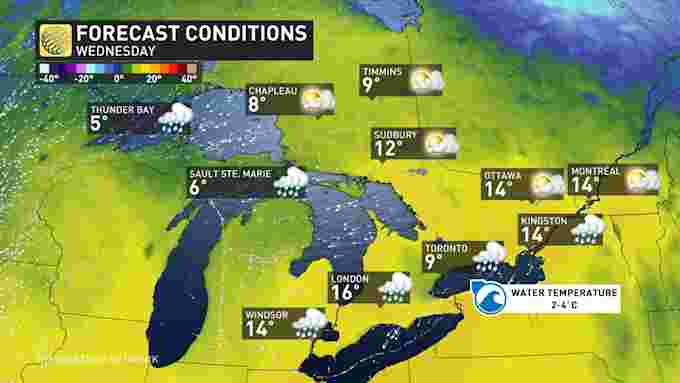 The east wind is chilled thanks to the cold water temperatures of Lake Ontario. While Toronto is recoiling in the single digits, head away from these cool lake shadows and temperatures will climb into the double digits. You'll likely be dodging some showers, though, as we're sandwiched between two systems.
Remember all that Pacific energy? It amplifies a ridge of high pressure across the West on Thursday and Friday. Watch temperatures soar into the low 20s across southern Alberta, with perhaps the opportunity to go a little warmer still.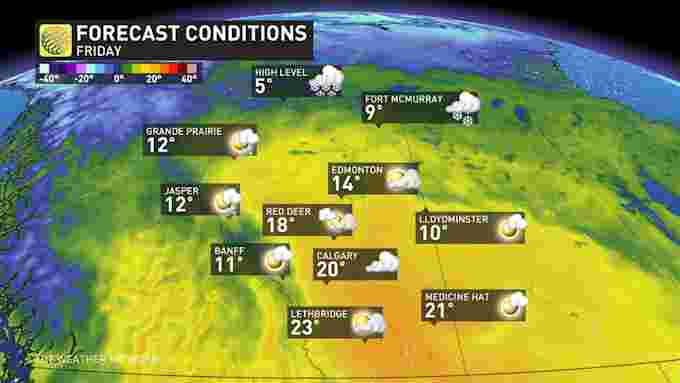 That ridge flattens and slides across the U.S., but another strong Pacific jet stream dives south across British Columbia, carving a deep trough across the West. Sorry, Alberta, your temperatures will seriously regress next week with the predictable chance of snow with such a chilly trough.
As a response to all this trough action, this will initiate a formidable ridge for the eastern U.S. and Canada. Areas away from lake breezes will have ample opportunity to blow into the 20s next week across Ontario and Quebec.
Be forewarned that this pattern isn't sustainable, so take advantage of this mid-month warm-up in Eastern Canada. Yes, that means Atlantic Canada will be another recipient of this mild southwest flow, too. Certainly a far cry from the early April snowstorm.
Stay tuned to The Weather Network as we for the latest details on this impending warm-up travelling across the country.